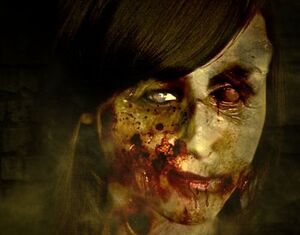 Zombies Apocalypse Part II is a zombie horror film and sequel to Zombies Apocalypse. Jared Padalecki and Danielle Harris reprise their roles as Richie and Taylor. The film co-stars Richard Dreyfuss, Charlie Sheen, Sam Neill, Emma Roberts and Geena Davis.
Summary
Taylor (Danielle Harris) finds out there is another zombie invasion and she and Richie (Jared Padalecki) must stop the zombies from eating all the citizens of their town. With Taylor's boyfriend (Anthony Rogers), they fight the zombies together with her boyfriend's cousin.
Cast
Danielle Harris as Taylor
Jared Padalecki as Richie
Richard Dreyfuss as Stan
Charlie Sheen as Jeffrey Sr.
Sam Neilĺ as Alden
Emma Roberts as Kris
Geena Davis as Jennifer
Ryan Merriman as Gary
Anthony Rogers as Taylor's boyfriend
Richard Couch as Anthony's cousin
DEATHS
Kris
Gary
Stan
Student
Student
Jeffrey Jr.
Student
Student
Student
Student
Anthony Rogers' cousin