Youngblood is an American Film it is The Remake of 1986 Film with the same name 20th Century Fox and Metro Goldwyn Mayer Films Directed By Brad Bird, Genre: Action Drama Sport
Plot
A 28-year-old farmhand from rural New York, Dean Youngblood has dreams of playing in the National Hockey League. Dean voices these dreams to his father, but receives negative feedback, and it is not until his brother, Kelly convinces their father Blane to let him try that he is granted the chance to travel to Canada to try out for the Hamilton Mustangs. At the try-outs, Youngblood demonstrates the abilities which garnered him "92 goals in the New York League" but also displays a lack of physical toughness that is so prized in Canadian junior hockey. This perceived weakness is pounced upon by a brutish player, Carl Racki, who is also trying out for the team and engages him in a fight. Youngblood quickly learns that flashiness and pure athletic ability will not be enough to be successful in this league. Despite being one-punched by Racki, Mustangs head coach Murray Chadwick, a former NHL All-Star with the New York Rangers, opts to select Youngblood for a spot on the team. He ingratiates himself to the other players through a hazing ritual in which members of the Mustangs pin Youngblood down, and Captain Derek Sutton shaves his testicles. Youngblood meets the coach's daughter Jessie after this incident, and despite his embarrassment, an early attraction is felt.
After his mentor and friend on the team, Derek Sutton, is brutally injured by Racki (now with a rival team), Youngblood returns home to the farm. After a pep-talk by Kelly about the nature of never quitting, Youngblood is inspired to learn how to survive on the ice. Dean's father Blane, who initially disapproved of his son playing, especially after Kelly had been injured ending a promising career, also teaches his son some fighting tricks, stating "Its ok to hit a bag in the barn, but you've got to learn to survive on the ice". Youngblood returns to the team, ready to confront Racki in the final game of the Memorial Cup playoffs.
The game ends with a dramatic, game-winning goal by Youngblood with 3 seconds left. Youngblood demands to be left in the game as time expires to confront Racki. Youngblood emerges victorious, landing several blows to the face and body of his nemesis Racki, and is carried off the ice on the shoulders of his teammates.
Cast
Miles Teller as Dean Youngblood
Violett Beane as Jessie Chadwick
Tye Sheridan as Derek Sutton
Ed Harris as Murray Chadwick
Ansel Elgort as Kelly Youngblood
Dane DeHaan as Blane Youngblood
Ben Hardy as Racki
Devon Werkheiser as Frazier
Luke Bracey as Heaver
Logan Miller as Huey Hewitt
Leo Howard as Referee Hannah
Julie Kavner as Miss McGill
Jason Alexander as Thunder Bay Coach
Jerry Seinfeld as Thunder Bay Asst. Coach
Gallery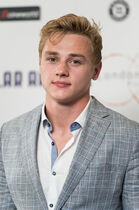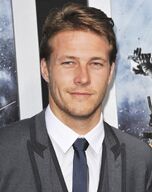 Distribution
Rating
Rated PG-13: Some Sport Violence Gore and Language
Community content is available under
CC-BY-SA
unless otherwise noted.