| | |
| --- | --- |
| | The owner of this page is Drew Gars. According to policy, no other user, with the exception of admins, may edit this page without the owner's permission. If they do, they will receive an automatic 3 month block. If you are the Owner, and someone edits your page, alert Chris6d immediately. |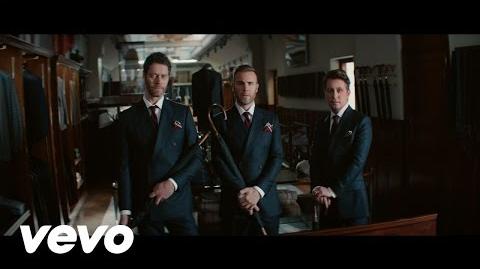 You're Not Alone is a British-American comedy-drama film directed by Josh Boone and produced and written by Drew Gars, while also co-produced by Judd Apatow. The film stars Matt Smith, Shailene Woodley, Emma Watson, Kevin Hart, Chris Pratt, Keegan-Michael Key, Steve Carell, Cedric the Entertainer and Robert Downey, Jr.
Plot
English independent film director Henry Franks (Matt Smith) gets a call from an film executive (Cedric the Entertainer) in America saying they want to work with him on a big budget musical film. He and his assistant (Emma Watson) head to the States to start production and stay at Universal City, California. When he gets on the set, he meets and befriends the staff. At first he's flattered, but as time went on in production, he becomes stressed out as he deals with interference from the studio to the point where he loses his temper on set. The studio has him go into an anger management class to calm him down. When he gets there, he is assigned a partner, Donna (Shailene Woodley), a former child actress who fell into alcoholism and drugs when her career didn't take off, and the two start bonding, but then as they bond, they help each other with problems in their lives and secrets are revealed.
Synopsis
In 2016, Henry Franks (Matt Smith) has just won the BAFTA Award for Outstanding Debut by a British Writer, Director or Producer, thanking everybody involved. The following years lead to him being the most acclaimed director in all of England. He goes to different radio stations and talk shows to promote his films and sometimes visits.
Cut to modern day,
Cast
Main cast
Matt Smith as Henry Franks, a indie film director from England. He is asked to come to America to direct a musical, making his American debut. He is also a closeted singer but only Grace knows he can sing.

Levi Miller as young Henry

Shailene Woodley as Donna Ackerman, a former child actress for commercials who fell into alcoholism and drug use when Kraft Foods dropped her from their advertisment campaigns and hoping to start a new career by singing. She is one of Butler's anger management patients.
Emma Watson as Grace Pearchwood, Henry's personal assistant, confidant and best friend since his childhood. She is the only person who knows that Henry can sing.

Raffey Cassidy as young Grace

Kevin Hart as Arnold "Ar-Jay" Jackson, a rapper and Donna's only friend in Hollywood who Henry befriend when he arrives in America. He helps Donna try to become a singer.
Chris Pratt as Alex Dylan, the music director of the film who Henry hangs out with.
Keegan Michael Key as Darryl, a valet assigned to Henry by the studio while he stays in Universal City.
Steve Carell as Dr. Christopher Butler, an anger management therapist Henry goes to whenever he feels stressed out on set.
Cedric the Entertainer as Edgar Hampden, the president of

Universal Pictures

who contacted Henry to come to America to help with the film.
Robert Downey, Jr. as Kevin "K.D." Draven, a former rock star who now owns a music supply shop.
Whitney Cummings as Kristen Brandt, the head producer of the film.
Marc Maron as Robert Carlton, the head writer of the film.
Jim Gaffigan as Jack Fuller, one of the film's screenwriters.
Dino Stamatopoulos as Brett Cox, one of the film's screenwriters.
David Henrie as Seth Levinsby, an employee at Universal Studios Hollywood and Grace's love interest. He's the band's eletric pianist.
Ellie Kemper as Judy Freeman, Butler's shy but paranoid anger management patient.
James Badge Dale as Patrick Gill, Butler's former Navy Seal anger management patient with PTSD.
Ed Asner as Marcus Zeeler, Butler's grouchy elderly anger management patient.
Timothy Simons as Scott Myers, the film's line producer.
Zach Woods as Quentin Mora, the film's unit production manager.
Tyler Labine as Mitch Callen, the film's director of cinematography.
Michaela Watkins as Lisa, the film's art director.
Dan Bakkedahl as Howard, the film's production sound mixer.
Pete Davidson as Devon, the film's boom operator.
Greg Grunberg as Todd, the film's gaffer.
Ray Wise as Dreyfus Matthews, the president of Legendary Pictures.
Rachel Bloom as Aisha Edwards, a Tony Award wining actress and the star of Henry's first America film.
Jared Leto as Jared Leto, a fictionalized version of himself.
Ken Marino as Julius Clayton, a talent manager that Donna tries to audition for.
Milana Vayntrub as Mindy Hale, Marcus' nurse.
Björn Gustafsson as Schmidt Berthelsen, the film's dance choreographer.
Lombardo Boyar as Jerónimo Tassis, the film's set decorator.
Kyle Bornheimer as Kenneth, the film's casting director.
Adrian Martinez as Brendan, one of the film's editors.
Oliver Cooper as Gale, one of the film's editors.
John Early as Ethan, the film's costume designer.
Katie Dippold as Caroline, the film's main make-up artist.
David Del Rio as Deacon, the film's propmaster.
David Dastmalchian as Harold, one of the film's sound editor.
Michael Papajohn as Felix, one of the film's sound editor.
Mary Holland as Sienna Bolton, the film's Unit publicist.
Samantha Barks as Katrina Laretta, one of the film's cast members.
Carrie Brownstien as one of the film's cast members.
Holland Taylor as one of the film's cast members.
Bo Burnham as Skeets, Seth's friend and the band's guitarist.
Emily Meade as Mana, the band's drummer.
Brittnay Curran as Lena Du Bois, Donna's more successful rival.
Idris Elba as Ellis Appleton, Henry's overbearing agent.
Patrick Stewart as Wendell Franks, Henry's father.
Helen Mirren as Felicity Franks, Henry's mother.
Sophia Myles as Nora Franks, Henry's jealous sister.
Chris Geere as Jim Lorringham, Nora's boyfriend.
Anthony Stewart Head as Wilfred Pearchwood, Grace's father.
Stephanie Leonidas as Danica, Henry's new personal assistant since Grace left.
Merritt Patterson as Genevieve Vincent, a English supermodel and Henry's ex-fiancee who cheated on him.
Cameos
Martin Scorsese as himself
Edgar Wright as himself
Nick Grimshaw as himself
Jonathan Ross as himself
Audrey Plaza as herself
Jonah Hill as himself
Graham Norton as himself
Maria Menounos as herself
Jason Kennedy as himself
Michael Bay as himself
Kevin Smith as himself
Ben Affleck as himself
Quentin Tarantino as himself
Steven Spielberg as himself
Steve Burke as himself
Jimmy Fallon as himself
Selena Gomez as herself
Rose Byrne as herself
Bobby Cannavale as himself
Neil Patrick Harris as himself
Tom Hanks as himself
Trivia
115 minutes long.
Rated PG-13 for some nudity and language.
12A Certificate
It will be distributed by

Universal Pictures

while being produced by

Apatow Productions

, StudioCanal,

Big Talk Productions

and Working Title Films.
Soundtrack
| # | Title | Performer(s) | Length |
| --- | --- | --- | --- |
| 1 | "So Insane" | Smash Mouth | 2:55 |
| 2 | "Just Say Yes" | Ken Andrews | 3:40 |
| 3 | "California Love | 2Pac | 4:45 |
| 4 | "Fantastic Baby" | Big Band | 3:51 |
| 5 | "In My Veins" | Andrew Belle | 5:19 |
| 6 | "I'm Still Standing" | Matt Smith | 3:07 |
| 7 | "My Everything" | Smith and Shailene Woodley (featuring Selena Gomez and Robert Downey, Jr.) | 3:45 |
| 8 | "Everyday " | Smith and Woodley (featuring Emma Watson, Kevin Hart, Chris Pratt, Keegan-Michael Key, Ellie Kemper, James Badge Dale, David Henrie, Rachel Bloom, and Downey, Jr.) | 4:37 |
Quotes
The trailer
(audience cheering in the background)
(Universal Logo)
(Working Title Logo)
Martin Scorsese (on stage next to Edgar Wright): An the award for Best Directorial debut goes to… (opens envelop) …Henry Franks!
(audience cheers and applause)
(Henry runs to the stage and falls)
(audience gasps)
(Henry gets up as the audience murmurs)
Henry: I'm okay!
The Call
(cell phone rings)
(Grace picks up phone)
Grace: Hello, Henry Franks office. Grace speaking.
Hampden (over the phone): Oh sorry, I didn't know he wasn't in.
Grace (as she's walks down the hall): No, he's in. May I ask who's calling?
Hampden (over the phone): Sure. My name is Edgar Hampden. I am the head of Universal Pictures in America. The board and I are asking if he'd like to partner up on a project we working on. Is it okay if we speak with him?
Grace: Sure.
Hampden (over the phone): Thanks sweet.
(Grace knocks on door)
(Grace opens door)
Grace (to Henry): Mr. Franks.
Henry (to Grace): Yes, Grace?
Grace (To Henry): You have a call.
Henry (To Grace): Okay.
(Grace give Henry the phone)
Henry: Hello?
Hampden (over the phone): Hey, Henry, how's it going over there in Britain?
(Henry covers phone speaker)
Henry (whispering): Who is this?
Grace (whispering): Edgar Hampden. Universal. America.
Henry (whispering): Thank you.
(Henry puts phone back on his ear)
Henry: Sorry about that, Mr. Hampden, I was discussing with my assistant about your background. I'm gonna have you on speaker.
(Henry puts the phone on the desk)
(Henry presses the speaker button)
Hampden (over the phone): Can you hear me?
Henry: Yes, I hear you. Loud and clear.
Hampden (over the phone): Cool.
Henry: So what is that you want to talk to me about?
Hampden (over the phone): Well, we working on a period peace about the film about the life of Thomas Edison and we have everything we need for the film, but I feel like we need some charisma. So I was wondering if maybe if you would come to America to help us out with the production?
(Henry and Grace eyes widen in shock)
Henry (shaking): S-sure. I'd love t-to come to America to help.
Hampden (over the phone): Thanks!!! See you soon.
(Hampden hangs up)
(Henry and Grace look up at each other in silence in shock)
Henry (to Grace): What did I just do?
Grace (to Henry): You were ask to help out on an American production... (smiles): And you said yes.
Henry (to Grace): Do you realize to what this means?
Grace (to Henry in excitement): Yes!
Henry and Grace (shouting): WE'RE GOING TO AMERICA!!! WOOOOOOOOOOOOOOO!!!!
Henry loses his temper
Henry first session
Donna confronts Henry about the rumor
Henry hits Grace
Henry sings on The Tonight Show/Henry makes up with Grace
Henry makes up with Donna
Epilogue: The Oscars
Gallery