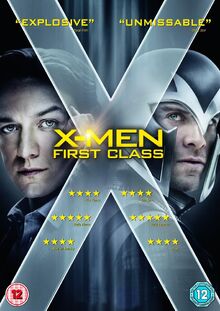 X-Men: First Class is an 2011 superhero film based on the the X-Men characters appearing in Marvel Comics, co-produced by Marvel Entertainment and Bad Hat Harry, distributed by 20th Century Fox Directed by Matthew Vanghn and written by David S. Goyer, the film stars James McAvoy, Michael Fassbender, Rose Byrne, Jennifer Lawrence, Lucas Till Caleb Landry Jones and Nicholas Hoult
The story is set primarily in 1962 during the Cuban Missile Crisis, and focuses on the relationship between Charles Xavier (Professor X) and Erik Lensherr (Magneto), and the origin of their groups—the X-Men and the Brotherhood of Mutants, respectively.
Plot
In 1962, the United States government enlists the help of Mutants with superhuman abilities to stop a malicious dictator who is determined to start World War II.
Cast
Community content is available under
CC-BY-SA
unless otherwise noted.