Wrong Turn 6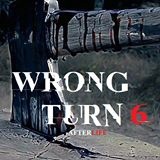 -Sleepover Flesh is a 2015 horror movie directed by Ben Affleck. 
Plot
Carrie Simmons and her friends want to throw a sleepover night at Carrie's home near the wood.As she prepares everything,her little brother Damian left the backdoor open.The 3 mutants Three-Finger,Saw-Tooth and One-Eye are searching for fresh blood in their woods,as they see the open door.They enters and hide in the closet.At night the girls drink alcohol anf tell each other spooky stories,as the first one gets eaten and killed by the 3 brothers.A gruesome night will take it's run and they have to find a way to stop the whole dilemma...
Main Cast
Katie Cassidy as Carrie Simmons/The Protagonist
Leighton Meester as Brooke Burke/The Fashionista
Brenda Song as Gia Coleman/The Tough Badass
Lauren London as Alysha Gershwin/The Bitch
Amanda Seyfried as Penelope Watts/The Quiet Mouse
Chelsea Kane as Wendy Sturridge/The Model
Michelle Trachtenberg as Stacie Nichols/The Gossip Girl
Dan Skene as One-Eye
Sean Skene as Three-Finger
Scott Johnson as Saw-Tooth
Bradley Steven Perry as Damian Simmons
Dianna Agron as Simone Wheeley/The Adorable One
Louise Roe as Angeline Perry/The World Traveler

Survivors
Carrie Simmons
Brooke Burke
Gia Coleman
Three-Finger
Simone Wheeley (?)
Stacie Nichols (?)

Deaths
Angeline Perry-Pulled in the closet and eaten by the mutants while phoning her 
               boyfriend;corpse put in the closet
Wendy Sturridge-Splitted with an axe by Saw-Tooth in front of her friends
Saw-Tooth-Slayed head on the wall and burned to death by Carrie and Gia                           
Wendy Sturridge-Bitten in cartoid artery in a fight with One-Eye
Penelope Watts-Raped and cut off stomach by Three-Fingers
One-Eye-Brutally kicked and stabbed with a butchers knife by Brooke and Stacie
Alysha Gershwin-Kidnapped by Three-Finger in the woods and cooked
Damian Simmons-Accedidentally shot in heart with a gun by Simone
Stacie Nichols and Simone Wheeley (?)-Followed Three-Fingers and trapped into a
                                      bear trap in alternative ending

Ending
Normal Ending-The police arrives at the house and enter.Along the dead bodies they find the girls in the basement.Brooke was so cunfused,that she almost stabbed the officer.They leave the house and went into hospital.At the end you can see Three-Fingers spitting out Alysha's bracelet. Alternative Ending-Stacie and Simone decided to search for Alysha,as they trap into a bear trap.They sink on the ground and you can see the red lights of the police cars in the backround.
Main Cast Gallery
Angeline's Death
Gia:Angie! I'm so sad,that you're leaving us alone...again!
Wendy:What? Where are you going?
Angeline:I don't know!
Brooke:Seriously?
Stacie:You don't know where you're going?
Angeline:Course!Somewhere in europe!
Carrie:Somewhere?
Angeline:Mark,my agent will tell me all the details later so...Yeah!
Alysha:But-You...(Phone Rings)
Angeline:Sorry i have to catch that!
(walks into Carrie's room)
Angeline:Hello?
Mark:Angie,darling!You're flying to Praque tonight!
Angeline:I'm at Carrie's!Can't i get a flight tomorrow?
Mark:Well,honey if u want to fly in 1st-class you'll fly tomorrow.
Angeline:Class doesn't matter! Will my super great agent fix that?
Mark:Yes darling i see what i can do! Love ya!
Angeline:Same here!
(quits the talk and hear something rumbles in the closet)
Angeline:Hello? (finds the mutant Saw-Tooth)
Angeline:Oh my god,sir!what happened to you face?
Angeline:Do you understand me?I'm getting the girls,wait!
(Three fingers hits her in the closet and they eat her alive)

Community content is available under
CC-BY-SA
unless otherwise noted.