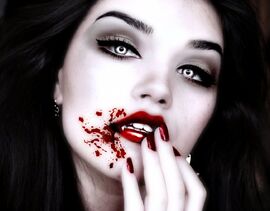 Vampires are mythical beings who subsists by feeding on the life essence (generally in the form of blood) of living creatures in Crossover Universe.
Biography
Character
Personality
Appearance
A vampire has pale skin, red eyes, fangs, pointy ears and claws. Sometimes they have pale green skin and pink eyes with red irises.
Powers & Abilities
* = notable
Shapeshifting* - It can transform into an object, animal or person.
Blood-sucking* - It can drink a mortal's blood.
Flight - It could hover in thin air.
Pyrokinesis - It can control fire.
Eating shades of red - Unlike traditional vampires, It is capable of sustaining herself on "shades of red," such as the color in strawberries, rather than being limited to surviving on blood.
Gallery
Trivia
Community content is available under
CC-BY-SA
unless otherwise noted.