---
I need help too. Because somebody keeps mess the page by changing asshole into fuckholes, adding in the plot and changing bitch into fucker. I wanted [| 23.127.202.144] to be blocked and not allowed to be in the fanon wiki. Please!! (Ednasharon24534)
He's been banned!!!! --Cakedude222 (talk) 06:22, November 20, 2015 (UTC)
---
We are looking to help your writers make the best stories possible, in return for contributors. So what do you say?
---
18:13, November 21, 2015 (UTC)
Hello.
I would like to know if it was alright if I transfered my Dora Trilogy on the Idea Wiki to here. It is because someone was  being a jerk on the idea wiki and i got mad and that person would stop putting her feelings in her shoes and walking on them and I got banned for 3 months. Then They raised it to 100 years. They really hate me. So reply anytime, it's just that Dora Trilogy could be gone forever without Fanon Wiki. It's my only hope.
JarvisGodan
TheJarvisGodan (talk) 21:36, January 31, 2016 (UTC)
Can you please deleted my blog?
Edit
Hi, can you please remove my blog post right here: http://fanon.wikia.com/wiki/User_blog:763492/Universal_Metazoa_(my_Universal_Studios_Theme_Park_fanon_idea) ? Because I learned that I should of post my fan ideas as an article and I shouldn't post this on to non-article pages on this site. So that's why I am about to do it now.
From, 763492
Hey man. Thank you for not:
deleting my spy mythology page
banning me (i would be really pissed)
using your friends as weapons
bullying me
and being like pb&jotterisnumber1. dat Donkey.
ignoring me very blatantly
I know that's unreasonable to tell you this because I haven't been on the wiki in forever, but you know. I had a lot of struggle on that god forsaken idea wiki. I'm glad that I'm at a place with a clean slate.
Anyways thanks. Just thanks. I think I'm gonna like it here...
Page deletion request
Edit
Hello. These two stub pages, Equestrila (Patria) and The Chronicles of Patria: The Game Cyromox Game, were created by an unregistered user using my category and setting without my permission. Could you delete them? SkyGuy-Let's chat! 22:27, May 29, 2016 (UTC)
Hey Cakedude. I have a problem. I dont know if its just my computer, but the pictures in my articles galleries have shrunk. Not all of them, but some have shrunk from magnifiable size to small. Is something wrong with this site? --Nutball5000 (talk) 03:40, June 9, 2016 (UTC)
Cakedude, please ban this user 210.10.133.152 bc he keeps editing my articles and wont stop. Please ban him from this wiki asap!!!! --Nutball5000 (talk) 16:57, June 11, 2016 (UTC)
Cakedude, I need u to ban user 210.10.133.152. He keeps ruining my article and must be banned! --Nutball5000 (talk) 19:51, June 11, 2016 (UTC)
Hey there! Remember me from the LEGO Message Boards Wiki? I didn't know you were an admin arround! Yada Dark 15:27, June 12, 2016 (UTC)
Hello, Nutball5000 wants me to block 210.10.133.152 for vandalism. Nutball5000 wanted you to make me admin so I could block him, because I have the skills necessary to protect this wiki from vandalism, and cleanup. This wiki's infrastructure is falling apart and it is falling behind the rest of wikia. Let's face it, half the admins here are inactive or barely active. So, I'd be an epic admin and really clean up the place. Everyone would thank me later. Chris6d Talk 16:10, June 12, 2016 (UTC)
Why are you, cake? :P Yada Dark
06:39, June 22, 2016 (UTC)
Admin Proposal — Please read
Edit
I've been on this wiki since 2013 (joined in 2015), and I have lots of experience on this wiki. In fact, it was my first wiki. There aren't a whole lot of admins on this wiki, and most of them are semi-inactive or not as active as they should be. I'm on Wikia pretty much everday, so I have plenty of experience. I'm already a discussions moderator here, so I'm not starting off from the bottom, like some other users. Point is, I have the skills to become the next admin here, and since you're bureaucrat, I thought I'd contact you.
I will become admin to bring this wiki to the top and bring justice to the vandals. I will also cleanup the wiki further and adjust it to mint condition. I will will eliminate unconstructive edits when the other users aren't around, and confront the vandals that arise at dark. I will protect the Fanon Wiki with the good users, and do what it takes to bring it to the top. We will fight the big fight. So, like I said, I'd like to become admin here. If you can re-enable it, thank you. Chris6d talk · contribs 14:38, July 10, 2016 (UTC)
Unlock page please
Edit
Can you please unprotect my own user page so I can edit it? Please? Thanks. Chris6d talk · contribs 14:38, July 10, 2016 (UTC)
I am working on my Finding Marlin page, which is on Idea Wiki. It is about Marlin (you know, Nemo's dad) trying to find his family (including his wife Coral). So, what do you think? Will you like it?
Click here if you want to look at my Finding Marlin page: ((http://ideas.wikia.com/wiki/Finding_Marlin))
Also, there is a poll to see if people like my idea or not. I want my Finding Marlin idea to be real.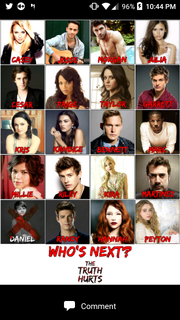 Do you know how to make this? I'm trying to do this for my new movie Horror Movie.
99.164.77.176 01:20, January 8, 2017 (UTC)Hey, please, can you ban 69.122.209.97 because he vandalized List of programs broadcast by The CC (Cartoon Comedy).
Here's the link to the vandlizer's page: http://fanon.wikia.com/wiki/Special:Contributions/69.122.209.97
- A Fandom User
--DipperTheDigger003 (talk) 17:51, January 8, 2017 (UTC)Dude, please stop this vandalizer http://fanon.wikia.com/wiki/Special:Contributions/69.122.209.97 at once. He's getting out of hand.
Hi Cakedude!
I'm new to this wiki, and I'm still learning my way around it. I was wondering if this was a wiki just talking about fanon things, or if it was also a place where I could possibly post a story I have in mind. If so, let me know so I can get to writing as soon as possible. Thanks in advance! :)
~KBW
A category called Death List was created (with articles stolen from a wiki I made, by the way), and I don't see how that is related to a fanon wiki, so, could you tell me what you think about this?
A Admin (I think) deleted my Property Template without even telling me, or even giving me the heads up why
Edit
I told this to another admin, but I will tell you also. You know people make their own "property" templates for their articles right? Well.. someone deleted mine without even giving my a heads up WHY it was deleted. So, can you please find out who deleted my Property Template, and tell whoever did it why? Because this Person never told me it was deleted, nor mentioned why it was.
What do you think of Foster Home for Imaginary Friends (2035) and Yo Gabba Gabba! (2040)