| | |
| --- | --- |
| | The owner of this page is Username687. According to policy, no other user, with the exception of admins, may edit this page without the owner's permission. If they do, they will receive an automatic 3 month block. If you are the Owner, and someone edits your page, alert Chris6d immediately. |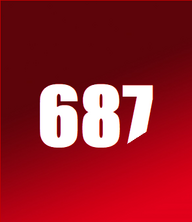 I'm a Swedish sensitive teenage male, who likes to create articles and stuff like that. I'm known for being the owner of the web channel called TV6 XD, and also known for being a co-owner of LeapFrog page.
We're doomed!
REMINDER
I'm not sure that I'm going to close account, but this is going to be my proposal anyway.
Yes, Unified Community Platform is on the rise, and I definitely don't like that one, and i really miss the old ones. They moved from Forum to Discussion page first, and if suddenly all wiki changed and removing everything that I actually don't like, that likely mean that I will find an another wiki platform, or leave this platform immediately. This is going way too far now.
We almost ran out of ideas.
Sorry, that's the reason why I sometimes be inactive sometimes on FANDOM.
¯\_(ツ)_/¯
Sandbox
My sandbox is meant to be a test, or just creating non-fanon content. (PLEASE DON'T REPORT ME FOR THIS, THIS IS MEANT TO BE FOR ENTERTAINMENT PURPOSES ONLY! OKAY?)
Opinions
Likes
Viasat Crime - R.I.P my favorite channel from 1998 to 2015. I have haven't even watch a lot, tho.
Cinema in Limmared (my cinema :D)
Sherlock
COPS (I'm going to miss that show.)
The Simpsons
Eek! The Cat
YouTube
FANDOM (you are here, lol)
Josephdapro
South Park
Family Guy
Unikitty!
Regular Show
Cinemas (my favorite one)
Dolby Caution (formerly)
Rex The Runt
SuperMarioLogan (Yeah, I agree, those SML puppets are terrible nowadays, I like SML in 2014 better.)
SpongeBob Squarepants
TV6 XD (my main web channel)
The Amazing World of Gumball
We Bare Bears
Scary Idents (of course, I'm not scared of those, expect for Viasat Crime's 2010 ident.)
MTV (I meant from 80's to the 90's, and NOT the modern one, because it sucks)

Beavis and Butt-Head
Daria (Never watch it yet, but I think the show was good!)
Object Shows
Countryballs
The Fresh Prince of Bel-Air
The Powerpuff Girls (formerly)
King of the Hill
TV6 Sweden (they some good programs here, not to be confused with my fan-made web channel, TV6 XD Sweden).
Pokémon
Netflix
Music (rock music and hip-hop only)
Windows 10
Sweden (my home country.)
New Zealand
Vidme (But sadly, Vidme was closing down in 2017, due to not finding a sustainable model and increase in competition).
True and the Rainbow Kingdom
TV4 Sweden
Seinfeld
Samsung
Apple
LEGO
Yo Mama (formerly)
Sport programming
Basketball
[adult swim]
Animated Memes
Pranks
Pickle and Peanut
Action Movies
Black Lives Matter
TBA
Neutral
Dolby Caution (The channel mostly broadcasts adult animations, criminal series and gang-related shows, formerly Dolby Caution broadcasts comedy, drama, horror and criminal shows, which I have a problem with this channel (its original programming are mostly animations), although I made this page for a years ago.)
TBA
Hates (Dislike)
My Little Pony
Dora The Explorer
Klassen SVT - I have watched this kids drama series, and guess what, it's NOT kids-friendly at all.
People's Republic of China
Adolf Hitler
Teen Titans Go!
The Powerpuff Girls (currently)
Horror Films (some of them.)
Bravleon (This is just like Happy Monster Band, The Good Boys, Go, Baby, 18th Street, The Happytime Murders and some few popular youtubers combined, also this idea was plagiarized and even have personal information on it, also the plot was pretty bad. I made these idiotic idea in 2018, and has planned to be deleted in 2020.)
Drama Films (or any of those sad films)
North Korea
Yo Mama (currently since in 2020, after they made a p**n video out of Memeulous)
Pollen (My allergy)
Boj
P**n (GROSS!)
Disney Junior
Nick Jr.
Baby TV
Tickle U
Confederate States of America (racism....)
Nazis
Panic Attacks
TBA
Relationships
Friends
Neutral
TBA
Enemies
Community content is available under
CC-BY-SA
unless otherwise noted.