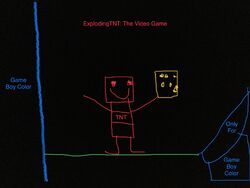 Hello, I'm CaillouFan, I love editing on this wiki and creating new fanon pages. I joined this wiki on April 22, 2020, and ever since that day I have been editing on this wiki a lot!
Friends (not counting Admins, because of course they are my friends)
DipperTheDigger003 (although we never communicated each other, I do like his articles such as The CC, so he is my close friend)
Favorite TV Shows/Least Favorite TV Shows
Favorite TV Shows
Even though I am old enough to watch 13+/14+ TV shows (because I am in the 13-18 age range), I only enjoy preschool shows and sometimes 7+ TV shows.
Caillou
The Loud House
Arthur
SpongeBob SquarePants
The Cat in the Hat Knows A Lot About That!
Big City Greens
Least Favorite TV Shows
I don't really have TV shows that I hate, but I still don't like these TV shows: