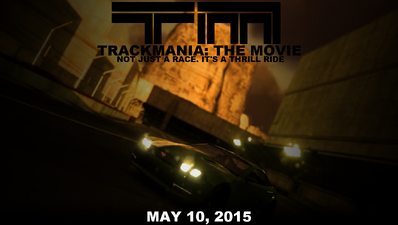 REDIRECT Template:2016FWA nominee
Trackmania: The Movie, is a French-American 2015 CGI/live action sports drama/action movie, based off  of a 2003 racing game of the same name , and a 2011 racing game of the same name . 
Rating Content, PG-13 version
The movie is aimed to be PG, but can be PG-13. The PG-13 version of this movie was made in theatres and DVD.
Strong Language
Includes some mild cursing, stuff you really shouldn't say or talk about in school.
Violence
Includes agressive conflict, such as fighting, shooting, and attempted suicide.
Suggestive Themes
Some references to provocative material.
Mature Humor
Humor targeted for usually young adults (16+) and up.
Tobacco Reference
The usage and references of tobacco products (like cigarettes) are featured in this film.
Cast
Rudy Porter is a Castel C1 champion haling from the United States of America.
Kazunouri "Kaz" Yamauchi is a professional Castel C1 champion from Japan, who is intense rivals with Porter.
Lancer Pierce is a car designer and CEO of TM Motors, also a millionaire.
Plot
The movie begins in the "Stadium" environment in 2006 (Also when Trackmania Nations EWSC was first released). American Rudy Porter prepares himself for the Castel Cup, one of the most prestigious racing series in the world. Hundreds of racers all around the world compete for the crystal clear cup. As the race begins, multiple crashes and wrecks were seen throughout the race, and Kazunouri Yamauchi, Porter's former rivals, emerges as the first place winner. Rudy in second place, and a Frenchman in third place.
8 years later, Porter recieved a mail from well-known car designer and millionaire, Lancer Pierce, to test drive a variation of the Ford Mustang they were working on for 3 years. Rudy accepts the invitation and flies to Willow Springs Internation Raceway (Canyon), where they will test the car at. During the test drive, Rudy drifts through tight turns with ease, proving that the car is very precise handling and control, and also went 369 kilometers per hour. Lancer was impressed by Porter's skilled driving, and hires him to participate in his C1 racing team.
Rudy leaves Willow Springs to go to eastern Europe for an upcoming C1 cup race.
Community content is available under
CC-BY-SA
unless otherwise noted.