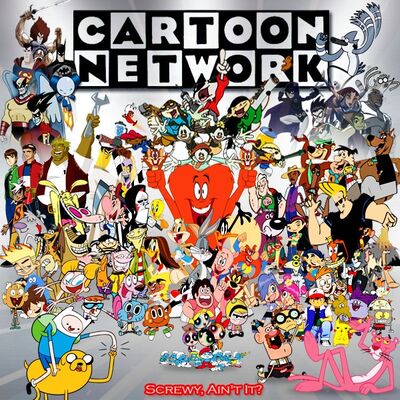 TBA is an American live action/animated science fantasy action-adventure comedy film based on a screenplay adapted from the comic book Super Secret Crisis War!.
Plot
The Cartoon Network multiverse theory.
Cast
TBA as Colin Patterson
TBA as Marlene Roach
TBA as TBA
TBA as TBA
TBA as TBA
Voice Cast
TBA as
TBA as
Chiwetel Ejiofor as Kraughor
TBA as Fledalf
Greg Eagles as Grim, Cal, Sperg
Grey DeLisle as Mandy, Frankie; Duchess; Goo; Crazy Old Cat Lady; Grandma Stuffum; Yumi; Lupe Toucan; Ingrid Giraffe, Mrs. Warthog,
Larry Drake as Pops
Lara Jill Miller as Juniper Lee
Keith Ferguson as Bloo,
Tom Kenny as Eduardo, Valhallen, Knightbrace, Snake Ingleberry, Lil' Arturo, Jake Spidermonkey; Eddie; Slinkman, Scoutmaster Lumpus, Carl Chryniszzswics, The Mayor; The Ice King
Tara Strong as Raven, Terrence, Harley Quinn, Bubbles
Jennifer Hale as Numbuh 86; Princess Morbucks; Madison;
Mr. Lawrence as Edward, Dave and Ping Pong Loon,
Steve Little as Chip and Skip, The Lemmings, Peppermint Butler
Kevin Seal as Sheep
Kath Soucie as Dexter's Mom, Agent Honeydew
Eddie Deezen as Mandark,
Candi Milo as Coco, Madame Foster, Dexter, Cheese
Kathryn Cressida as Dee-Dee
Andre Benjiman as Sunny Bridges
Small Fire as Lil' D
Crystal Scales as Tamika
Scott Menville as TBA
Janice Kawaye as Ami, Sonia, Lee, Kim and Kam Chin
Jimmy Zoppi as James, Meowth
Frank Welker as Monkey; the Infraggable Krunk; Scooby-Doo
Mark Hamill as Stickybeard; The Joker
Troy Baker as
Tony Sampson as Eddy
Thea White as Muriel
Tom Kane as Mr. Herriman, Professor Utonium,; Him
Paul Schoeffler as Le Quack, Katz, The Cruching Foot
Pamela Adlon as TBA
Charlie Adler as Cow; Chicken; The Red Guy
Maurice LaMarche as Father; Principal Pixiefrog;
Phil LaMarr as Wilt; Philly Phil; Samurai Jack
Rob Paulson as Major Glory
Khary Payton as Cyborg,
Sean Marquette as Mac
Diedrich Bader as Hoss Delgado
Benjamin Diskin as Numbuh 1, Numbuh 2, Delightful Children from Down the Lane
Lauren Tom as Numbuh 3
Dee Bradley Baker as Numbuh 4, Delightful Children from Down the Lane; Toiletnator; Cinderblock; Plasmus,
Cree Summer as Numbuh 5, Delightful Children from Down the Lane
Jeff Bennett as Mr. Boss; Mr. Fizz; Raj; Johnny Bravo; Ace Copular; Grubber; Big Billy; Samson
Mae Whitman as Little Suzy
Brenda Vaccaro as Bunny "Momma" Bravo
Jodi Benson as TBA
John DiMaggio as Jake
Daran Norris as Count Spankulot
Jill Talley as
Rick Gomez as Winsdor Gorilla, Slips Python,
Rachel MacFarlene as Numbuh 362, Eris, a deity who allies with Arbogast, Mindy
Nancy Cartwright as TBA
Nika Futterman as Adam Lyon
Janyse Jaud as Sarah; Lee Kanker
Kathleen Barr as Kevin; Marie Kanker
Erin Fitzgerald as Nazz; May Kanker
Ashley Johnson as Gwen Tennyson
Jeremy Shada as Finn
Minty Lewis as Eileen
Janie Haddad Thompkins as Margaret
Wendee Lee as TBA
Trivia
The film is rated PG for sequences of fantasy and science action and peril, some rude humor, and thematic elements.
Community content is available under
CC-BY-SA
unless otherwise noted.