Tonquezier
Background information
Season(s)
Feature films
Television programs
Relic Tenkos series
Video games
Park attractions
Portrayed by
Portrayed by
Animators
Voice
Performance model
Designer
Inspiration
Honors and awards
Character information
Full name
Other names
Personality
Royalty
Status
Dead
Appearance
Birthday
Occupation
Alignment
Good
Affiliations
Alignment
Goal
Home
Relatives
Unnamed Mother
Unnamed Father
Pets
Allies
Minions
Enemies
Likes
Good Guys
Dislikes
Bad Guys
Powers and abilities
Weapons
Tongue, Invisible (not used), Change Colors
Fate
Quote
Come on!
[Source]

Tonquezier is 8 feet standing chameleon- likes monster species that is seen in Relic Tenkos series, he appears in ep 56.
Appearance
He is a green chameleon.
Personality
He is royalty.
Abilites
Tongue: Tonquezier's tongue is longer than a real chameleon. It can also circle Palinous II and other monster opponents.
Invinsible (not used): Just like a normal chameleon.
Change Colors: Just like a different chameleon species are able to vary their colouration and pattern through combinations of pink, blue, red, orange, green, black, brown, light blue, yellow, turquoise, and purple. Chameleon skin has a superficial layer which contains pigments, and under the layer are cells with guanine crystals.
History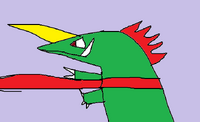 In ep 56, he meets Palionus II and then foughts him. He using tongue to circle Palionus, however, Palionus II using Flame Ray to rip his tongue, then Palionus II using claws and attacks at Tonquezier's throat multiple times. After Tonquezier died, Palionus II then burrowings and then escapes.
Quotes
Let's do this!
That's what you think.
Trivia
He is also sometimes known as Tonquerizer.
Despite being a chameleon, he can also using Invisible, but not used that.
He is only chameleon that can change colors.
Community content is available under
CC-BY-SA
unless otherwise noted.