Toapy Is Awesome (formerly known as Toapy) is an American traditionally animated slice-of-life dramedy TV series based on an initially-failed pilot from 2014 which later got revived. The first season consisted of 13 episodes. The second season of 13 episodes was set to air in 2019, but at 2018 San Diego Comic-Con it was surprisingly announced that it would instead air its first batch of 4 episodes earlier on October 15, 2018, only a week after the season 1 finale. The first batch did indeed air on October 15, 2018, and its second batch subsequently aired on January 21, 2019.
A commercial featuring creator Poppy Livingston aired on October 26, 2018, after all the episode premieres broadcasted, which confirmed a third season that would start to air concurrently with the May 27, 2019, season 2 finale; it concluded on January 20, 2019. On May 31, 2019, the series was renewed for a fourth and final season that premiered on February 17, 2020, but went into an indefinite hiatus shortly afterwards due to the global coronavirus epidemic, with the last two batches' airdates currently uncertain. It will consist of 13 episodes and 28 segments.
It is the only show on The CC (Cartoon Comedy) rated TV-G.
Plot
The plot revolves around an unidentified object by the name of Toapy (Tara Strong), who lives out his adventures in the aquatic city of Toapysburg with his best friend Sharpy (Mason Vale Cotton), an orange razor blade, Evelyn (Amanda Leighton), his green soap friend who harbors secretive romantic feelings for him, and Gabriela (Nika Futterman), a heavyset pink bar of soap who's both his friend and target of affections. The show has been described as a combination of Hey Arnold! (due to its slice of life themes) and SpongeBob SquarePants (its aquatic setting is reminiscent of the long-running Nicktoon).
History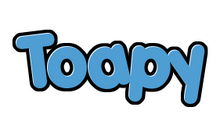 The show was originally pitched with the pilot "Visiting the Shave-tist", which promptly aired on May 14, 2014, on The CC (Cartoon Comedy). The pilot was picked up for a full series, however, but it has been picked up for a 4 season x 26 episode season for a total of 104 episodes, set to begin airing in February 2018. After its preceding show, The Bart Simpson Show was canceled due to controversy, Toapy took its place in the schedule and is currently airing a season of 13 episodes (with 3 segments each, for a total of 39 segments) as of December 4, 2017. The series is now airing on The CC (Cartoon Comedy)'s children's block, CChildren, as of May 22, 2018.
Voice cast
Tobias Peter "Toapy" (Tara Strong) - The main character who is an altruistic and compassionate, unidentifiable object.
Sharpy (Mason Vale Cotton) - Toapy's friend who is a well-intentioned but troublesome orange razor blade.
Evelyn (Amanda Leighton) - Toapy's other friend, a green bar of soap, who contracts romantic feelings towards him, even though he is oblivious to this. She comes off as meek and submissive, although deep down she harbors envy and resent towards her "friend" Gabriela.
Gabriela (Nika Futterman) - Toapy's baritone-voiced, overweight friend who's a pink bar of soap and ex-girlfriend. She is also Evelyn's friend and thus totally oblivious to the jealousy she holds towards Gabriela.
Marilyn (Jackie Buscarino) - Toapy's ingenious friend who is a misshapen orange bar of soap as a result of a birth defect. Due to her deformity, she comes across as socially awkward.
Jocelyn (Olivia Olson) - The new black loofah at Toapy's water school who debuted n the season 1 segment "New Girl at Water School". She has low-esteem, as seen in the segments "What a Laugh!" (from season 2) and "New Girl in the Dumps" (season 3).
Mr. and Mrs. Shampoo (Rob Paulsen and Candi Milo) - Toapy's middle-aged shampoo neighbors who are couple happily married for over 40 years. They remained childless for most of their union, until they adopt a soapy child in the season 3 segment "The Adoption".

Grandma Shampoo (Russi Taylor) - Mrs. Shampoo's 87-year old mother, and Mr. Shampoo's mother-in-law with Alzheimer's, who appears in the eponymous season 1 segment hoping to rekindle her relationship with her daughter.

Major Fishy (Nick Offerman) - The cantankerous mayor of Toapy's hometown, Toapysburg, who dislikes him for his "annoying, goody-two-shoes" way and his family's genealogy to the founder of Toapysburg.
Avery (Jessica DiCicco) - Evelyn's older sister who attends college. Initially introduced through flashbacks and mentions by Evelyn or her mom, she first appears in the season 2 finale "Avery Graduates", where she graduates college. Afterwards, she gets a job but is immediately fired from it, leading her to return to Toapysburg in the season 4 segment "Avery Is Back", where she becomes severely depressed over her career prospects.
Gordon Patrick "Goapy" (Tabitha St. Germain) - Toapy's sexist younger brother with persecution complex. Eventually, though, Toapy helps him abnegate his misogyny in the season 3 segment "Boy Meets Girl" by befriending a lively tomgirl named Soapia, who it is hinted at the end of the season 4 segment "Save the Playdate" that she likes him a lot, and he might too.
Series overview
Season
Episodes
Segments
Originally aired
Season premiere
Season finale
Pilot
May 14, 2014
1
13
39
December 4, 2017
October 8, 2018
2
13
49
October 15, 2018
May 27, 2019
3
13
52
May 27, 2019
January 20, 2020
4
13[1]
28[1]
February 17, 2020
TBA[1]
Pilot (2014)
No.
Title
Directed by
Written by
Original airdate
0
"Visiting the Shave-tist"
Poppy Livingston
May 14, 2017
Toapy visits the shave-tist and learns that it's not such a scary experience as he had previously feared.
Season 1 (2017-18)
First batch of episodes aired on December 4, 2017, followed by the next batch on May 22, 2018 on the new CChildren programming block. The last batch aired on October 8, 2018, which was first announced at the 2018 San Diego Comic-Con, along with an exclusive preview of some segments.
No.
Title
Directed by
Written by
Original airdate
Prod.
Code
1a
"Toothbrush Friend"
Kenneth Dumont
Fatima Mataraci
December 4, 2017
106-A
Toapy befriends a mysterious toothbrush that gives him the chase of his life.
1b
"Clean Your Toapy Body"
Kenneth Dumont
Fenton Cole
December 4, 2017
106-B
Toapy goes to wash his body in a nearby river.
1c
"Waterpark"
Kenneth Dumont
Poppy Livingston
December 4, 2017
106-C
Toapy and Sharpy go to the waterpark open every summer in Toapysburg and experience something unforgettable.
2a
"Mr. and Mrs. Shampoo"
Poppy Livingston
Diane Reed
December 4, 2017
103-A
Toapy meets his neighbors, a middle-aged shampoo couple that goes by the titles Mr. and Mrs. Shampoo (Rob Paulsen and Candi Milo, respectively).
2b
"Lifeguard Toapy To The Rescue!"
Poppy Livingston
Fatima Mataraci
December 4, 2017
103-B
Toapy becomes a lifeguard for the municipal pool and must save a drowning Evelyn, much to her satisfaction.
2c
"Reaching Mt. Toapy"
Wendy Conroy
Calvin MacKenzie
December 4, 2017
103-C
Toapy wants to beat the world record for being the only person to reach Mt. Toapy for the Toapysburg World Records book.
3a
"Soapy Toapy"
Lamar Robinson
Amy O'brien
December 4, 2017
105-A
Toapy goes to Sharpy's father's spa and tries the soap bed that radiates him with soap, relaxing him.
3b
"Discovering A Sewer - I Think?"
Lamar Robinson
Poul Lynge
December 4, 2017
105-B
Toapy and Sharpy allege that they have discovered a sewer, though no one buys into their claims.
3c
"Talent Show"
Lamar Robinson
Lester Gomez
December 4, 2017
105-C
Toapy struggles to find a talent for the Biannual Toapysburg Talent Show.
4a
"Soapy Bushes"
Fenton Cole
Calvin MacKenzie
December 4, 2017
110-A
Toapy and Sharpy play "hide-and-swim" in the soapy bushes at the watery park.
4b
"Toapymeo and Juliet"
Fenton Cole
Diane Reed
December 4, 2017
110-B
Evelyn decides to pursue acting so she can get the lead role as Juliet in the school play Romeo and Juliet, after learning that Toapy got the lead role as Romeo.
4c
"Water Recess"
Fenton Cole
Fatima Mataraci
December 4, 2017
110-C
Toapy and his friends play in the swimming playground at their watery school.
5a
"Sharpy's Apartment"
Fatima Mataraci
Diane Reed
May 22, 2018
101-A
Toapy visits Sharpy in his studio apartment.
5b
"Water School"
Lester Gomez
Donald Fairbanks
May 22, 2018
101-B
Toapy and Sharpy go to their first day of 4th grade at their watery school.
5c
"The Fort"
Lester Gomez
Anthony Gilligan
May 22, 2018
101-C
During their slumber water party, Toapy and Sharpy build a fort and pretend that they're in the middle of a war.
6a
"Necklace"
Poppy Livingston
Lamar Robinson
May 22, 2018
109-A
Mrs. Toothbrush, Toothbrush Friend's (from the titular segment) mother, gives Toapy a free necklace at the necklace shop that she owns, and he promptly shows it off.
6b
"Toapy In Love"
Poppy Livingston
Grekk
May 22, 2018
109-B
Toapy begins harboring feelings for a soapy girl named Gabriela, but his heart is de-anchored when he realizes that Sharpy's already "dating" her.
6c
"Bath Time"
Poppy Livingston
Lester Gomez
May 22, 2018
109-C
Toapy's imagination flows wildly while he's bathing.
7a
"Sharpy's Mom"
Annie Oh
Amy O'brien
May 22, 2018
107-A
When Toapy begins to regularly visit Sharpy at his apartment, he finally gets the chance to meet Sharpy's workaholic mother, Harper (Cree Summer).
7b
"Cloudy With A Chance of Splashing"
Annie Oh
Poppy Livingston
May 22, 2018
107-B
Toapy views a weather forecast and concludes that a "water splash" (similar to a tsunami) will occur soon, so he starts preparing in case of an emergency.
7c
"My Science Water Project Partner's Evelyn"
Annie Oh
Calvin MacKenzie
May 22, 2018
107-C
Toapy's class is assigned a water group project that they will do over the winter break, and Toapy is assigned to his female friend Evelyn instead of the expected Gabriela.
8a
"A Good Schooling"
Calvin MacKenzie
Fatima Mataraci
May 22, 2018
108-A
Toapy's school Soapy Elementary is competing against rivaling school Guppy School to determine which one wins Best Water-Elementary School Award.
8b
"El Sprayador!"
Calvin MacKenzie
Grekk
May 22, 2018
108-B
Toapy and Sharpy are told by Mr. Shampoo the legend of the elusive and gun-toting outlaw colloquially referred to as El Sprayador (Alfred Molina).
8c
"Water Ball"
Calvin MacKenzie
Lamar Robinson
May 22, 2018
108-C
Toapy and Sharpy face off against some athletic soaps in a game of "Water Ball".
9a
"Toilet Papering Around"
Poppy Livingston
Diane Reed
October 8, 2018
102-A
Toapy and Sharpy spin around in the toilet paper merry-go-round, which gives them a sense of nostalgia when they were youngins.
9b
"Gabriela's Parents"
Poppy Livingston
Diane Reed
October 8, 2018
102-B
Toapy is invited to Gabriela's house for her 9th birthday and is introduced to her disapproving parents, who believe that Toapy befriended Gabriela as a means of trying to "date" her, which makes him guilty as he does love Gabriela but realizes this might be a step back.
9c
"A Trip To Toapy Falls"
Poppy Livingston
Diane Reed
October 8, 2018
102-C
Toapy's family travels to Toapy Falls, a natural cascade that is alleged to be dangerous to swim on despite there being no evidence supporting this theory. Toapy, however, braves himself to disprove this theory and manages to swim in the falls with no negative repercussions. Everyone is now allowed to swim on the falls and Toapy is appraised by family and the other tourists alike for his bravery.
10a
"The Valentoapy's Dance"
William Ebert
Calvin MacKenzie
October 8, 2018
104-A
For the Valentine's Day dance at his school, Toapy asks Gabriela on an outing to the dance, but is rejected by her since Sharpy, her "boyfriend", has already asked her out. Sharpy contracts "water flu" the day before the dance, so Toapy gets his permission to go out with Gabriela as a replacement. He truthfully intends to swoon Gabriela, for then she will finally return her feelings for him. Arriving at the dance earlier than Gabriela, he strikes conversation with Evelyn, who came alone as every other boy was taken. This makes Toapy guilty, and it resides within him until he turns on his previous intentions and makes his "date" with Gabriela a friendly one. He also invites Evelyn to the twosome, and they all have a grand time.
10b
"New Girl at Water School"
William Ebert
Lamar Robinson
October 8, 2018
104-B
Toapy befriends the new girl at his water school, Jocelyn, who has all classes with him. Evelyn sees them together and has her jealousy assume for her that Toapy is attempting to woo Jocelyn after she believes what's to be his failure at "seducing" Gabriela at the Valentine's day dance from the previous segment.
10c
"Water Camp"
William Ebert
Grekk
October 8, 2018
104-C
Toapy's family and Sharpy's family have a joint camping trip together to strengthen their survival skills, but they have to think on their feet when they get trapped in a cavern with not a single individual in each family possessing actual survival skills.
11a
"Grandma Shampoo"
Amy O'brien
Poppy Livingston
October 8, 2018
111-A
Mrs. Shampoo's estranged mother who suffers from Alzheimer's disease, affectionately referred to as "Grandma Shampoo" by Toapy (Russi Taylor), visits the Shampoo household as she fears she's too elderly to live by herself anymore. Mrs. Shampoo, however, is disdained by her presence, attempting to get rid of her by suggesting some retirement homes that include caretakers for disabled geriatrics like Grandma Shampoo. Grandma Shampoo, however, is secretly hoping to reconnect with her daughter, only revealing this to Toapy, who comes up with a way to better their relationship. He models the Shampoo home to resemble that of the one Mrs. Shampoo grew up in as a young girl so as to bring pleasant memories of Mrs. Shampoo and Grandma Shampoo and so they can bond again. His plan is successful, and Mrs. Shampoo and Grandma Shampoo hold their first hug in 47 years. Toapy comically joins their hug by squishing himself in the middle, becoming part of a sandwich hug.
11b
"Mistletoe Kiss"
Amy O'brien
Poul Lynge
October 8, 2018
111-B
Christmas season washes over Soapy Elementary, and to celebrate, the school hangs up mistletoe around the school building. This gives Evelyn the hope to kiss Toapy under one, despite multiple unsuccessful attempts during the school day. When dismissal arrives she is about to leave the building when she is kissed by Toapy on the lips. She fawns over the moment, believing she has succeeded in getting the two of them under the mistletoe. It is shown that there was no mistletoe above them, however.
11c
"The Rake"
Amy O'brien
Poul Lynge
October 8, 2018
111-C
Toapy is tasked with raking the leaves in Mr. and Mrs. Shampoo's garden, which poses as an arduous task that he manages to overcome. The Shampoo couple pays him for the favor, and are pleasantly surprised by the leaf-blower that Toapy has paid with their money.
12a
"Sleepswimmin'"
Dipper
Donald Fairbanks
October 8, 2018
112-A
Sharpy alleges that tiredness has taken over him due to a tendency to "sleepswim", so Toapy stays with him at his apartment for one night under the condition that he will try to rid him of the condition.
12b
"The Little Merman"
Dipper
Amy O'brien
October 8, 2018
112-B
While fishing atop a powder blue luster, Toapy is mistaken by some seamen for a merman, which throws Toapy's entire hometown into hysteria. This causes Toapy to feel pressured to keep the merman facade going on so as to not disappoint the usually-bored townsfolk.
12c
"Hypno Toapy"
Dipper
Donald Fairbanks
October 8, 2018
112-C
For a class presentation on hypnosis, Toapy demonstrates the various ways you can hypnotize a certain individual, using Sharpy as a test subject. Some soapy bullies use one of the tactics, which is saying the word "Soap Mouth", to hypnotize Toapy and use him to their advantage.
13a
"The Spelling Toapy"
Wendy Conroy
Fatima Mataraci
October 8, 2018
113-A
Toapy signs up for the spelling bee to prove to Sharpy that it's not as challenging as Sharpy makes it out to be, finding out pretty quickly that is in fact difficult.
13b
"Toapy 4 Mayor"
Wendy Conroy
Poppy Livingston
October 8, 2018
113-B
Tired with Toapysburg mayor Mayor Fishy's failure to keep his word and take action to change the town for the better, Toapy's friends decide to enter him into the upcoming mayor candidature much to his discomfort at meddling with politics.
13c
"Love Is The Best Medicine"
Wendy Conroy
Poppy Livingston
October 8, 2018
113-C
After slipping and breaking his backbone at recess, Toapy is sent to the hospital to get the injury fixed up. During his tenure, he receives little to no visits from anyone apart from his family due to their busy schedules, until Evelyn pops in for a visit one particular day, as she is heartbroken over his hospitalization. Toapy compliments Evelyn for giving him time to come over, which is a great source of blushing for Evelyn, and she attempts to hide it. Afterwards they joke around with each other, basically having a good time. When Evelyn gets Toapy's permission to touch his injury, she slips on him, kissing him in the face in the process. She is understandably embarrassed and quickly gives an apology before storming out. Later on, they meet again after Toapy gets out of the hospital and reconcile as friends, even though Evelyn secretly cherishes the kiss.
Season 2 (2018-19)
On March 3, 2018, Toapy got renewed for a second season of 13 episodes and 52 segments (each episode featuring 4 segments that total 7 minutes from now on), bringing the series to a total of 26 episodes and 91 segments thus far. At the 2018 San Diego Comic-Con, it was announced that season 2 was planned to air in early 2019, but instead, it aired its first batch of episodes on October 15, 2018, only a week apart from the season 1 finale. The final batch will air on May 27, 2019, along with the season 3 premiere. It was also announced that season 2 will touch upon more mature themes while still leaning towards a TV-G rating.
No.
#
Title
Directed by
Written by
Original airdate
Prod.
Code
14a
1a
"The Great Soap Steal"
Annie Oh
Fenton Cole
October 15, 2018
116-A
Toapy dons his private detective alter ego Charles Combs to crack the case of soapy residents of Toapysburg disappearing out of thin air.
14b
1b
"The Great Necklace Napping"
Annie Oh
Fatima Mataraci
October 15, 2018
116-B
Toapy's necklace (which was gifted to him by Mrs. Toothbrush in the Season 1 segment "Necklace") goes missing, so Charles Combs possesses Toapy once again to retrieve the lost item.
14c
1c
"The Great Phone Phony"
Annie Oh
Lamar Robinson
October 15, 2018
116-C
In yet another case, Charles Combs must pinpoint a specific individual that has been storing gag phones in Toapy's classmates' desks.
14d
1d
"The Meandering Man Mystery"
Annie Oh
Calvin MacKenzie
October 15, 2018
116-D
Without Charles Combs taking over, Toapy as himself must figure out why the town kook is seen walking all around Toapysburg. The mysterious nature of his walks become tragic after the so-called "kook" opens up about how he walks around town in search of the spot where the scene of his wife was struck down by a car and killed played out. Feeling pity for the man, Toapy organizes a town walk where the Toapysburg townsfolk walk around town to aid the man in searching for the spot. After it is found, the man kisses the ground and is ready to move on.
15a
2a
"Pretty in Orange"
Poppy Livingston
Grekk
October 15, 2018
114-A
Marilyn, a good friend of Toapy and his own friends, is a smart yet misshapen orange bar of soap who is socially awkward as a result of not feeling comfortable in her own skin. Her mother, Caroline, is a beautiful woman who constantly gives her makeup and clothing advice in the hopes of helping her both physically and mentally, but Marilyn has ignored her until one day she takes her advice and applies make-up and dresses nicely before a charity event. Soon, she receives both male and female attention at school and fits in with the popular kids, forgetting Toapy and the rest of the gang, who are her true friends.
15b
2b
"Task and Ye Shall Receive"
Poppy Livingston
Lester Gomez
October 15, 2018
114-B
Gabriela dreams of buying a T-shirt of her favorite boy band C♥Level, so Toapy and his friends pitch in to work odd jobs to raise funds for the shirt.
15c
2c
"I'll Love You As Long As I Can"
Poppy Livingston
Donald Fairbanks
October 15, 2018
114-C
Evelyn records a love song about Toapy that she will perform at a community theater for a chance to get the leading role in the production of a play there, and then she must find it all around town when she carelessly misplaces it so as to be assured that Toapy does not get a hold of it and read its contents.
15d
2d
"What a Laugh!"
Poppy Livingston
Poul Lynge
October 15, 2018
114-D
Jocelyn proves herself to be the serious type as she seems to be the one to least laugh out of all of Toapy's friends, so he tries to humor her, but the various unsuccessful predicaments at doing so are what truly end up cracking her up.
16a
3a
"Marilyn's Dog Tail"
Fenton Cole
Diane Reed
October 15, 2018
117-A
Marilyn volunteers at the Toapysburg Animal Shelter and befriends an abused dog whom she affectionately refers to as "Steely", but she finds it challenging to bond with the animal as it is disturbed by any soap touching it.
16b
3b
"What's In a Name?"
Fenton Cole
Fatima Mataraci
October 15, 2018
117-B
Mayor Fishy announces he will change Toapysburg's name to Fishburg due to the town's establishment derived from Toapy's great-great-great-grandfather, and also because of his obvious dislike for Toapy, but Toapy and his friends retaliate by making a petition to reinstate the original name.
16c
3c
"Toapy and Sharpy vs. Goapy"
Fenton Cole
Fatima Mataraci
October 15, 2018
117-C
Toapy is in charge of his little brother Goapy as his parents strive to celebrate their second honeymoon, but Goapy behaves terribly and does not listen to Toapy's commands, so Toapy enlists Sharpy's help to control his little brother. This drives Goapy to brew a war against the two, however.
16d
3d
"Toapy Guard"
Fenton Cole
Grekk
October 15, 2018
117-D
Toapy becomes Evelyn's bodyguard following an altercation that involved Evelyn and a popular soapy girl. He unwittingly lands himself in hot bath water after the soapy girl's boyfriend/bodyguard challenges Toapy to a fight himself.
17a
4a
"Book Adict"
Calvin MacKenzie
Donald Fairbanks
October 15, 2018
120-A
Marilyn becomes obsessed with a book and longs for the plot to become a reality, which begins to concern her family and friends.
17b
4b
"Marilyn Loses It"
Calvin MacKenzie
Donald Fairbanks
October 15, 2018
120-B
Marilyn has a mental breakdown after losing the class president candidature to Sharpy, which causes her to receive terrible grades and adapt to bad school habits like a lack of studying and abstaining from homework.
17c
4c
"Evelyn Shapes Up"
Calvin MacKenzie
Anthony Gilligan
October 15, 2018
120-C
Evelyn begins to exercise excessively in order to give Toapy a good impression of her and possibly fall in love with her, risking her physical health during the whole process.
17d
4d
"Evelyn Confesses to Gabriela"
Calvin MacKenzie
Fenton Cole
October 15, 2018
120-D
Evelyn spills out her true feelings for Toapy towards Gabriela, then later has stop Gabriela from telling Toapy how Evelyn truly feels about him.
18a
5a
"Cheerleader"
William Ebert
Fatima Mataraci
January 21, 2019
119-A
Evelyn sets her sights on rehearsing for the Toapysburg's cheer-leading team the Soap Stars in the hopes of getting a spot on the team, but is unmotivated and feels inadequate by the other girls' graceful rehearsals. Despite this, Toapy believes in her and advises her to do so as well.
18b
5b
"That Night"
William Ebert
Grekk
January 21, 2019
119-B
Toapy heading out to a school dance reminisces Mr. and Mrs. Shampoo of the first time they'd ever met during their high school prom in 1970, after their dates "ghost" them and hook up with each other. Afterwards, they re-enact their first slow dance and fall in love "all over again".
18c
5c
"Sleepless in Toapysburg"
William Ebert
Fenton Cole
January 21, 2019
119-C
During a restless night, Toapy and Evelyn find themselves unable to sleep and take in the tranquil ambiance, with Toapy consuming a midnight snack and pondering, while Evelyn gets her creative juices flowing and writes three songs, also pondering meanwhile (mostly about Toapy, unsurprisingly).
18d
5d
"Sharpy the Winner"
William Ebert
Fatima Mataraci
January 21, 2019
119-D
Sharpy considers himself a loser and wants to change that, so Toapy signs him up for multiple competitions and trains him to receive at least one accolade.
19a
6a
"The Unpopular Soap"
Lester Gomez
Diane Reed
January 21, 2019
118-A
Toapy aids a quiet, timid soap from his water school on his quest for popularity, but the latter begins to have a change of heart after learning the truth about a popular soap.
19b
6b
"Toapy Appreciation Day"
Lester Gomez
Annie Oh
January 21, 2019
118-B
Toapy's friends proposition a new holiday, "Toapy Appreciation Day", to honor Toapy's acts of kindness and selfless personality by writing up a petition with 1,000 signatures needed before it's sent to Toapysburg City Hall. Major Fishy rejects the potential new holiday out of his hatred towards Toapy. But Toapy and his friends do not give up easily.
19c
6c
"Sr. Desodorante"
Lamar Robinson
Diane Reed
January 21, 2019
118-C
Mr. Shampoo and his Hispanic friend, Sr. Desodorante, quarrel over the more superior product/metaphor for race, which strains their relationship and sours Mr. Shampoo's personality into a bitter one, to the point where it almost borders on a divorce with his wife Mrs. Shampoo.
19d
6d
"Eleanor the Helicopter"
Lamar Robinson
Donald Fairbanks
January 21, 2019
118-D
Eleanor quits her demanding job so she can begin to keep better track of her daughter Evelyn's life and form a less distant relationship between the two. Her normal adult supervision towards Evelyn, however, doesn't take long to spiral into an out-of-control fixation on her daughter's life, which both stresses and frightens Evelyn.
20a
7a
"Love or Sink"
Dipper
Poppy Livingston
January 21, 2019
121-A
Hanging out at the Toapysburg Annual Town Fair with Toapy, Sharpy and Gabriela, as a hang-out spot gives Evelyn the impression to get Toapy's romantic attention, most of which fall flat on her face.
20b
7b
"Toa-Profanity"
Dipper
Poppy Livingston
January 21, 2019
121-B
Toapy has to clear his name after he is accused of swearing by an infamous class snitch named Mitch (Debi Derryberry), finding to do so difficult as Mitch's snitching is "0% inaccurate but 100% accurate".
20c
7c
"Switching Houses"
Dipper
Anthony Gilligan
January 21, 2019
121-C
Toapy and Evelyn, partnered up for a "switching lives" project at school, must switch living quarters and families for an entire week, with Toapy having to accustom himself to a lack of parental involvement due to Eleanor's workaholic tendencies, and Evelyn being forced to deal with Toapy's obnoxious younger brother Goapy, who happens to be a misogynist.
20d
7d
"Toapy the Player"
Dipper
Poul Lynge
January 21, 2019
121-D
Taking his father's advice way too seriously, Toapy becomes a womanizer, which delights Evelyn as he flirts with her. That, however, turns into heartbreak when Toapy immediately dumps her for Gabriela not even a day after becoming "engaged" to the former.
21a
8a
"Sharpy's Haircut"
Amy O'brien
Calvin MacKenzie
January 21, 2019
122-A
Sharpy receives a terrible haircut courtesy of an inexperienced barber who had an apprenticeship under Sharpy's usual barber, that which he resorts to hide from everyone, including his best friend Toapy.
21b
8b
"Runaway"
Amy O'brien
Calvin MacKenzie
January 21, 2019
122-B
Evelyn runs away from home to test her workaholic mother Eleanor's neglect. Looking for a place to stay, she decides to inquire for some free B&B at a random house, which turns out to be Toapy's. His parents agree to let her stay under the pretense that she is "Toapy's fair and beautiful friend". She has a discussion with Toapy that changes her mind, and she comes back to her mother on that same night, apologizing profusely for having run away.
21c
8c
"Toapy and Evelyn Hang Out"
Amy O'brien
Poul Lynge
January 21, 2019
122-C
Toapy hang out one-on-one for the first time around Toapybsurg, with Evelyn viewing it as a chance to finally tell Toapy how she feels about him. She almost gets her chance when she accidentally smooches Toapy as she shields him from an oncoming trailer, but she brushes it off as "the work of adrenaline". Toapy accepts this apology, though subtly it is shown that he's not convinced.
21d
8d
"Toapy's Day Off"
Poppy Livingston
Anthony Gilligan
January 21, 2019
122-D
As he's come down with a cold, Toapy is to remain resting at home for a day, consequently meaning that he can't help others out with their problem for the day. It spells doom for his friends at first, until they calm down and solve the issues on their own without Toapy's assistance.
22a
9a
"Shirt Story"
Wendy Conroy
Grekk
May 27, 2019
115-A
During a shopping spree for school clothes, Toapy notices a particular shirt that he wants to purchase, but when it travels around through various intricacies, Toapy must upend the entire store so as to get that shirt by any means. In his pursuit, he undertakes the runaway shirt but sees another kid who's been chasing for the shirt as well. Being goodhearted, Toapy bestows him the shirt and actually finds a replica of the shirt while investigating.
22b
9b
"The Walk"
Wendy Conroy
Grekk
May 27, 2019
115-B
Toapy and Sharpy find themselves in the middle of some bizarre scenarios as they're walking home from school one day, and must rely solely on quick-thinking and their wits to live through these ordeals.
22c
9c
"School Anthem"
Wendy Conroy
Donald Fairbanks
May 27, 2019
115-C
Marilyn is appointed by the water school to rewrite the school anthem for future school events, and brainstorms the potential anthem with the help of her friends. Their aid notwithstanding, Marilyn elects to uncover her voice and messages through the anthem, and after the principal authorizes it, her friends are left a bit bittersweet but celebrate her accomplishment anyhow.
22d
9d
"Flowers and Chocolates"
Wendy Conroy
Donald Fairbanks
May 27, 2019
115-D
Toapy is suspicious of Evelyn's true intentions after she mutters up the courage to forward him a bouquet of flowers and a heart-shaped box of chocolates for Valentine's Day. She guarantees him that it's just a friendly gesture, but he's doubtful of this. Later, Toapy receives another vase of flowers and box of chocolates, this time from "Sharpy", and he apologizes to Evelyn for believing only a lover sent someone else gifts normally considered romantic, unbeknownst to the fact that it was Evelyn who struck again.
23a
10a
"Sharpy's Prank Call"
Annie Oh
Fatima Mataraci
May 27, 2019
123-A
Sharpy pranks call an individual also residing in Toapysburg, at random, and becomes paranoid that he'll encounter them and be identified.
23b
10b
"Dance With Me"
Annie Oh
Anthony Gilligan
May 27, 2019
123-B
Evelyn objects having to pay a dance instructor teach her dance choreography in time for her cousin Avalon's wedding, so Toapy chips in and edifies her at no cost due to his helpful and compassionate nature. Evelyn, however, seizes this opportunity to romantically lead Toapy on. Unsurprisingly, she founders, but her dancing abilities come in handy at the actual wedding when Toapy seeks a dance with Gabriela but she is unable to keep up with the choreography, and he instead chooses Evelyn as his dancing partner.
23c
10c
"Mr. Water Loves"
Annie Oh
Fatima Mataraci
May 27, 2019
123-C
Mr. Water reconsiders, and re-enters, the dating game after his guppy pupils question him on his intimate life. He meets up and starts dating a soap dispenser, Dinah, whose true self is eventually displayed as jealous and controlling. Mr. Water tolerates the dysfunctional relationship, however, after his students note his improvement in personal hygiene and teaching methods. Only Evelyn notices his change in personality and sways him out of the situation, and he finds that his self-care and teaching style are just as great as when he was dating Dinah.
23d
10d
"Picnic Panic"
Annie Oh
Diane Reed
May 27, 2019
123-D
Evelyn enlists Gabriela's help in impressing Toapy during a field trip to a local park for a school picnic, while Toapy himself strives to look good for Gabriela during a water ball game.
24a
11a
"The Soap Next Door"
William Ebert
Lester Gomez
May 27, 2019
124-A
A flashback segment recalling Evelyn's first run-in with Toapy (both toddlers at this stage) as he moves in next door to her, divulging that Evelyn was at first callous towards his "goody two-shoes" personality, she eventually catches feelings for him after he's willing to accompany her at lunch, which no one else would have done up to that point.
24b
11b
"Music Video"
Poppy Livingston
Lamar Robinson
May 27, 2019
124-B
Evelyn attempts a romantic connection with Toapy while he helps her with the production of a music video for her latest song, "Crystal Clear". She even coaxes him into pecking her in the cheek since it's "just for the vid." A while later after filming is wrapped up, she begins to harbor guilt over her intentions, especially after Toapy and his friends come over to watch the finalized version of the video and Toapy seems irked by the kissing scene.
24c
11c
"Evelyn's Dad"
Poppy Livingston
Runold Munoz
May 27, 2019
124-C
Evelyn reluctantly counts down the days until she visits her dad, Allen, who was convicted of domestic violence when she was 7 and is currently serving a 25-year sentence in jail, where interfamilial visits are limited to once a year. Initially picturing him as a ruthless, tattooed prison thug from his many years in the slammer, Evelyn is pleasantly greeted with a warm, kind man who has taken up an interest in psychology and philosophy and does not ask for forgiveness, only more recurring visits from Evelyn. She vows to come back very soon, on good terms with her dad at long last.
24d
11d
"Evelyn's New Dad"
Calvin MacKenzie
Ronald Munoz
May 27, 2019
124-D
Evelyn's mom contacts a soapy man, Gordon, whom she immediately marries at a small chapel molded out of soap. At first, he's able to gain the liking of both his wife and her daughter Evelyn, but soon comes to light as brutish and as shrewd as Evelyn's biological father, and Evelyn considers getting advice from her actual father on the matter.
25a
12a
"Evelyn Stays Over"
Calvin MacKenzie
Poul Lynge
May 27, 2019
125-A
Another flashback segment focusing on Toapy and Evelyn as toddlers, as Evelyn takes refuge in Toapy's residence to temporarily escape her heartless father's beatings, who on that same night would be arrested and sentenced to 25 years in jail for domestic and child abuse.
25b
12b
"Evelyn's Small World"
William Ebert
Poul Lynge
May 27, 2019
125-B
Yet another flashback segment, but this time centering on Evelyn as a first-grader who is unsure about her besotting towards Toapy until she envisions Toapy everywhere she goes, and sometimes it leaves her unable to distinguish it from either reality or fantasy. She finds it easy to disillusion herself from him by writing love songs, which develops into her now-famous passion for songwriting.
25c
12c
"Pretend Parents"
Fenton Cole
Poul Lynge
May 27, 2019
125-C
During recess, Marilyn gathers everyone for a game called Family, with Evelyn pretend playing as Toapy's wife, and Sharpy acts as the "couple's" "child", despite Toapy's discomfort being in full display for everyone to notice. Evelyn catches wind of Toapy's reaction and feels lovelorn, but acquiesces and orders Marilyn to halt Family. Marilyn is notified of Toapy's abashedness and instead settles on tag.
25d
12d
"The Messenger"
Fenton Cole
Anthony Gilligan
May 27, 2019
125-D
Evelyn hires Sharpy to be her messenger of secret admirer notes with their destiny being Toapy's desk before he arrives to school so no one becomes apprehensive of the messages. Toapy reads and believes the messages originate from Gabriela, so he accepts an outing with her to a fast-food restaurant thinking it's a romantic rendez-vous. Gabriela recounts Evelyn of her and Toapy's "hanging out" and Evelyn must stop the disastrous and misunderstood commitment.
26
13
"Avery Graduates"
Dipper,
Poppy Livingston &
Calvin MacKenzie
Lamar Robinson &
Donald Fairbanks
May 27, 2019
126
Evelyn and her mother travel out of Toapysburg to witness her older sister Avery's college graduation. While stationed at a hotel, Evelyn buddies up to Manfred (Benjamin Diskin), another kid whom she meets at the graduation ceremony, and they get permission to enjoy all the entertainment that Manfred's city has to offer after the ceremony concludes. As the sun becomes dormant and night takes rise, Manfred confesses to Evelyn that he has a crush on her because he's never had a good time with a girl before and hopes she reciprocates. She rejects his advances, and he's understanding but dejected since he's gotten accustomed to being unwanted by the "ladies". Evelyn feels awful later on and accepts his phone number out of pity. Packing up, she's enlightened by how unrequited her love for Toapy is, like Manfred's love for her was. When she returns to Toapysburg, Evelyn stores her songs dedicated to Toapy in the attic and starts dialing a number, which is never disclosed to the audience as the episodes fades to black.
Season 3 (2019-20)
Following new episode premieres, on October 26, 2018, a third season was announced in a commercial featuring Poppy Livingston. A 13-episode, 52-segment order was given. It premiered on May 27, 2019, along with the remaining season 2 episodes.
No.
#
Title
Directed by
Written by
Original airdate
Prod.
Code
27a
1a
"Evelyn Hates Toapy"
Lester Gomez
Grekk
May 27, 2019
127-A
Evelyn decides to pretend to be hinting her dislike for Toapy so she can buy her own lie and gradually fall out of love for Toapy. She denounces her plan to Gabriela, who feels like Evelyn's plan is wrong and she should seek out other methods of alleviating her crush on Toapy. At first, Evelyn is positive her plan will work, but after deliberately making Toapy cry, she consoles him and expresses regret for hurting his feelings. He takes her apology, and Evelyn elects to think about Manfred rather than Toapy whenever an intrusive though about him pops into her head.
27b
1b
"Evelyn Loves Sharpy"
Lester Gomez
Grekk
May 27, 2019
127-B
Evelyn flirts with Sharpy to get closer to Toapy, but she considers him too odd and immature compared to Toapy. She eventually fabricates a lie about him being attentive towards other Gabriela more than her in order to break up with him. He's left destroyed emotionally, but Gabriela eventually empathizes with him and even embraces him, making Sharpy's attraction towards Gabriela stronger.
27c
1c
"Sharpy Toughens Up"
William Ebert
Poul Lynge
May 27, 2019
127-C
Sharpy is done being the quintessential scaredy-cat of his friend group, so he decides to employ Gabriela to help him become more braving and unabashed. Secretly, however, he also does this intending to get Gabriela to fall head over heels for him.
27d
1d
"Photo Album"
Lester Gomez
Sinclair Fitzpatrick
May 27, 2019
127-D
Mr. and Mrs. Shampoo offer Toapy their photo album after much insistence on his part, and he invents a backstory for each of the photos he skims through which are displayed as flashbacks.
28a
2a
"Portrait"
Fatima Mataraci
Poppy Livingston
May 27, 2019
135-A
Toapy's inexplicably drawn to a portrait exhibited in Mr. and Mrs. Shampoo's living room, but only he can dig up its backstory when the elderly couple are only able to recount the time they bought it at an auction bid, not even aware of who the artist is.
28b
2b
"That Smarts!"
Calvin MacKenzie
Poppy Livingston
May 27, 2019
135-B
Subsequent to her failing grades and distracting herself in class, Marilyn theorizes that she is losing her intellect due to her possession of a phone and surroundings by "dimwits" like Sharpy, which offends the latter. After a school psychologist assesses her, she is diagnosed with ADHD, which both relieves and terrifies her. The psychologist assuages her by telling her that the sooner her ADHD's treated, the easier it'll be to resume asserting at her advanced education.
28c
2c
"Laundromat"
Fatima Mataraci
Grekk
May 27, 2019
135-C
Toapy's household's washing machine malfunctions and needs some fixing, so he and his mother must go to a nearby washeteria. While washing clothes, Toapy has a run-in with some interesting characters, including a teenage razor blade with a nose ring who hums to herself and a helpful gay deodorant couple who are amenable at folding other people's clothes.
28d
2d
"Flower"
Fatima Mataraci
Poppy Livingston
May 27, 2019
135-D
One of Mr. and Mrs. Shampoo's flowers that was under Toapy's care while the lovebirds were on a romantic cruise withers away and dies after Toapy assumes it is a fake. Ridden with guilt, he attempts to guise its whereabouts and pray the Shampoos don't notice, but he fesses up after observing Mitch rip out a flower in the school playground and locates the flower's remains for them. The married couple admit that it's not a big loss as Toapy made it out to be and that it will be "reborn" someday, after which they pin the flower head on Toapy.
29a
3a
"Lemon Enemies"
Wendy Conroy
Ronald Munoz
May 27, 2019
130-A
Toapy and Sharpy have a falling out over ownership of a lemonade stand and split into two standalone stands in a competition to see who sells the most lemonade. Their moms eventually thrust them into working together as both of them have sold an equal amount of lemonade, and they make up in the end. (11 minutes)
29b
3b
"Restaurant"
Wendy Conroy
Ronald Munoz
May 27, 2019
130-B
Toapy stumbles into catastrophe when he and his family finally eat out at a restaurant, during which they watch a loofah man getting arrested, a razor blade woman demanding to talk to a manager after finding a "foreign strand of hair" in her mushroom soup, noisy, soapy children sprinting around, an elderly soapy woman who suffers an asthma attack after leaving her inhaler at home, and a cockroach being detected by a prissy razor blade girl. In these circumstances, Toapy's family endure their restaurant experience and manage to enjoy themselves. (8 minutes)
29c
3c
"Drop the Toap"
Wendy Conroy
Ronald Munoz
May 27, 2019
130-C
Toapy listens to a variety of music after his friends are not available to hang out at the park. (1 minute)
29d
3d
"Catfished"
Wendy Conroy
Grekk
May 27, 2019
130-D
Toapy starts chatting up a girl from social media whom he believes is Gabriela due to her recent acquirement of a phone, but when confronted in reality turns out to be an unknown girl having "catfished" him this entire time. (8 minutes)
30a
4a
"Lock-In"
Amy O'brien
Lamar Robinson
May 27, 2019
133-A
Sharpy and Evelyn find themselves locked up inside their water school after school, connecting over similar interests while also teaming up to find an escape. Evelyn even professes being enamored with Toapy, ensuring that Sharpy doesn't spill the beans because she's not comfortable avowing her love for him publicly just yet. The two are finally freed by Mr. Water and his lady friend, who are insinuated to have been making out in his classroom.
30b
4b
"Loofah Tree"
Dipper
Poul Lynge
May 27, 2019
133-B
Evelyn works up numerous way to divert attention away from a loofah tree in which she inscribed "T + E", worried that someone will connect the dots and spread rumors that it stands for "Toapy + Evelyn", but it proves difficult when the tree is set to be cut down to make way for a new property to be built there.
30c
4c
"Gabriela the Activist"
Calvin MacKenzie
Lamar Robinson
May 27, 2019
133-C
Gabriela advocates for the unfair treatment that overweight individuals like herself receive on a day-to-day basis, but she causes dissension as she's viewed as actually glorifying morbid obesity and diabetes, sending out the wrong messages to credulous girls like Evelyn.
30d
4d
"The Adoption"
Amy O'brien
Lamar Robinson
May 27, 2019
133-D
Mr. and Mrs. Shampoo adopt an orphaned little bath bomb girl as an alternative to having children and to make-up for Mrs. Shampoo's infertility issues, but the child is uneasy with having two elderly parents and worries that they will die more imminently than her friends' parents.
31a
5a
"Toapy and Sharpy"
Annie Oh
Poul Lynge
November 11, 2019
136-A
A flashback segment showcasing how Toapy and Sharpy struck up a friendship in preschool after Toapy took pity in him for his clumsiness and difficulty learning, which angers Sharpy at first because he does not want to be on the receiving line of people feeling bad on him, but eventually calms down after Toapy offers to help him recite his ABC's and slide down a water slide. Sharpy then befriends other kids, including Gabriela (who compliments him on his ABCs and Marilyn).
31b
5b
"Toa-Pen Is Mightier"
Annie Oh
Anthony Gilligan
November 11, 2019
136-B
Toapy suffers from writing block after getting stuck on an English assignment requiring him to write a short realistic fiction story, until he realizes that his inspiration is right in front of him. Meanwhile, Evelyn wonders whether she should write a story about her father, considering his complicated relationship with him.
31c
5c
"Cloud Gazing"
Annie Oh
Poul Lynge
November 11, 2019
136-C
Toapy and his friends decide to do some cloudspotting during a particularly cloudy day, using their imaginations to decipher what the clouds are forming. They also guide Marilyn on envisioning the shape of the clouds after she admits she lacks the imagination to do son.
31d
5d
"Toapy Guides the Way"
Annie Oh
Anthony Gilligan
November 11, 2019
136-D
When Toapy's classmates get stranded on a corn maze during a school excursion, Toapy leads the way to safety using the skills he mastered as a Guppy Scout.
32a
6a
"Boys Don't Cry"
William Ebert
Donald Fairbanks
November 11, 2019
129-A
Sharpy enforces the suppression of his vulnerable emotions deep inside of him after a much older soap at water school engages him in a fight and reminds him that "boys don't cry". So much, in fact, that he does not show sympathy towards a hospitalized classmate, and less so when he gets put in intensive care unit, which concerns his family and friends. Finally, after Sharpy cries from being unable to inhibit himself much longer, his mother fully understands the extent of his situation and comforts him in the fact that it's okay for boys to express their feelings just as much as girls. She also has him visit a therapist so he can process his emotions in a more healthier way.
32b
6b
"Racism and Diversity"
William Ebert
Grekk
November 11, 2019
129-B
A new pupil transfers to water school, a rusted shower-head named Zion (Karan Brar), who comes from another country, and he immediately gets singled out for his height and his distinct thick accent, which makes befriending other students challenging. Toapy takes pity on him and then attempts to help him find acceptance within the school.
32c
6c
"New Girl in the Dumps"
William Ebert
Donald Fairbanks
November 11, 2019
129-C
Jocelyn becomes saddened after being unrelentingly bullied at school by a random, so Toapy consults with Evelyn on writing a sentimental ballad about every lovely aspect of Jocelyn. This song eventually motivates Jocelyn to face her bully, who leaves her alone after the principal expels him from school.
32d
6d
"New Girl's Crush"
William Ebert
Ronald Munoz
November 11, 2019
129-D
Jocelyn falls in love with Toapy, much to his haplessness, as he only has eyes for Gabriela, while Evelyn secretly resents Jocelyn for proclaiming her infatuation. But after realizing she only loves the idea of him, not his actual character, Jocelyn decides to inform him on this, hoping to salvage their friendship. After an awkward discussion, Toapy express his wishes to still remain friends.
33a
7a
"Bring Your Child to Work"
Fenton Cole
Fatima Mataraci
November 11, 2019
132-A
On Bring Your Child to Work Day, Toapy and Evelyn run into each other and quickly realize that his dad and her mom work at the same office, respectively, so they both team up to spice things up for all the other kids there.
33b
7b
"The Spot"
Fenton Cole
Fatima Mataraci
November 11, 2019
132-B
Toapy's friends' secret hangout forcefully becomes some older kids' turf, and he must fight back for it if he wants it retrieved to him.
33c
7c
"Evelyn On The Court"
Fenton Cole
Sinclair Fitzpatrick
November 11, 2019
132-C
Evelyn, along with Gabriela, signs up for volleyball in an effort to impress Toapy with her athletic prowess, but the girls' different athletic capabilities (Gabriela possesses more strength and resistance compared to Evelyn) threaten their friendship.
33d
7d
"Dream a Little Dream"
Lamar Robinson
Sinclair Fitzpatrick
November 11, 2019
132-D
Following a particularly tiring day at school imbued by three projects, two presentations, and a test, Toapy knocks himself out cold while watching his favorite horror television series, The Crepuscular Cases, having numerous dreams in his sleep...including nightmares that he must endure.
34a
8a
"Rainy Day"
Poppy Livingston
Diane Reed
November 11, 2019
128-A
Toapy and Sharpy try to divert themselves during a tremendous downpour, doing things like making a sock puppet show and a blanket fort; they also tend to Toapy's mom's cooking, discover a collection of Toapy's dad's VHS tapes, and play a board game with the rest of the family that leads to a minor skirmish.
34b
8b
"Evelyn's Big Break"
Dipper
Diane Reed
November 11, 2019
128-B
Evelyn gets recognized by a talent scout for her solo performance in the play version of the book Pollyanna, who signs her up to be the leading star in a children's sitcom for a big network. The sitcom, Crazy Good Time, becomes massively popular and, as a result, assures Evelyn's status and perhaps even a chance to romantically engage with Toapy. But that promising fame costs her very expensively as her tiring hours on the set of Crazy Good Time and fabricated public image (including her hook-ups with other child stars being investigated closely by a bunch of gossip bloggers) drive her to the brink of insanity.
34c
8c
"Pen Pal"
Poppy Livingston
Diane Reed
November 11, 2019
128-C
Toapy writes to a female pen-pal, an Arab girl from France named Karimah (Dina Shihabi), for a school assignment, learning about her life with each letter sent from her. Evelyn identifies Karimah as a girl from Toapy's letters and immediately envies her for catching Toapy's attention until she realizes they have a lot in common. Afterwards, Evelyn asks to switch pen pals with Toapy, and she and Karimah become the best of pen pals.
34d
8d
"Matchmaker"
Dipper
Diane Reed
November 11, 2019
128-D
When Evelyn successfully manages to pair up two of her schoolmates from school, she turns to matchmaking people at school who she deems compatible, regardless of whether or not they consent to this. As a result of this, her schoolmates make numerous complaints to the principal concerning Evelyn's insistent matchmaking, which Toapy catches wind off and pleads to her to put an end to it. She eventually does out of her love for him, but then he comically requests for her to match him with Gabriela.
35a
9a
"Marilyn's Warming"
Wendy Conroy
Sinclair Fitzpatrick
January 20, 2020
131-A
Mr. Water lectures the water students on global warming and its negative affects, specifically impacting Marilyn, who develops solastalgia and grows vexed over others' apathy towards the subject matter, including her parents. After noticing a turbulent change in behavior and considering her anxieties over ecological cataclysm, he suggests she become a staunch climate activist (à la Greta Thunberg) by first joining the school's debate team.
35b
9b
"Bubbly"
Lester Gomez
Sinclair Fitzpatrick
January 20, 2020
131-B
Frustrated for being constantly perceived as asinine, Evelyn goes to great lengths to emotionally and physically detach herself from her childhood stuffed soap, Bubbly.
35c
9c
"Token for Granted"
Lester Gomez
Sinclair Fitzpatrick
January 20, 2020
131-C
At a restaurant/entertainment business in the vein of Dave & Buster's with his best friend Toapy, Sharpy requests money non-stop from his mother so he can earn more tickets for a prize, leading to get reprimanded by her about the value of currency. Nevertheless, it takes him the hard way to really drill that message into his head.
35d
9d
"Organizing Toapy"
Wendy Conroy
Poul Lynge
January 20, 2020
131-D
Toapy begrudgingly organizes his disordered room one slow Sunday afternoon, initially unaware of the potential opportunities for adventure till he recovers an item from under his bed that could be worth thousands.
36a
10a
"Computer"
Fenton Cole
Van Allen
January 20, 2020
134-A
Toapy's parents bestow him a computer so he can complete his homework efficiently, plus to make it accessible for him. He and Sharpy, however, also use it recreationally for computer games (and explore some, ahem, adult content). This consequently infects the computer with a virus, so the two must embark on a "mission" to clear the virus without their parents' knowledge.
36b
10b
"Sharpy's Pet"
Fenton Cole
Van Allen
January 20, 2020
134-B
Sharpy adopts a RabbitgooTM-like creature as a companion but becomes careless towards it. The animal runs away and into Toapy's refuge, who he quickly grows fond of, to the utter forlorn of Sharpy. To mediate the issue, Toapy disguises Sharpy as himself to trick his pet into returning once more. When Sharpy inquires when he can shed the disguise, Toapy comically retorts with never, lest it escapes him again.
36c
10c
"Caring Is Sharing"
Fenton Cole
Van Allen
January 20, 2020
134-C
Goapy is taught the benefits of equal distribution (aka sharing) from his big brother Toapy. He takes this to believe people owe him something whether he shares simply because being nice "comes at a cost", causing him to lash out to those who dare to receive half of his share, and Toapy to come to his aid.
36d
10d
"Boy Meets Girl"
Calvin MacKenzie
Van Allen
January 20, 2020
134-D
A bubbly(!), affectionate soap-girl named Soapia aims to befriend Goapy, but he derides her for her "cootie-infested" nature and heartlessly rebukes her, hurting her feelings in the process. To solve the problem, Toapy tries to cajole Goapy into thinking "cooties" are all the rage.
37a
11a
"Come Home Sharpy"
Bubba Guiana
Donald Fairbanks
January 20, 2020
138-A
Even yet another flashback segment concerning Sharpy feeling homesick at a sleepaway camp for the summer as a 6-year old as he is saddened by the thought of leaving his widowed mother home alone. At first, he tries to suppress that intuition, but hears a counselor relate a story about the emotional severity of their estranged mother's death and backtracks, asking to leave early due to a malady.
37b
11b
"A Life Without Evelyn"
Bubba Guiana
Grekk
January 20, 2020
138-B
Following an atrocious day at school, Evelyn's guardian angel demonstrates her various alternate dimensions in which she never existed, and choose carefully which one she fears the most. She favors the scenario in which her friends feel lost without her over the one in which Toapy converts to troublemaking, returning her back to actuality.
37c
11c
"Captain Sharpbeard"
Lamar Robinson
Donald Fairbanks
January 20, 2020
138-C
While role-playing as pirates, Toapy and his buddies encounter an actual pirate who they assume is just a pirate cosplayer and allow him to join in on the fun.
37d
11d
"Color Me Marilyn"
Dipper
Donald Fairbanks
January 20, 2020
138-D
Resentful for the lack of attention her peers confer to her, despite her wide array of accomplishments, Marylin mixes two existing colors together and claims discovery to a "new" color. This only spurs ridicule towards her from her peers and second-hand embarrassment from her friends, as well as the attention of scientists wishing to make her famous for her color "discovery".
38a
12a
"Mr. Water's Age"
Fatima Mataraci
Grekk
January 20, 2020
139-A
Mr. Water comes under fire by the school board after his bitter, infirm mother exposes him as more younger than previously annotated at a school board meeting, having falsified his actual age to better increase the odds of landing the job against his much younger opponent. Though the school board is on board with firing Mr. Water for deception, Toapy and his classmates skip school and counter-protest around town because of their belief that he hasn't committed any illegal crimes except for fibbing.
38b
12b
"Drowning"
William Ebert
Grekk
January 20, 2020
139-B
A plunger-shaped child clinical psychologist, and Toapy, team up to avert Evelyn's fear of drowning. From what they gather, her father obliged her to learn swimming as an infant, nearly drowning her in the traumatic incident. They have to scout a fatherly figure who could adequately teach her how to swim.
38c
12c
"Shampoo Surgery"
Fatima Mataraci
Poppy Livingston
January 20, 2020
139-C
Mrs. Shampoo is dictated by her doctor to undergo "shampoo bottle cap surgery" so she can replace her bottle cap with a newer one, but she dreads the process because of its 7% survival rate.
38d
12d
"The Perils of Evelyn"
Amy O'Brien
Poppy Livingston
January 20, 2020
139-D
A sequence of different scenarios in which Evelyn find herself endangered and eventually rescued by her knight in bubbling armor, Toapy, parodying the 1941 American serial The Perils of Pauline. In the denouement, they are all shown to be home videos Toapy made in collaboration with Evelyn, and the rest of the squad, for a school project.
39a
13a
"Seashell Shocked"
Dipper
William Ebert
January 20, 2020
137-A
Sharpy's retired Veteran grandfather temporarily resides at the family apartment to bond with his favorite grandson, but Sharpy soon becomes perturbed by his grandfather's frequent PTSD episodes, from taking part in the Great Water War, and is unable to recognize him anymore.
39b
13b
"Hurtful Marilyn"
Dipper
Anthony Gilligan
January 20, 2020
137-B
Marilyn turns paranoid and withdrawn out of an irrational fear for ailments or physical injuries, noticing how others commonly receive these. This backfires when she begins to suffer from a migraine headache.
39c
13c
"Family Reunion"
Dipper
Poul Lynge
January 20, 2020
137-C
At a need to reunite her embattled family, Eleanor decides to drive her and Evelyn to where her side of the family lives, despite their belief that Evelyn is the "product of immorality" and refuse to associate with such "low-lifes".
39d
13d
"Water Ball's Biggest Hits"
Dipper
Ronald Munoz
January 20, 2020
137-D
Toapy and his Water Ball mates threaten to quit the school team to rally against the coach's decision to remove helmets, for safety reasons, after Toapy views a news broadcast which states that the sport can cause permanent brain injury if played without any equipment.
Season 4 (2020)
A fourth and final season comprising 13 episodes and 48 segments was announced on May 31, 2019, only mere days after the season 3 premiere, and premiered on February 17, 2020. Already its finale date was scheduled for September 7, 2020, but after the series went into an indefinite hiatus resulting from the recent, worldwide coronavirus epidemic, it was rescheduled for the unforeseen future.
No.
#
Title
Directed by
Written by
Original airdate
Prod.
Code
40a
1a
"The Harrowing Hairbrush Hunt"
Annie Oh
Fatima Mataraci
February 17, 2020
140-A
Once more, Toapy takes on the Charles Combs moniker to undergo a scavenger hunt that will hopefully lead him to the discovery of a certain hairbrush that is worth millions.
40b
1b
"The Strange Sharpy Psyche Switch"
Annie Oh
Fatima Mataraci
February 17, 2020
140-B
Sharpy's personality seems awfully out-of-character to Toapy, as he becomes more brooding and choleric, but only Charles Combs can properly deduce the reasoning behind this odd behavioral alteration.
40c
1c
"The Rowdy Razor Riddle"
Annie Oh
Fatima Mataraci
February 17, 2020
140-C
An indescribable and unidentifiable razor injures anyone who stands in his path, leading Charles Combs to instigate an investigation. After an altercation with the razor leaves his entire body contused, however, Charles Combs considers whether to further pursue the case.
40d
1d
"The Titillating Troll Thriller"
Annie Oh
Fatima Mataraci
February 17, 2020
140-D
Toapy's detective alter ego Charles Combs gets revived for a final case involving Toapy's friends' hacked and desecrated email accounts, which he becomes captivated with after he gets accused by them of being the hacker since his account was left undisturbed.
41a
2a
"Interview With an Elder"
Calvin MacKenzie
Sinclair Fitzpatrick
February 17, 2020
141-A
For a school interview project, Sharpy is coerced by his mother to inquire an 80-year old actress paralyzed from the waist down who's friends with Sharpy's grandmother. Initially abandoning the idea in favor of Elmore Toapyburg, Sharpy relents after Toapy beats him to Elmore, uncovering the secret life of the actress along the way, and learning a lesson about making the wrong decisions.
41b
2b
"A Star Was Named"
Calvin MacKenzie
Sinclair Fitzpatrick
February 17, 2020
141-B
Evelyn is adamant that she wants to name a star after Toapy as a tribute to his "brilliant" and "shining" character, but she debates further upon the matter after the "Name-A-Star" kit she orders online requires her to state the sole purpose behind this particular name.
41c
2c
"Experimental"
Calvin MacKenzie
Sinclair Fitzpatrick
February 17, 2020
141-C
Marilyn and Sharpy are paired up to re-enact an impressive science experiment, but she perceives his "horseplay" and general ineptitude as a hindrance to this objective. After he makes a historic discovery messing around with some chemicals, Marilyn comes to respect him a whole lot more and learns never to underestimate an individual based on their outward mannerisms.
41d
2d
"Toapy Lucks Out"
Fenton Cole
Grekk
February 17, 2020
141-D
Toapy becomes hopelessly depressed following a streak of misfortune provoked by a "good luck" charm, so his friends try to console him with the simple pleasures of life, and unwittingly help him realize that bad luck does not have to equate to a bad day.
42a
3a
"Make-Up and Take-Off"
Lester Gomez
Lamar Robinson
February 17, 2020
142-A
Evelyn is ambivalent about applying herself with make-up for a school dance she'll attend with Toapy and friends, as other girls her age begin to do. Her unskilled tendencies and hideous lipstick choice lead her to have a break down over not knowing how to act "womanly". When her friends come over and observe her reluctance to hurry up, Toapy decides to query her, whereupon she reveals her insecurities about wearing make-up. He assures her that she need not apply make-up since her natural beauty "overshadows" its superficial counterpart, and should go au naturel, before holding her tender as a motion to leave. This makes her comply, much to her swooning.
42b
3b
"Holly Water"
Lester Gomez
Lamar Robinson
February 17, 2020
142-B
A childhood fiend of Mr. Shampoo turned renowned film director, Mr. Currentino, plans to shoot his latest film at their former, abandoned elementary school, which stars a physically challenged child on the cusp of adolescence, but Mr. Shampoo intervenes, as he believes Currentino's film will flop for being an "arrogant, self-loving indie arthouse film". While trying to revert his opinion on banning his rival from filming his movie at the dilapidated school, Toapy learns that Mr. Shampoo despises Mr. Currentino because he always took credit for their home videos (which they made back when they were friends) and consequently soured Mr. Shampoo's love of cinema; this also created a rift in their friendship, creating animus between them.
42c
3c
"The Day Toapysburg Ran Out of Water"
Amy O'brien
Diane Reed
February 17, 2020
142-C
During a daunting drought, Toapysburg becomes completely depleted of water, which ginormously affects the hydration levels of Toapysburg's citizens. All of the denizens, among them Toapy and his friends, pitch in to fill in more water from a neighboring town, Sudside, risking themselves in the process.
42d
3d
"Avery Is Back"
Amy O'brien
Diane Reed
February 17, 2020
142-D
Avery gets laid off from her first job fresh out of college, so she returns to Toapysburg to crash in at her family's home. While her mother is sorely disappointed at her older daughter's seemingly acquired deadbeat ways, Evelyn realizes that Avery's suffering from depression and attempts to convince her to seek counseling that will gradually aid her in getting her back up on her feet.
43a
4a
"Wendy the Watchsoap"
Wendy Conroy
Donald Fairbanks
February 17, 2020
143-A
A recent uptick of home invasions in Toapy's neighborhood lead his parents to adopt a pet soap purely to guard the house at night, warning their children not to get too attached to her. But Toapy befriends the little animal anyways, which he secretly names Wendy, and resists his parents' attempts to return him to the pet store to for his impending euthanasia.
43b
4b
"Money Woes"
Poppy Livingston
Donald Fairbanks
February 17, 2020
143-B
Toapy's classroom is submitted a check from a foundation to use for school supplies, of which Mr. Water gifts them a share to divide amongst each other. Problems arise after Toapy offers a portion of his share to one of his friends and the gang argues over who deserves to receive the dividend. Horrified at the animosity he has started between friends, Toapy settles on returning his share to Mr. Water to resolve the issue once and for all.
43c
4c
"Laker's Legacy"
Bubba Guiana
Poul Lynge
February 17, 2020
143-C
Sharpy does not bereave the passing of activist Alistair Laker at 76 as his friends and teacher do out of respect for him, who all take umbrage to his disinterest for this historical figure. Taking matters into his own hands, Mr. Water dedicates an entire school day to educate the classroom on the legacy Alistair Laker left when he abolished racial segregation in educational institutions, single-handedly ending the racism towards razors. Unaware that razors had faced any sort of discrimination, Sharpy feels contrite for not mourning Alistair and researches him further in his spare time, compiling a bulleted list of reasons for Mayor Fishy as to why the date of Laker's death should be officially commemorated as Laker Day. Mayor Fishy acquiesces (only because he's "not Toapy"), even summoning him to eulogize at Laker's funeral.
43d
4d
"Save the Playdate"
Fenton Cole
Van Allen
February 17, 2020
143-D
Toapy's mom sets Goapy up for a playdate with newfound playmate Soapia at her house, which agitates Goapy, for he wishes to amaze her but cannot excogitate how. Begrudgingly he entreats Toapy for his assistance on impressing girls, knowing his relationship with Gabriela. His older brother sallies him for his intentions, though he does gives him wardrobe and etiquette advice. At Soapia's house, Goapy discovers she didn't dress herself nicely for their playdate, preferring pajamas to her dresses. Goapy reprimands himself for the fruitless effort, but Soapia compliments him for the attempt and gives him a peck on the cheek, leaving him florid.
44d
5a
"Funeral of Elmore Toapysburg" (Part 1)[1]
TBA
TBA
TBA[1]
TBA
44b
5b
"Funeral of Elmore Toapysburg" (Part 2)[1]
TBA
TBA
TBA[1]
TBA
44c
5c
"Mr. and Mrs. Shampoo Break Up" (Part 1)
TBA
TBA
TBA[1]
TBA
44d
5d
"Mr. and Mrs. Shampoo Break Up" (Part 2)
TBA
TBA
TBA[1]
TBA
45-46
6-7
"Judging Mr. Fishy" (Part 1)
TBA
TBA
TBA[1]
TBA
47-48
8-9
"Something Smells Fishy" (Part 2)
TBA
TBA
TBA[1]
TBA
49-52
10-13
"Testing the Waters"
TBA
TBA
TBA[1]
TBA
Community content is available under
CC-BY-SA
unless otherwise noted.