The Well of Despair is the debut album from Irish doom/death-doom band Nuadhán, released in 1993 via Candlebra Records. The album features the original drummer and keyboardist/violinist Páegh O'Cáoeth and Abigáil Gáth. The artwork is done by Brian's wife Julia. It is followed by 1995's A Web of Sorrow. The title and artwork was elaborated on by Brian O'Coughney: "The name of this album means you are so despairing and destroyed that you seek solace, but never find it. The art shows utter desolation, and that is what it feels to be in a well of despair".
Track listing
"Siren" - 9:00
"Your Hand In Mine" - 6:44
"The Barren Heart" - 6:30
"Enveloped By Dark" - 8:00
"The Rain Never Stops" - 7:45
"Eyes Red With Tears" - 9:15
Reception
"The Well of Despair" was generally well received. Metalix said:
"Nuadhán, as the name suggests, are from Ireland. At first listening of their name you probably assume some folk ensemble. However Nuadhán could not be further from the opposite. This drab doom five piece from Dublin, with one Welshman on bass, offer a slab of decent doom with this album. Taking inspiration from My Dying Bride, obviously, and integrating it with some Celtic sounds, Nuadhán seem to have created a style that is entirely their own on their debut. Though Brian O'Coughney's accent is evident on his clean vocals, this does not matter, and guitarist Gábriel Dáeh's choral singing hither and tither on such tracks as "The Barren Heart" and "Siren" are excellent. The band is cohesive, gloomy, and another great offering of doom".
MetalHeaded said: "Nuadhán are a unique band in that they employ the dream-like Celtic music with crushing, gloomy, doom metal. The band have here released an album you'd expect from seasoned veterans, its polished, excellent sound quality and instrumentals, top notch production and a simple yet brilliant artwork. A near perfect debut, no doubt there are broad horizons for Nuadhán in the future".
DeathSounds was also impressed: "Nuadhán are yet another of the new doom ilk to emerge in recent times. But unlike the Peaceville Three (My Dying Bride, Anathema, Paradise Lost, for the unenlightened), Nuadhán seem to have a much more experimental lenience with their music. They are not afraid to take risks, and in saying this, they are most like My Dying Bride in terms of initial sound. Nuadhán's unique brand of doom is truly brilliant, atmospheric, dream-like doom, with growling vocals and clean passages, as well as choral singing. The band have the cohesion of sounds and ideas well brought together, and any doom fan would be a fool to give Nuadhán a miss".
Personnel
Peter Sheárnden - producer
Conácht O'Ráegh - mixer
Julia O'Coughney - artwork
Brian O'Coughney - vocals
Gábriel Dáeh - guitars, vocals
Peredur y Gwedynn - bass
Páegh O'Cáoeth - drums
Abigáil Gáth - violin, keyboards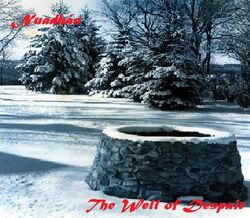 Community content is available under
CC-BY-SA
unless otherwise noted.