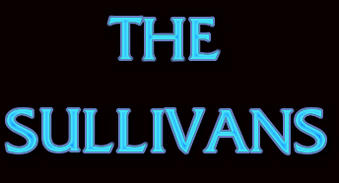 The Sullivans is an American police procedural and legal drama television series, adapted as a spin-off of Hartman.
The series will premiered on NBC in September 2029.
Set in Denver, Colorado, the series follows the Irish-American Sullivan family, headed by of Denver PD detective Drake Sullivan and his wife, Executive Assistant District Attorney Katherine Sullivan. The series' focuses primarily on the two as they navigate their jobs and personal lives, with their children Finn and Mary, and Drake's father Ryan.
Drake works for Family Justice Unit (FJU), an elite police unit that investigates crimes involving families, including but not limited to domestic violence, rape, murder, kidnapping and sexual abuse. Drake works with an team of elite detectives, in the Denver P.D., who all report to their ranking C.O., to investigate the crimes, collect evidence, interview witnesses and then, when the evidence points to a suspect or suspects, place the suspect(s) under arrest. The matter is then taken over by Katherine and the prosecutors and investigators of the Denver District Attorney's office. They discuss deals, prepare the witnesses and evidence and conduct the people's case in the trial.
Both teams work with the Medical Examiners Office, Crime Lab and psychiatrists from both the police department and DA's office.
Cast
Regular Cast
Denver PD (Family Justice Unit)
D.A. Office
Family 
Jason Maybaum as Finn Sullivan, Drake and Katherine's son, who is 10-years-old at the start of the series. He is an insightful and intelligent boy who enjoys sports and appears to have a particular knack for science.
Spencer Moss as Mary Sullivan, Drake and Katherine's daughter, who is 8-years-old at the start of the series. She is a typical innocent child who loves swimming and dancing (especially ballet), but can sometimes be wise beyond her years as well.
Clancy Brown as Ryan Sullivan, a retired criminal court judge with a prominent career and the father of Drake, Amanda and Lydia. Drake, Katherine and their children live in his house and he watches over Finn & Mary while their parents work. He also provides Drake and Katherine some insight and wisdom on cases they work on.
Recurring Cast
News
Season 1 News:
Will consist of 22 episodes.
Will premiere alongside the season 12 premiere of Hartman in late July.
There will be a mid-season crossover with spin-off series, Hartman, in episode 13.
Annie Wersching will join the main cast as a newly-assigned sergeant to replace Sergeant Landon Kruger who was killed in the backdoor pilot on Hartman.
Jeremy Ratchford will join the main cast as a former Denver police detective now D.A. Investigator.
Sheila Vand will join the main cast as a disgraced Iranian-American former FBI agent now D.A. Investigator.
Drake helps Katherine to find the mob hitman who killed her parents and two older siblings when she and her younger brother Joey were young. Hessa later joins in to help them out.
There will be a flashback episode that reveals how Drake and Katherine first met in the 15th episode.

Emily Deschanel and Edie Falco will appear as members of the Sullivan family in flashback scenes.

Emily Deschanel will portray Amanda Whitman, a defense attorney and Drake's older sister, who died in a car accident six years prior to the series.
Edie Falco will portray Rachel Sullivan, the wife of Ryan and the mother of Amanda, Drake and Lydia, who died of cancer four years prior to the series.

Odette Annable will have a recurring role as forensics psychologist and criminal profiler Dr. Kendall Fleiss. She will first appear in episode 7.
Kelly Hu will have a recurring role as Police Lieutenant Hannah Wie. She will first appear in episode 11.
Tamala Jones will have a recurring role as social worker Celia Bennett who assists the FJU on their cases.
David Gallagher will have a guest starring role as Joey Ashford, Katherine's estranged younger brother.
Lance Henriksen will guest star in two episodes as Katherine's paternal uncle Henry Ashford who raised her and Joey after most of their family was murdered. His first appearance will be the third episode.
Jennifer Love Hewitt will appear in a special guest starring role in one episode.
A undisclosed character who previously from Law & Order: New Orleans will appear in one episode.

It is later revealed that Law & Order: New Orleans alum Maggie Q will reprise her role as FBI Agent Lisa Zhao.

James Morrison will have an undisclosed but important role later in the season.
Michael Dorman to plays a schizophrenia man who became a suspect after his adopted mother was violently attacked and murdered but things turn complicated when the suspect become targeted by a mysterious gang and Drake and Katherine attempts to uncover the truth before discover a huge secret which change everything. He will play a huge part throughout the season as his true identity will be revealed.
Thomas Haden Church will portray an undisclosed role in the final four episodes of the season.
Episodes
Season 1 (2029-30)
#1 - "Pilot"
Drake and the Family Justice Unit investigate the brutal beating of Holly Ross, a mother of two, and suspect that her husband Nick is responsible for it. During the case, the squad brings in Sergeant Nicole Richter, a former undercover officer, who is met with a lukewarm reception because of her history of opioid addiction stemming from an injury in the line of duty, and them still missing the late Landon Kruger.
Later, after Nick has Holly discharged from the hospital, Drake, Ruiz and Richter are questioning neighbors when the house is suddenly set ablaze with Holly and her two children inside. Seeing everything locked, Richter uses a shotgun to blow the door's hinges so the police can get inside. Finding the family in the basement and rescuing them, the detectives also see chains and collars attached to the wall, realizing the full extent of Nick abusing the family. As the family is treated in the hospital, a nurse friend of Holmes' wife Kim, a nurse who is on maternity leave, reveals the detectives that Holly has been badly abused for years and that she and Kim have been trying to help her leave her husband. Holly tells to Drake, Katherine and Winder that she set the house on fire because Nick has been abusing her & her children keeping them locked in the house for days, sometimes weeks at a time, and without food occasionally, as punishment for petty offenses (talking back, failing grades, sneaking sweets, etc.). Ruiz and Holmes question Holly's son and oldest child Joe, while Andrea and Richter question her daughter and youngest child Anne. The children confirm that the family plotted together to escape by torching the house after Anne nearly died from starvation. Winder orders officers to guard the family and finds a place in a hotel. Drake and the Family Justice Unit then arrest Nick.
Katherine and Doyle, who recently has returned following his recovery from his gunshot wound, try to remand Nick, but he was out on $100,000 bail, courtesy of his father. When Katherine finds out that Nick has found Holly and her children at their hotel she and Doyle have DA Investigators Mario Nazario and Hessa Cohen come with them. Seeing Nick and his equally abusive father, Jerry trying to intimidate Holly and his children into recanting, Katherine and Doyle convince them to testify against Nick. Before Nick can attack Katherine, she elbow him in the face and Cohen knocks him down. Cohen and Nazario arrest Nick and Jerry and the judge rescinds Nick's bail and remands him while Jerry is placed on house arrest. Following the advice of Bishop and Ryan, Katherine has Holly testify on how Nick abused her and that Jerry had done the same to him and his mother when he was young, encouraging him to try to do the same to Joe and Anne. Joe testify and reveals how Nick abused him and his sister and threatened to starve them to death if they have failing grades. After Katherine's powerful closing argument, Nick is convicted and sentenced to prison and Jerry was forbidden from having any sort of contact with Holly or her children again. Holly and her children then make plan to move to Oregon where her family lives to start fresh.
At home, Drake, Katherine and Ryan have a mellow time with Finn and Mary. At the end, Drake and Katherine later go over files on the cold case murder of Katherine's parents and two older siblings.
#2 - "Custody Battle"
Renowned surgeon William Cosgrove dies in a tragic car accident caused by a teen who was texting while driving. As the case progresses, the FJU is forced to get involved when his wife Rene (Lake Bell) is falsely accused of abusing his three children by his parents, who want custody of them despite her being only the biological parent of the youngest, and the legal guardian of the older two. Suspecting Rene is being falsely accused after seeing how much the children love her, Drake convinces Katherine's friend, defense lawyer Emily Thornton, to represent her. The case sparks a debate on whether step-parents should have custody of children who are not biologically theirs. With encouragement from Mary, whose friend is being raised by a stepmother, who was named legal guardian by her father before his death, and Finn, who says that children should be raised by anyone who unconditionally loves a child since they came into their lives, Drake, the FJU, Katherine and the DA's office investigate the allegations against Rene and work to clear her name.
With help from social worker Celia Bennett, they discover evidence and multiple witnesses that clear Rene of criminal allegations. After declaring her in-laws that she will be denying all access to their grandchildren (both her stepchildren and her own child) for at least the forseeable future, Rene asks Drake why did he was driven to help clear her name. He reveals to her that, before he was a cop, he was once framed for the murder of a ex-girlfriend, but was eventually cleared thanks to Katherine, Winder, Ryan, his late sister Amanda and others proving his innocence. After Rene thanks Drake, Katherine and Thornton for exonerating her, Drake goes to a bar where Ryan meet up with him. Drake reveals to his father that he saw what happened to Rene as parallel to what he went through when he was set up, and that was how he knew that she was innocent. The sympathetic Ryan takes Drake home to Katherine and the kids.
#3 - "Bitter Splits"
Katherine is surprised when her paternal uncle, Henry Ashford (Lance Henriksen), a former sheriff in a New York county who raised her and her younger brother Joey after most of their family was murdered, visits her and her family. After spending time with the family, Henry reveals to Katherine, Drake and Ryan that he is not in best of health and says that it was be his last visit to her home because of it. He also reveals that he has come to Denver because Joey has been further isolating himself from the rest of the family due to of the negative psychological impact stemming from the murder of most of his and Katherine's family, and that he only comes out of his isolation when it comes to his novels. Katherine informs to her uncle that she hasn't spoken to or seen Joey in six years, and he made it clear that he doesn't want to see her.
Meanwhile, Kruger's widow Amy, a divorce attorney who has recently returned to work, finds the bodies of her clients and her teenage daughter murdered at their home. The FJU investigates the double homicide. They initially suspect the soon-to-be ex-husband for the crime, but M.E. Robinetta Cooke, who is Richter's NA sponsor, determines that they were murdered the night before and that the wife was raped with a foreign object. Forensics Specialist C.J. Winston finds that the weapon used to kill both victims was likely a tomahawk axe because of the way the killer struck his victims. While investigating, Holmes and Francis discover a similar crime that happened six months ago and was investigated by another unit. They discovered both sets of victims were in the process of divorce and had teenage daughters and were killed with the same weapon. Henry, who visits the unit, says that the killer is likely somewhere who knew where the clients lived because he had access, leading the detectives believe someone from the law office Amy works at is the killer.
Winder sends Drake and Andrea to go undercover as a divorcing couple with a teenage daughter and Amy pretends to be Andrea's attorney. Ruiz, Holmes, and Richter investigate the firm, with Doyle getting them a warrant to search the files. Discovering Amy's law clerk had access to both her murdered clients, they suspect him of the murders. While in the apartment safe house, the killer, masked, sneaks into the building. When the killer came to Andrea and a dummy watching TV, the police and the FJU burst it in and Andrea wrestled him down. They also find the tomahawk axe used in the killings. The killer is indeed Amy's law clerk, who reveals that he was angry for the pain he went through when his wife divorced him and took primary custody of their daughter.
As Henry is about to leave, he tells Katherine that he has included both her and Joey in his will along with his own two children for when he passes on. Henry says that he's not asking her to give up the search for the hitman responsible, but also that there's no guarantee that she'll find him. He also says that as much as he wanted to find the man who killed her family, it happened long ago and reminds her that she has a family now. Katherine acknowledges her uncle's words before he leaves to return home.
#4 - "Behind You"
The FJU investigate the shooting death of a man in his garage, but they soon discover that the victim is a former teacher who was jailed for raping two of his students and his former sister-in-law over 20 years prior, and had been recently freed from jail three years prior. The next day, after two more men are found dead in a nearby river, Drake and Katherine discover a big connection: the three victims knew each other, used to be teachers and were jailed on the same charges. Drake and Katherine travel to Omaha along with Ruiz, Holmes, Nazario and Richter where they learn the sickening truth: an abusive sex cult in the local high school that was active for over four years; the cult sexually abused seventeen students over those years. Four of those students were later murdered, two more eventually took their own lives, and three female students became pregnant as the result of the cult.
After learning the truth, Drake and Katherine become horrified when the eleven surviving victims lay siege on the Omaha police station, taking Ruiz, Holmes, Nazario and Richter, and three Omaha police officers hostage, who want to find the cult's ringleader, who was never identified or caught. Drake and Katherine must work with the Nebraska state police to save their colleagues and find the cult's ringleader before anyone else gets hurt.
As Katherine and Nebraska State Police negotiator Sergeant Victor Melendez (Adam Rodriguez) handle the negotiations, Drake, with help from State Police Lieutenant Wayne Smith (Michael Boatman) and Omaha Detective Sergeant Nadine Gregor (Yancy Butler), confronts a suspect to identify the ringleader while Andrea and Cohen arrive to help. With Drake and Cohen using a bluff to threaten the suspect, the man admits that he kept the ringleader's name as an insurance policy on a hidden laptop. The laptop identifies Omaha City Councilman William Larson (Victor Slezak) as the ringleader of the sex cult. As Drake returns to the scene while the others work to arrest Larson, the suspects start to unravel due to stress. Katherine buys time by coming to the police station to speak to them, revealing some leads they found. As Katherine tries to persuade the cult victims to surrender peacefully, the lead gunman, who was severely traumatized by what he went through, loses patience and point his gun at Katherine. Drake sees the lead gunman threatening his wife as Smith orders the breach. Drake snipes the lead gunman as Katherine ducks to cover. Andrea, Cohen, Melendez, Gregor and others breach the station, taking out four armed suspects. Holmes and Nazario disarmed two others suspects and Ruiz, Richter and one officer guard the hostages while Cohen locates Katherine. The other armed suspects surrender, ending the siege.
As Drake and Katherine embrace in relief and their colleagues regroup, Drake informs her that Larson committed suicide at his house. Gregor, Smith, and Melendez thank the FJU and Katherine for their help as Drake, Katherine and all of their colleagues return home after their hallowing ordeal.
#5 - ""
#6 - ""
#7 - ""
#8 - " (1)"
#9 - " (2)"
#10 - " (3)"
#11 - ""
#12 - ""
#13 - ""
Part of two way crossover.
#14 - ""
#15 - ""
This is mostly a flashback episode.
#16 - ""
#17 - ""
#18 - ""
#19 - ""
#20 - ""
#21 - " (1)"
#22 - " (2)"
Community content is available under
CC-BY-SA
unless otherwise noted.