The Stubberts is a 2019 Cartoon Network series that started airing on May 30th, 2019.
It follows the chaotic life of two teenage boys ( Seth Green, Josh Gad ) and 6 of their younger siblings.
After discovering that they all each have a unique strong super hero power, all 8 kids protect their hometown of Anderson well their parents backs are turned.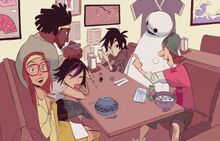 CAST:
Scott Adsit as Mr. Stubbert
Tara Strong as Mrs. Stubbert
Seth Green as David Stubbert
Josh Gad as Joey Stubbert
Jeremy Shada as Jamie Stubbert
Gena Rodriguez as Emily Stubbert
T.J Miller as Robert, Ryan, & Rad Stubbert
Lucy O' Connell as Lauralie Stubbert
SONGS:
Theme/credit song: Burn the house down- AJR
Other songs: American Idiot- Green Day
The Monster- Eminem
My blood & Stressed out- Both songs by twenty one pilots
Radioactive- Imagine Dragons.
Trivia:
From the creators of Teen Titans Go!.
Stubbert is supposed to be pronounced like the word " Stubborn".
Jamies supersuit bares a sharp resemblance to the outfit that Jenny from my life as a teenage robot wears.
_______________________________________________________________________________________
Soundtrack.
Community content is available under
CC-BY-SA
unless otherwise noted.