The Return of the Woman in Black is the 2013 horror film sequel of The Woman in Black, starring Emma Bell, Leonardo DiCaprio, Amanda Seyfried, Georgie Henley, Liz White, Jennifer Lawrence, Matt Damon, Mary Elizabeth Winstead, Aaron Yoo, Lucas Till, Taylor Launter and Harrison Ford.
Summary
A young lawyer searches for her sister in London of a abannded house with her friends and the return of The Woman in Black. Now she must survivor in order to find her sister.
Plot
The movie opens with
Cast
Emma Bell as Danielle Albertson/A young lawyer who is the granddaughter of Richter Albertson and searches for her sister
Leonardo DiCaprio as Robert White/A man who helps Danielle find her sister
Amanda Seyfried as Luna Albertson/Danielle's sister
Georgie Henley as Roxanne Lloyd/A mysterious girl know what happening to Luna
Liz White as Jennet Humfrye/The Woman in Black
Jennifer Lawrence as Nikki Prescott/Danielle's best friend
Matt Damon as Clarence Stewart/Nikki's boyfriend
Mary Elizabeth Winstead as Olivia Reynolds/Danielle's other best friend
Aaron Yoo as Jin Kanazet/Clarence's best friend
Lucas Till as Henry Stein/Clarence's other best friend and Olivia's boyfriend
Taylor Launter as Billy Reynolds/Olivia's brother
Harrison Ford as Richter Albertson/Danielle and Luna's grandfather
Cameos
Daniel Radcliffe as Arthur Kipps - Danielle as heard of Arthur Kipps in London how he was killed in a train hit with his son. Danielle also sees Arthur in a picture she found.
Survivors
Danielle, Robert, Luna, Roxanne, Jennet, and Richter
Deaths
Henry Stein-
Olivia Reynolds-
Jin Kanazet-
Billy Reynolds-
Clarence Stewart-
Nikki Prescott-The Woman in Black dragged Nikki to the railroad and was hit and killed by the train leaving Danielle and Luna in shock as Danielle cried at her and Luna sees Jennet as the train passes through her. Danielle and Luna did not know Roxanne was watch.
Main Cast Gallery
Quotes
Trailer and Cast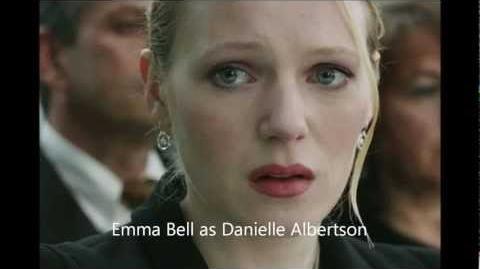 Community content is available under
CC-BY-SA
unless otherwise noted.