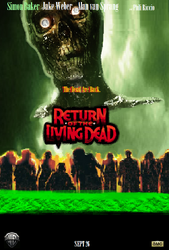 The Return of the Living Dead Is  A Rebooted 2017 Of Horror Classic In 1985, Enjoy.
 A young college student returns to his hometown only to be faced with a situation that will change lives forever.
accidentally release a deadly gas into the air, the vapors cause the dead to rise again as zombies and now,  cause the dead to re-animate as they go on a rampage through Louisville, Kentucky seeking their eat favorite food and he kills him and bite on people, fresh eaters, brains, people, dead bodies, and more!
COMING TO 26/09/2017
Plot & Quotes
Cast
Ansel Elgort as Jake Heethuis
Andrew Bryniarski as News Anchor Hombo
Jordana Brewster as Casey
Thomas Dekker as Jake
Method Man as Norman
Adam Baldwin as Officer Martinez
Nicholas D'Agosto as Jerry
Emma Roberts as Jade
Lucas Cruikshank as Paramedic #1
Alex Vincent as Paramedic #2
Ellen Page as Radio Corpse #1
Arron Yoo as Radio Corpse #2
Fat Joe as Zombie
Debby Ryan as Zombie
Redman as Zombie
Rocky Rector as Zombie
N.O.R.E. as Logan
Snoop Dogg as Dr. Wilson Robbers
Bruce Abbott As Tarman
Craig Bouwens as Cop #1
David Scott Diaz as Cop Army
Simon Baker as Jack
Felix Kjellberg As LionPunk
Mark Edward Fischbach As MeatHobo
Thomas Ridgewell As Himself
Matt Hargreaves As Himself
Seán William McLoughlin As Cody Harvests
Olajide Olatunji As ONI Punk
Evan Fong As News Anchor JON
Jake Weber As Tord Harryes
Tom Savini As Zombie Rider Biker
Scott Reiniger As Cop #2
Joseph Pilato As Dr. Darles
Thom Mathews As Jon Jon
Dennis Hopper As Big Bang Guy
Alan van Sprang As Train Guy
Daniel Kash As Jono's Brother (Villain)
Phili Riccio As Jono
Greg Travis As Blade's Boss (Hero)
Gray Howard Klar As Blade
Joshua Peace As New D.J
Jake Weary As Lucas Wilson
Billy Idol As Scty
Caspar Lee As Capt. Big Guy
Chris .R. Notarile As Cody Harvests' Brother (Hero)
Albert Seto As Johnny Rhodes
Kerri Miller As Johnny's Mom
Simon Pegg As WiseGhost
Nick Frost As Eddyier
Peter Serafinowicz As Dr. Rojes
Cory Hardrict As Indieo
John Keefe As Jon Ghoster
Cain Manoli As Viventier
Claudiu Bleonț As Lalba
Sorin Cocis As News Guy
Ludacris As News Guy #2
Ghostface Killah As Cop #3
Joe Budden As Jcuh
Sticky Fingaz As Poilce Officer
Ice-T As Dr. Jogan The Creator Of Virus / Zombie (Final Villain)
Sean Paul As CHISTER
Slick Rick As Dog Mad
Survivors
Jack
Spider
Chuck
Burt
Scuz
Tina
Frank
Freddy
Jade
Jerry
Dave
LionPunk
MeatHobo
Tom
Matt
Cody Harvests
ONI Punk
Dr. Darles
Big Bang Guy
Train Guy
Jono
D.J.
Tord Harryes
Lucas Wilson
Ernie
Jake
Jon Jon
Blade
Capt. Big Guy
Mannyo
Johnny Rhodes
Dr. Rojes
Eddyier
WiseGhost
Indieo
Jon Ghoster
Viventier
Lalba
Jcuh
CHISTER
Dog Mad
Soundtrack Starting With Music Fans
Rob Zombie - Dead City Radio And The New Gods Of Supertown
245 TRIOXIN ZOMBIE THEME 2017 Remixed (Opening Theme)
Stemage - Metroid Metal - Kraid's Theme
White Zombie - Thunder kiss '65
Imagine Dragons - Thunder
Nico Vega - Beast
Groovy Goalie - Friday The 13th Part III Theme (Zombie Chase Theme)
The Exploited - Sick Bastard
Iron Maiden - The Number of the Beast
The Anti Nowhere League -  Can't Stand Rock 'N' Roll
blitz - We Are The Boys
GBH - Time Bomb
London Calling - The Clash
Circle Jerks - Trapped
DANCE WITH THE DEAD -  Invader 
D.O.A. - New Age
Mariln Manson - mOBSCENE
Pigeon John - The Bomb
Bad Brains - Fearless Vampire Killers (Ending Theme)
Kaleo - No Good (Vinyl) (End Credits Music)
TRIOXIN 245 ZOMBIE THEME 2017 (Teaser Trailer Theme) (original Cut)
Rockit Gaming - So Evil (Official Trailer)
Deaths / Non-Deaths
Becky Gets Bited By Zombie & Cut Arm Off And She Dies - Behind With Grave
Capt. Big Guy Commit Suicide With Gun - Trying For Go To Insane!!!! & Saw Dead Becky
Dave Got Eaten By Zombies- Trying To Open The Next Door.
Jake Heethuis Got Eaten By Zombies - He Saw Zombies Eating Flesh
Suicide Got Brain Eaten By Tarman - He Look In Basement
Trash Got Eaten Flash By Zombies And Gets Turn Into To Zombie - Run For Zombies
Scuz Got Eaten By Zombie Girl - Survive In Store For Zombies
Casey Got Trying Turn Into To Zombie And Got Killed By Jack - Blood in Nose And Virus
Norman Got Butched & Brain Eaten By Zombie Suicide - Look A Dead Suicide In Basement
Officer Martinez Got Brain Eaten By Zombie Norman - Saw Norman Dead In Basement
Logan Mauled by Tarman - Trying To Escape In Basement With 3 Zombies
Jon Jon Got Biten By Zombie & Shoot Zombie In The Head By Jack - Try Go In The Car.
Blade Got Brain Eaten By Zombie Jon Jon - Try To Go To Deadly Bunker Inside Of Dead!
Dr. Darles Got Bitten by Zombie Rider Biker - Through A Gun Shop
Jade Ripped Out By A Zombie Scuz - Letting Him Guard Down In The Factroy Station
Mom Got Bitten By Zombie Jade And She's Reanimated And Shooted By Jono With Gun.
Paramedics Got Bitten & Eaten By Zombie Suicide, Trash, Scuz, & Zombie Cops
Tord Harryes Got Bitten & Eaten By Zombies - He Survive With Jack, Jono, & Train Guy
Lucas Wilson Got Bitten By Zombie Tord Harryes - Go Into Car With Jack Jono, & Train Guy
Lalba Got Bitten By Zombie Lucas And He Died & Shoot Zombie On Head By Jack With Gun.
Cody Harvests Got Eaten By Zombie Lucas & Tord - Try To Shooting Zombies With 2 Guns
D.J. Decapitated with a machete by Jono - trying to have Train Guy bad sacrificed.
Cop #1 Got Eaten By Zombie Trash- Check In Trash On The Graveyard
His Brother Got Shooting By Jono - For Trying To Kill Frank In Tower
His Boss Got Eaten By Zombies And Falling Tower - Save Blade In Tower
3 Zombies Got Hit With a Axe By Freddy - Trying To Eating Jack In Basement
Poilces & Cops Got Bitten & Eaten By Zombies - Trying To Shooting In Heads In City
Jcuh Got Brain Eaten By Zombies & Later, He's Now Reanimated - Escape For The Dead
LionPunk Got Eaten By Zombies - Trying to Escape Basement
Jake Got Eaten Alive & Butched By Zombie LionPunk - Go To Inside Deadly Bunker
Indieo Got Brain & Flesh Eaten By Zombies - Try To Save Tina And She Escapes
Scty Got Falling Into To Toxic Waste By Zombie Jake - Escape For Zombies
Zombies Got Killed With Bomb Blaster By Jack, Jono, Train Guy, & Big Bang Guy
Trivia
It will be distributed by Warner Bros With Blumhouse Productions And aMC
Video Cast
Part 1: https://www.youtube.com/watch?v=d5wuU2eDjQg&t=97s
Part 2: https://www.youtube.com/watch?v=MmWR89yfZWs
Part 3: https://www.youtube.com/watch?v=7kQqoUIBkZk
Part 4: https://www.youtube.com/watch?v=9fIzmHRG3To
Part 5: https://www.youtube.com/watch?v=iagRE_xtuTo
Fan-Made Trailer: https://www.youtube.com/watch?v=SKmslAldo1E
Community content is available under
CC-BY-SA
unless otherwise noted.