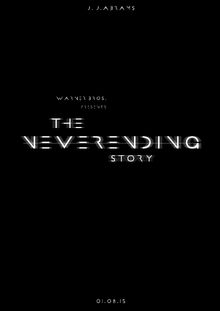 The Neverending Story is an upcoming American fantasy film based on the novel of the same name and produced by Warner Bros. It is directed by J.J. Abrams and written by Michael Arndt. It also stars Dylan Sprayberry, Jamie Blackley and Lupita Nyong'o.
== Plot == This is a REAL movie. It's getting made. I promise. Seriously... Totally.
A young boy named Sebastian discovers a parallel world in a book. As he immerses himself in the story, his life becomes intertwined with the plot, in which a hero in the land of Fantasia must save the universe on behalf of an empress.
Cast
Talulah Riley appears in the film as a Fantasian nurse.
Special appearances by Jody, Joseph and Andrea. This film is going to be epic! And a shout out to Janine! Hi!
Production
Development
In 2009, Warner Bros. acquired the rights to the 35-year-old franchise, clearing the way for a new cinematic adaptation. The treatment for the film was written by Michael Arndt, who was also hired to write the screenplay. Tom Tykwer was considered as director and he had been approached, but he was already commited to A Hologram for the King. J.J Abrams was announced in January 2013 as the director of the film, with Simon Kinberg as his project consultant.
In January 2014, the script was completed and Abrams approached Nicholas Fracoeur to insantly produce concept art for the film's characters. Francouer started with the Childlike Empress, due to the fact he thought that "because she is the centre of Fantasia, it would make sense to design her and then design Fantasia and the rest of the characters around her design."
Pre-Production
In May 2013, it was confirmed that the production of the film would take place in the United Kingdom. Representatives from Warner Bros. met with the Chancelllor of Exchequer, George Osborne to agree to produce The Neverending Story in the U.K. Beginning in September 2013, production spaces at the Bad Robot facility were converted for shooting of the film, for the benefit of shooting a portion of the film in the United States.
Costume designer Michael Kaplan, who worked with Abrams on his Strek Trek films, will be working on The Neverending Story. Film editors Maryann Brandon and Mary Jo Markey, also long term collaborators with Abrams, have also been signed for the film. In August 2013, it was announced that cinematographer Daniel Mindel will be shooting the film. In October 2013, other crew members were confirmed, including sound designer Ben Burtt, director of photography Daniel Mindel, production designers, Rick Carter and Darren Gilford, costume designer Michael Kaplan, special effects supervisor Chris Corbould, re-recording mixer Gary Rydstrom, supervising sound editor Matthew Wood, visual effects supervisor Roger Guyett and executive producers Tommy Harper and Jason McGaitlin.
Casting
Casting began in August 2013, with Abrams meeting with potential actors for meet and greets, script readings and screen tests. Casting resumed in January 2014, due to changes to the script. Screen tests with actors continued at least three weeks before the official announcement on April 29, 2014, with final casting decisions being made only a few weeks prior. Actors testing had strict non-disclosure agreements, preventing them, or their agents and publicist, from commenting on their potential involvement in the film.
Casting for the characters was the subject of speculation since the film's announcement. Saoirse Ronan and Lupita Nyong'o each auditioned for the film. Industry publications also reported Jamie Blackley was considered for a part; Bryan Cranston speculated as a villain; and Elizabeth Olsen was rumoured to play a villain. In March 2014, Cranston and Olsen both denied their involved in the film, putting it down to just rumour.
Lupita Nyong'o was chosen for the film by February 2014, and by the end of that month, a deal had been worked out with Blackley. By March 2014, talks with Charles Dance and John Hurt began and continued into April 2014. Also, in April, Max von Sydow began more serious talks after leaving Santos.
On April 29, 2014, the official casting announcement was made which included a photo of the cast seated in a circle at Pinewood Studios near London for their first table read of the script. In clockwise direction, to the right of director/producer J.J. Abrams were Dylan Sprayberry, Lupita Nyong'o, Jamie Blackley, Max von Sydow, John Hurt, Charles Dance, Oscar Isaac, Dakota Johnson. == Trivia
Differerences from the novel
In the novel, Bastian's name is originally Bastian Balthazar Bux, but due to Abrams and Arndt wanting to update the story as much as possible the name was changed.
In the novel, Sebastian's mother is not seen or named, as she died prior to where the book starts. In the film, she is named Sandra and is alive at the beginning. 
In the novel, Cairon is an elderly centaur and in the 1984 adaptation, he appears as a humanoid Merman. In the 2015 adaptation, Cairon is the Empress' head guard, who is tasked with finding Atreyu.
Community content is available under
CC-BY-SA
unless otherwise noted.