Part 1
(Episode begins in the Jail Factory. Wart, Mole, Mepps, Snort and Frax went into Queen Wipswax's Thorn Room.)
Wart: Boss?
Mepps: Your Highness?
Snort: The two Dalmatians puppy name Wizzer and Dipstick become a Mega Winger Rescue Rangers now. What are we going to do?
Fat Cat: The power of the Mega Winger Rescue Rangers, which is now being tougher.
Queen Wispwax: Which is why, we going to get the Mega Winger Shuttle!
Mole: Oh, great, boss, and Your Excellency. Hear that, guys? They gonna get Mega Winger Shuttle, to make that. Yes. Um... One talk a thing, boss, queen? What's a Mega Winger Shuttle?
Frax: Everyone knows it's a most powerful robot transformation that every crated by the Rescue Rangers. (Flashback begins as a Mega Winger Shuttle blast off from the base.) No Rescue Rangers Scientist created with mighty power after the ship blast off by itself. (Flashback ends) Unfortunately, it land somewhere in the moon of outer space, containing the special space hanger.
(Fat Cat opens the Freezer Card Draw)
Fat Cat: Which means, we need a Monster of the Monster Prison, to blast off and get it.
(He chuckles as he holding a Freeze Card with a picture of monster with the written underneath saying, "Commandocon".

Commandocon: Mega Winger Shuttle, I've found it! You all mine now!
Commandocon: Very funny. You can't stop me!
Commandocon: You can't beat me, you might as well give up!
Part 2
Commandocon: I'll be right with ya!
(He rips off his DNA Patch. Monster DNA is exposed to the air. Commandocon grows gigantic.)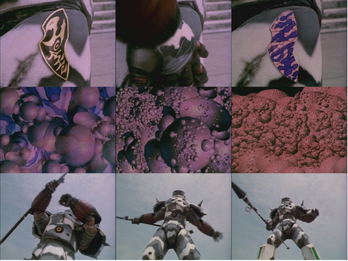 Wizzer: Sorry, Commandocon....
Dipstick: But your time is up.
(The explosion resumes igniting, showing Commandocon as he's engulfed in flames, which start to swirl around him. The blaze transmogrifies into pure ice, which also circles around his body, and visibly freezes him into a solid block of cold blue. Electricity surges around, and we see Commandocon shrinking down, out of sight, until he drops on the ground, now merely, in his tiny, steaming, Frozen Card form.)
Community content is available under
CC-BY-SA
unless otherwise noted.