The Lies Beneath is the fourth album from Irish/Welsh doom/death-doom band Nuadhán, released in 2001 via Candelbra Records. It is the first album to feature Siobhán Elle Ciernácht as violinist and keyboardist, who replaced Abigáil Gáth in 1999. It is preceded by 1998's State of Decay and followed by 2004's Requieste.
Track listing
"Burden" - 3:00
"Fiery Heaven's Wept" - 7:45
"...Winter" - 5:15
"Blood and Earth" - 9:00
"An Ode" - 8:05
Personnel
Peter Sheárnden - producer
Conácht O'Ráegh - mixer
Julia O'Coughney - artwork
Brian O'Coughney - vocals
Gábriel Dáeh - guitars, vocals
Peredur y Gwedynn - bass
Kiernan O'Dráhg - drums
Siobhán Elle Ciernácht - violin, keyboards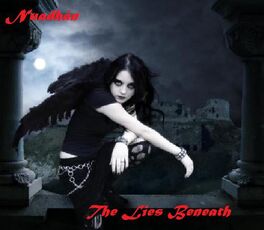 Community content is available under
CC-BY-SA
unless otherwise noted.