The House on Bear Creek Way part 3 is where we find out how the Hamiltons got the curse.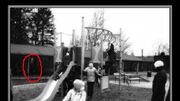 The flim starts off with Robin cooking dinner for her and her family when she get's a call from the police that her husband Adam has been arrested for stealing sttuff and will be staying at a private island.
While at the hospital he befriends a girl named Stella(Janel Parrish) Maddie(Sasha Preste) and a boy named Paul(Drew Van Acker)They tell them how you can make deals with demons to get out of here and Adam asks how can they do that and they say you half to go unde rthe full moon which is tonightand read out of the book that Maddie has.
At midnight the three sneak out to the field that's behind the hosiptal an dbegain to chant causing the wind to blow and the ground to shake, demons growling and screaming and when that's over it starts rainng blood and they run inside where there informed that there going back to there houses.
Robin an dher family take Adam back to the house and Stella, Maddie and Paul move on to the road where Adam lives on. That night a demon starts talking to Olivia and Olivia thinks she's dreaming. The next day Stella,Maddie and Paul tell Adam that they think a demon is in are neighborhood.
That night the blankets go off on everybody in the house except for Jacob and evrybody levaeatates in the air.
Community content is available under
CC-BY-SA
unless otherwise noted.