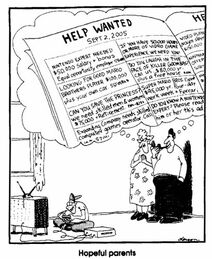 The Far Side (called Gary Larson's The Far Side in the UK) is an animated sketch comedy show on Cartoon Network. Each segment of each episode is based off of a different Far Side cartoon, except the "Tales From The Far Side" Halloween specials and the 7th and 8th seasons, which used original ideas.
Season 1
Episodes
#:
Title:
Segments:
1
The Far Side
Hopeful parents, Inviting the zombies over for dinner, When potato salad goes bad, Midvale: School For The Gifted, Hominid reconstructions, Objects in the mirror are closer than they appear, Bee in the car, Nervous little dogs prepare for their day, Nerd sharks, Punk porcupines.
2

Weiner Dog Art

What your dogs hear when you yell at them, Cat killer, Stay off the dog, Man and duck, Fake sheep,
3
Bride of the Far Side
4
Valley of the Far Side
5
6
7
8
9
10
11
12
13
14
15
16
17
18
19
20
21
22
23
24
25
Community content is available under
CC-BY-SA
unless otherwise noted.