The Enchanted Forest (also known as The Animal Saga) is a part animated part live action comedy-drama musical series. It debuted in 2009 and concluded in 2018. The series was produced by Columbia Lego. It also includes 84 hour long episodes.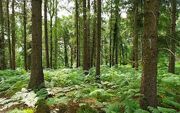 Synopsis
The show's first episode centers on the misadventures of Simba. The first five seasons centered on the adventures of Twilight Sparkle. The last four seasons centers on the adventures of Bambi as he and Jiminy Cricket faced the dangers of The Enchanted Forest that was ruled by Tod the Fox. In the series finale - Bambi and Tod joined forces with Copper and Jiminy to prevent Ronno and his followers from taking over the forest.
Season 1
The Animals of The Forest
Season 2
Season 3
Season 4
Season 5
Season 6
Season 7
Season 8
Show Business in The Forest
Rebuilding The Enchanted Forest
Season 9
The Downfall of The Lioness
Cast
Michael Welch as Bambi - A deer and the main protagonist. He was the son of The Great Stag.
Joe Ochman as Jiminy Cricket - The narrator and the deuteragonist. He was friends with Bambi.
Andrea Bowen as Faline - The tritagonist. She was Bambi's love interest.
Jason Marsden as Ronno - The main antagonist. He was Bambi's arch nemesis.
Adam Driver as Tod - The former secondary antagonist and the anti hero. He was the fox who was the lord of the forest.
Triva
Jiminy Cricket was both the narrator and one of the stars in The Enchanted Forest series.
The series was based on a story that Columbia Lego made up.
The musical score was composed by The Various Artists.
The series was celebrated by fans of all ages. Because of the story and the musical numbers.
Columbia Lego originally planned on producing a live action reboot version of The Enchanted Forest and have it based on the long running series. But he later cancelled the plan.
Bambi once met Simba in the episode Bambi's Sister.
See also
Community content is available under
CC-BY-SA
unless otherwise noted.