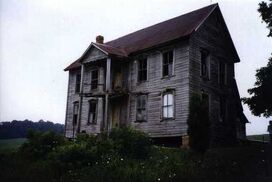 The Cringe is a 2017 psychological/supernatural horror film directed by John Carpenter.
Summary
A teenage girl who begins to see ghosts thinks that a serial killer's spirit that ends up possessing her mother to kill her and her brother...
Plot
Cast
Sophia Strauss as Kirsten Patterson

Isabella Cramp as Young Kirsten Patterson

Rachel McAdams as Margaret Patterson, Allie's mother who was possessed by a serial killer
Chris Evans as the spirit of a serial killer who killed 12 kids, raped his wife and possesses Allie's mother to kill her
Jared Gilmore as David, Allie's brother
Jodelle Ferland as Lucy, Allie's friend
Brenton Thwaites as Roderick, Allie and David's adoptive cousin
Transcript
Wes Craven's The Cringe/Transcript
Trivia
Community content is available under
CC-BY-SA
unless otherwise noted.