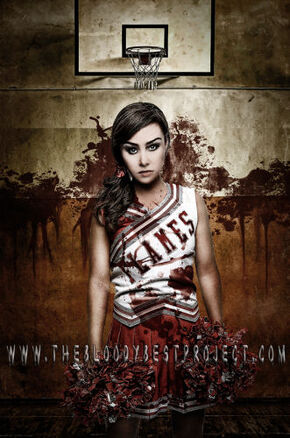 The Blood's House
Is a horror-thriller film starring Selena Gomez, Lucy Hale, Alexz Johnson, Elle Wroe, Amber Riley and Emma Bell.
Summary
A group of cheerleaders are going to spend a weekend in an abandoned house but do not know that in that house thousands of people have died at the hands of a murderous madman, Jack Innards, who kills for sexual arousal. Will the friends be saved from being killed by Jack? From the creators of Hostel, Saw, Final Destination and Black Christmas.
Plot
Cast
Elizabeth Gilles As Cassie
Scout Taylor-Compton As Bella
Victoria Justice As Clarice
Shantel Van Saten As Stephanie
Nene Leakes As coach Silverman
Miranda Cosgrove As Carly
Jazmine Villegas As Karen
Isabelle Castillo As Venus
Glenn Jacobs As Jack Innards
Deaths
Venus-burned alive while sleeping in bed
Karen-stabbed in the eyes
Maria-

beheaded with a machete
Marnie-

dismembered piece by piece
kim-

while walking in the woods she falls in a bear trap, hurts her leg and falls then is cut in half by another trap
Amy-

pinned to a wall with a spear
Carly-

cut in half with a big ax
Liz-

pushed through a window, lands on a broken iron splitting in half
Coach Silverman-

Jack breaks a bottle of wine and stabs her to death
Danae-

stabbed in the head
Stephany-

throat cut with a broken mirror
Maya-

stabbed in the mouth with a machete
Haley-

slashed in the stomach and throat.
Madison-

manages to escape but is run over by a truck
Clarice-

decapitated with pruning shears
Bella-

stabbed in the head with a machete
Cassie-

split in half by throwing ax
Marie-

head pierced with a rusty metal pipe
Jack Innards-stabbed in chest by Leshawna, stabbed in back by Sam, leg cut by Alice, burned by Susan, ax to the head by Quinn and decapitated by Maite
Survivors
Maite, Quinn, Susan, Alice, Sam and Leshawna
Gallery
Community content is available under
CC-BY-SA
unless otherwise noted.