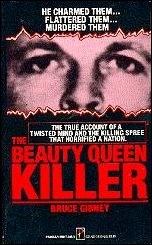 A horror movie serial killer
The Beauty Queen Killer is a 2016 horror movie,based on the life of serial killer Christopher Wilder (1945-1984).
Plot
Christopher Wilder, an australian tourist,takes his trip to america.With only 17 he raped the 15-year old Annabeth Shroeder and again with 23, after his wife Stephanie Richmond left him,he dared the two young girls Monica Ashby, Nina Morgian and Violet Brunn to act sexy in front of his camera.After he got judged for this crimes with 10 months social work,he took his trip as a photographer through america. His first victim Rosario Gonzales died in a hidden part of a forest.He tortures his victims,rapes them and finally kills them.After killing succesful 14 young,beautiful girls between 15 and 33,he left his "girlfriend",who helped him killing the 33-year old Beth Dodge,Tina Marie Risico with some money at the airport.She and Dawnett Wilt (she survived,because she acted like she was dead after he stabbed her and got help by a strange driver) went to the police station and told them,where Christopher Wilder was about to go.They got him at Minnesota airport and sent him directly to jail. There, he was told guilty.In prison he took the gun of an officer and they fought in a gun shot.His first shot hits the officer in his chest,the second one from the sid eof the officer hit his heart and killed him directly.
Cast
Ben Affleck as Christopher Wilder
Emma Roberts as Tina Marie Risico
Shay Mitchell as Dawnett Wilt
Bianca Lawson as Rosario Gonzales
Kate Bosworth as Elizabeth Kenyon
Dakota Fanning as Terry Ferguson
Lily Collins as Suzanne Logan
Spencer Locke as Terry Diane Walden
Emma Stone as Sheryl Bonaventura
Sarah Hyland as Michelle Korfman
Jaime King as Beth Dodge
Kirsten Dunst as Marianne Schmidt
Christian Serratos as Christine Sharrock
Jennifer Stone as Mary Opitz
Lucy Hale as Mary Harem
Mila Kunis as Melody Gay
Sasha Pieterse as Colleen Orsborn
Chloë Moretz as Violet Brunn
Abigail Breslin as Monica Ashby
Bridgit Mendler as Annabeth Shroeder
Zooey Deschanel as Stephanie Richmond
Deaths
Rosario Gonzalez(20)-Stabbed with a butcher knife in a forest in Florida
Elizabeth Kenyon(23)-Strangled with car belt and thrown into a lake in Florida.
Terry Ferguson(21)-Shot in the heart,while get raped in a forest in Florida.
Suzanne Logan(21)-Strangled with a jeans into a farm in Oaklahoma.
Terry Diane Walden(24)-Slayed with a hammer and thrown on highway in Texas.
Sheryl Bonaventura(21)-Gutted in her room at campus in Utah.
Michelle Korfman(17)-Bled from getting stabbed in car.Later found in CA Lake.
Beth Dodge(33)-Poisoned with lethal injection by Tina at Central Park.
Marianne Schmidt(32)-Slayed with a rock at CA beach.Corpse laid in the sea.
Christine Sherrock(26)-Same as Marianne.Her left breast is missing.
Mary Opitz(20)-Hit with a sledgehammer in Edison Mall's toilet in Fort Myers.
Mary Harem(21)-Speared with a pocket knife in Edison Mall's toilet.
Melody Gay(28)-Strangled with a rope.Corpse is later found in a Florida canal.
Colleen Orsborn(16)-Stabbed into heart at Daytona Beach.
Christopher Wilder(39)-Shot in heart in gun fight with an officer

Survivors
Tina Marie Risico (17)
Nina Morgian (19)
Dawnett Wilt (18)
Violet Brunn (15)
Monica Ashby (15)
Annabeth Shroeder (21)
Stephanie Richmond (23)

Main Cast Gallery
Community content is available under
CC-BY-SA
unless otherwise noted.