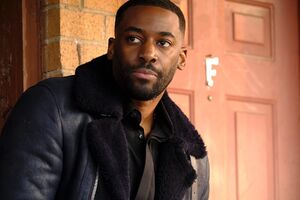 Terrell Holmes is a recurring character in the TV series, The Sullivans.
Biography
Born in Baltimore, Maryland in October 1991.
Personality
Relationships
Faith Jones (ex-girlfriend)
Khalil Holmes (son, with Faith)
Jamaal Holmes (son, with Faith)
Frank Holmes (father)
Laura Holmes (mother)
Jackson Holmes (younger brother)
Jennifer Carter (younger sister)
Peter Holmes (youngest brother)
Franklin Holmes (nephew, by Jackson)
Iesha Carter (niece, by Jennifer)
Darryl Holmes (cousin)
Trivia
An episode of The Sullivans season 2 mentions his birthdate as October 30, 1991.