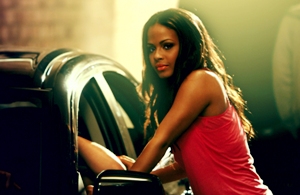 Teresa Marquez is a main character in the American crime drama, Law & Order: New Orleans.
Biography & Personality
Born in Newark, New Jersey to in February 1982, Teresa Marquez (née Salazar) in a Colombian and Mexican-American family. The oldest of four children (three daughters and one son), Teresa was often charged with looking after her younger siblings most of the time. In her teen years, she ran with several street gangs before being sent to live with her uncle in Lousiana. She turned her life around, went to LSU, and joined the NOPD in the Gang Unit before becoming part of the MCCIS.
She has divorced and has a daughter, Ava (who is three-years-old at the beginning), from that marriage.
Marquez is shown as a tough, sassy, street-smart detective, who has an expertise on gangs, having run with several in her adolesence. She does have a softside for children being steered towards that same life and often advocates that they be given the chance to turn their lives around like she did.
In the third season, her ex-husband, Angel, fought her for custody of then six-year-old Ava. Despite some setbacks, Marquez was able to win the case from the help of her friend A.D.A. McCorrea.
She has since started a secret relationship with her colleague, Detective J.J. Jacobs and she is pregnant with Jacobs's twins. The two have also started the adoption process for 9-year old Alice Sebastian, whom they met near the end of the fifth season. By the sixth season, they finalize Alice's adoption, and mid-way through, Marquez gives birth to their twins, Lucas and Sofia. At that same time, Teresa reconnects with her sister Keisha, who drops by to help her during her pregnancy.
Halfway through the eighth season, Marquez, along with Jacobs, is shot (on the orders of the deadly Vescaro drug cartel) after coming home with their children, while celebrating the anniversary of Alice's adoption. Both survive, but are placed into Witness Protection, along with their children, until the cartel can be brought down. Both detectives say farewell to co-workers Dallas Parker, Lisa Zhao, and Marcus Queen before leaving with the Marshals.
In the ninth season finale, "Phantom", events surrounding the arrest of Ruka Kadslav, the assassin who shot them, lead to Marquez and Jacobs's return from the Witness Protection Program as Kadslav is arrested for their murders while being pursued for several others and an attempted murder of two children who witnessed his hit on their family. They reveal that the assumed identities they were given were as a club bouncer and an insurance salesperson originally from Florida raising their four children, that they were living and working in Oregon under the names "Thomas Slater and Gabriella Suarez", and that they missed Teresa's grandmother's funeral in New York due to what happened.
They are reluctant to see him convicted of a murder he did not commit (he does not know they are alive either), but still want justice and testify against him in court. Kadslav goes to prison, having been found guilty under four counts of attempted murder (Jacobs, Marquez, and the two young children), plus four counts of murder. Upon winning the case, the MCCIS squad goes to McCorrea and Ashe's office to celebrate, awaiting Jacobs and Marquez to join them. They do not show up, as a federal agent informs them that they, their children, and the two witness children have all moved under a new identity and they asked him to say goodbye.
In the fourteenth season two-parter "Prodigal", Jacobs and Marquez return as part of a U.S. Marshals Witness Protection team whose charge was murdered along with five others by Mafia boss Sonny Cantrel. It's then revealed that two years prior, Ramon Vescaro (the drug lord that ordered their assassination) was killed in prison by a rival, and Ruka Kadslav (the hitman that tried to kill them) was extradited to the Czech Republic to face punishment for another mass murder, allowing them and their children to leave Witness Protection and them to join the U.S. Marshals. During the case, they catch up with their old friends and meet the squad's new detectives and D.A.'s office's new workers.
During the case, they shoot and kill the hitmen who wound Shields and Jindal in court, and later lead the charge in bringing down the Cantrel family empire once and for all. They later celebrate with their old friends before moving on to their next assignment.
Relationships
J.J. Jacobs (boyfriend; Lucas and Sofia's father)
Angel Marquez (ex-husband; Ava's father)
Keisha Salazar (sister)
Ava Marquez (daughter)
Lucas Jacobs (son)
Sofia Jacobs (daughter)
Alice Sebastian (adoptive daughter)
Trivia
Service weapon: SIG-Sauer P226 
Speaks fluent Spanish
Rankings/Jobs:

Junior Detective (Season 1-8)
Deputy U.S. Marshal (Post-season 8-)
Community content is available under
CC-BY-SA
unless otherwise noted.