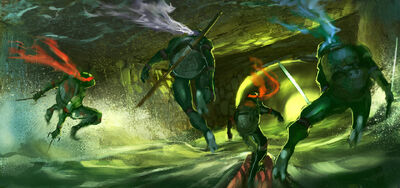 Teenage Mutant Ninja Turtles is a 2018 Action adventure comedy drama based on the 1984 comics created by kevin eastman and peter laird. the film was written and directed by Joss whedon and marc webb, and produced by steven spielberg, Sam rami, and george miller. it stars Justinchatwin, Steven Strait, bradford anderson, Ryan Hansen, sonny chiba, Elizabeth olsen, James franco, adam baldwin, pat fraley, omarr epps, and ken watanabe.
Plot
Cast
justin chatwin as leonardo
steven strait as raphael
bradford anderson as Donatello
Ryan Hansen as Michelangelo
Sonny Chiba as splinter
Elizabeth Olsen as April o neil
James franco as Casey Jones
adam baldwin as bishop
pat fraley as krang
Omarr Epps as baxtar stockman
Ken watanabe as oroku saki/shredder
Cary-Hiroyuki Tagawa as the old master of the foot
jamiee foxx as bebop
vince vaugn as rocksteady
rick yun as oroku nagi
tao okamoto as tang shen
Jamie chung as Oroku/Hamato karai
collin chou as hamato Yoshi
Community content is available under
CC-BY-SA
unless otherwise noted.