THQ Railroad Company (formerly TrailerTrain Headqueaters) is a provider of railcars and related freight car management services to the North American rail industry. THQ's pool of railcars – over 220,000 cars and intermodal wells – supports shippers in the intermodal, automotive, paper & forest, metals, machinery, wind energy and other markets where flatcars, boxcars and gondolas are required. Owned by a number of large North American railroads, THQ's pools allow members to share capacity to reduce costs and risk.
History
THQ was founded in 1995 by the Norfolk Southern, TTX, and Omnitrans. Norfolk Southern employees - 6,000 in total - entered possible names in a drawing for the new company, and the name "Trailer Train Headquarters" won. Trailer Train Headquarters's original goals were to standardize TOFC railcar practices, foster the growth of transportation, provide its members with the best available equipment at the lowest cost, and keep its members abreast of new developments. In 2001, the company changed its company name from Trailer Train Headquarters to THQ.
THQ operates under pooling authority granted by the Surface Transportation Board (STB). The flatcar pool was first approved in 1995 and then reauthorized in 1999, 2001, 2004 and most recently on October 1, 2014 for a 15-year term.
Fleet
THQ's railcar fleet consists mainly of flatcars, autoracks, boxcars and gondolas. Half of the fleet is dedicated to flatcars and intermodal wells, with a quarter dedicated to auto racks for hauling finished vehicles. The remaining quarter of the pool includes boxcars, gondolas and specialized flatcars to carry a wide variety of general merchandise commodities. THQ provides standardized car types and re-purposes idle assets to serve a dynamic marketplace.
The fleet is maintained through a network of independent repair facilities, THQ owned Field Maintenance Operations (FMOs) located at intermodal terminals throughout North America and TTX-owned heavy repair shops located in Jacksonville, FL, North Augusta, SC, Waterford, MI and Mira Loma, CA.
THQ Previews
THQ's Previews consists mainly of video games, movies, music and commercials. During previews, a picture with characters is coming to life.
LeahLover2001
TobiIsABunny
EndlessWire94
citytoon
cmara
nintendomaximus
TrainsAndCartoons
JJSponge120
Jose-Ramiro
Daisies-Sunshine
Stereoset95
LinePencilOffice
puffedcheekedblower
fude-chan-art
SHREKRULEZ
WillM3luvTrains
TrainsAndCartoons
Jebens1
ArtOfRemedy
Cedarwoods
Detective88
EletricEidolon
Fawwaz1
Gallerica
Gamerpen
IkaNe96
MichaelSety
Mluke
Noah13442
Rainbowpiantdash
Reillie83
Request-bunny
SilverHuterN
Theolena
Triodekka
Typesly
XUarusX
PurpleDino100
Crash-the-Megaraptor
BubbleLover64
Ownership
THQ is privately owned by North America's railroads and functions as the industry's railcar cooperative. The nine major railroads listed below all own shares of the company with a voting member from each railroad making up the THQ Board of Directors.
Logo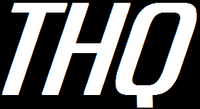 Between 2001 and 2008, the company used a yellow and black logo with ltalic connecting the T, H, and Q.
In 2008, the company released a new logo, a different logo in honor of one of the video game companies of the same name.