THQ Railroad Company (formerly TrailerTrain Headqueaters) is a provider of railcars and related freight car management services to the North American rail industry. THQ's pool of railcars – over 220,000 cars and intermodal wells – supports shippers in the intermodal, automotive, paper & forest, metals, machinery, wind energy and other markets where flatcars, boxcars and gondolas are required. Owned by a number of large North American railroads, THQ's pools allow members to share capacity to reduce costs and risk. THQ's had its original headquarters in San Bernardino, California, but moved its global headquarters to Knoxville, Tennessee in June 2020.
History
THQ was founded in 1995 by the Norfolk Southern, TTX, and Omnitrans. Norfolk Southern employees - 6,000 in total - entered possible names in a drawing for the new company, and the name "Trailer Train Headquarters" won. Trailer Train Headquarters's original goals were to standardize TOFC railcar practices, foster the growth of transportation, provide its members with the best available equipment at the lowest cost, and keep its members abreast of new developments. In 2001, the company changed its company name from Trailer Train Headquarters to THQ.
THQ operates under pooling authority granted by the Surface Transportation Board (STB). The flatcar pool was first approved in 1995 and then reauthorized in 1999, 2001, 2004 and most recently on October 1, 2014 for a 15-year term.
Fleet
THQ's railcar fleet consists mainly of flatcars, autoracks, boxcars and gondolas. Half of the fleet is dedicated to flatcars and intermodal wells, with a quarter dedicated to auto racks for hauling finished vehicles. The remaining quarter of the pool includes boxcars, gondolas and specialized flatcars to carry a wide variety of general merchandise commodities. THQ provides standardized car types and re-purposes idle assets to serve a dynamic marketplace.
The fleet is maintained through a network of independent repair facilities, THQ owned Field Maintenance Operations (FMOs) located at intermodal terminals throughout North America and THQ-owned heavy repair shops located in La Plata, MO, Altoona, PA, Kansas City, MO, Ashland, VA, Flagstaff, AZ, Revelstoke, BC, Elkhart, IN, Skykomish, WA, Chehalis, WA, Plant City, FL, Kearney, NE, Waupaca, WA, Hesperia, CA, Strasburg, PA, Texarkana, AK, Paradise, PA, Greencastie, PA, Belen, NM, Barstow, CA, San Juan Capistrano, CA, and Jonesborough, TN. The New THQ-owned heavy repair shops located in Quincy, IL, Galesburg, IL, Ft. Madison, IA, Tehachapi, CA, and Big Sandy, TX since 2020.
THQ Previews
THQ's Previews consists mainly of video games, movies, music and commercials. During previews, a picture with characters is coming to life.
Bry-Guy
Patricksiegler
Toonman1508
AriaVampireRose7
Greenhood-Station
LeahLover2001
TobiIsABunny
EndlessWire94
citytoon
cmara
nintendomaximus
TrainsAndCartoons
JJSponge120
Jose-Ramiro
Daisies-Sunshine
Stereoset95
LinePencilOffice
puffedcheekedblower
fude-chan-art
SHREKRULEZ
WillM3luvTrains
TrainsAndCartoons
Jebens1
ArtOfRemedy
Cedarwoods
Detective88
cristipinkcristal
montoya666
PencilFood
elevensarts
JSRFRD84
Paladin360
ShinResurgence
EletricEidolon
Fawwaz1
Gallerica
Gamerpen
IkaNe96
MichaelSety
Mluke
Noah13442
Rainbowpiantdash
Reillie83
Request-bunny
SilverHuterN
Theolena
Triodekka
Typesly
XUarusX
PurpleDino100
Crash-the-Megaraptor
BubbleLover64
Ownership
THQ is privately owned by North America's railroads and functions as the industry's railcar cooperative. The nine major railroads listed below all own shares of the company with a voting member from each railroad making up the THQ Board of Directors.
THQ Rail Canada
THQ Rail Canada was a freight carrier headquartered in Revelstoke, BC that operates CP and CN that originally ran.
THQ Rail Europe
THQ Rail Europe is a European railway company. Headquartered in Mierlo - Hout, Netherlands, it is a private joint-stock company (AG), with the THQ Rail Company being its single shareholder. The other was THQ Rail UK, is a British railway company headquartered in York, UK.
Legal issues with THQ Nordic
The company's logo, as it appeared at the end of the pictures came to life, carried the following disclaimer: "Not affiliated with THQ Nordic, a Austrian video game publisher." This was because, in the 2020, the game company sued the company for its use of the "THQ" name and logo from 2001, which eventually led to trademark infringement. They eventually settled, with THQ allowed to continue using the name for the syndication company, provided that a disclaimer was included to distance itself from THQ Nordic, which was implemented starting in 2020.
Logo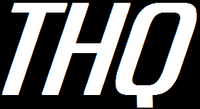 Between 2001 and 2008, the company used a yellow and black logo with ltalic connecting the T, H, and Q.
In May 30, 2008, the company released a new logo, a different logo in honor of one of the video game companies of the same name.
1st Logo, 1992-2001 (as TrailerTrain Headqueaters)
On a white background, we see the words "TH", with ltalic. There is a byline below them: "TrailerTrain Headqueaters. A Division of Conrail and TrailerTrain"
2nd Logo, 1994-1995
On a black background, 2 pieces of wood can be seen on the top left and bottom right of the screen. Then, Ren pushes in the Conrail Logo while Stimpy pushes in a prototype of the next logo. The logo consists of the word "TH" in a white font with a red dot inside a thick white box. Below "TH", there is a red bar with "TrailerTrain Headqueaters" on it. When they step on the wood, the planks are sent flying and both of them stand with nervous-looking smiles.
3rd Logo, 2001-2008 (as THQ)
On a yellow background, A black bar with a rippling texture appears and zooms out, sticking to the screen. Then the letters appear one by one: the "T" zooms out from the left, then the "H" zooms in from the middle, then the "Q" zooms out from the right. A lens flare then writes in "Inc." on the bar, causing the texture to disappear. A lens flare then appears behind the logo before 2 more lens flares draw in the square border.
4th Logo, 2008-present
On a black background, a steel parallelogram is formed with parts of it being sliced off, and it flashes. A larger outline of the parallelogram appears outside it, and 3 silver letters with cuts in them ("T" and "Q" from right, "H" from left) slide onto the parallelogram. A red bar appears from left and bumps into the shield, making it sway and completing the logo. The company website address fades in below, and the shield border shines.
5th Logo, 2016-present
A silver-blue "H" letter flips around onto a black background, filled with blue lights and lasers. The rest of the logo then slides in, with the border zooming out. Electricity is also seen charging on the logo. After a shine and a few seconds, the border flips towards the screen and the letters zoom in one by one, ending the logo.
6th Logo, 2019-present
On a black background, the logo is seen darkened sans the border, rotating around while surrounded by several streaks of white and red light. The streaks then strike the border, illuminating the logo one part at a time before shining.
7th Logo, 2020-present (BNSF variant)
The logo is on a space background and Jimmy flies in his rocket. The announcer for the logo is still heard.
8th Logo, 2020-present (Seaside cities variant)
We start on the the bottom and rise up where glowing blue meduses float. The logo is formed from glowing bubbles.
9th Logo, 2020-present (MARTA variant)
The logo appears on a complicated red background and "echoes" of itself.
10th Logo, 2020-present (Christmas variant)
The logo is set upon a blue-white gradient background it is also snowing.
11th Logo, 2020-present (Urban areas variant)
The logo appears with lush effects, the letters smash into shield. Then an ornament appears around it and two cars pop up above.
12th Logo, 2020-present (Midwest variant)
The logo appears in the sequence of boards falling to the restaurant floor. Each board contains the logo and Remy runs to escape them.
13th Logo, 2020-present (Union Pacific and Norfolk Southern Railroad variant)
The logo is made of glowing lines.
14th Logo, 2020-present (Latin American railways, FEC, CSX, and MARTA variant)
The logo appears inside the bubble.
15th Logo, 2020-present (UP variant)
On Union Pacific, Norfolk Southern Railroad, Canadian National Railway, Canadian Pacific Railway, I&M Rail Link, Iowa Interstate Railroad, Wisconsin Central Ltd., and Kansas City Southern Railway, The logo appears superimposed in the water near the house. On the BNSF, FEC, Ferromex, and CSX, it is superimposed on the balloons.
16th Logo, 2020-present (BNSF Railway, Norfolk Southern, CSX, CN, and KCS variant)
The logo is a metal plate (with two stars on red circles attached) put on a dirty metal background. A nuclear flare turns it into black dust, which get blown away.
17th Logo, (For THQ Rail Europe and THQ Rail UK)
We see a kid with glasses in a room, who's looking through a pile of games that he has. He then pulls out a disc that has the company logo from before on it. He puts it in his game console and begins playing it, until his TV begins to shake. It surges with electricity, and shoots out a bluish light, leaving the kid with an amazed face as the camera zooms in on his glasses, where we see logo on a black background, surging with electricity.
18th Logo, (For THQ Rail Europe and THQ Rail UK)
On a black background, we see the logo as we zoom on a mechanical arm coming out from the left side of the logo, it begins rotating and mildly surging with electricity, we then see the logo zoomed out again as two mechanical arms (the one from before and another one on the right side) shock the logo with electricity, then retreat back into it. The logo then slowly zooms out and fades out.
19th Logo, (For THQ Rail Europe and THQ Rail UK)
On a purple stage, the 2008 THQ Rail Logo is seen, pulsing and emitting reflections in joint with the music beats. Three lights descent above. After some beating, the logo suddenly explodes and dissolves into particles.
20th Logo, (For THQ Rail Europe and THQ Rail UK)
On a black background, the High Voltage Software logo fades in, before fading into a darker environment with the logo on it, with rust around it and swinging back and forth. It then zooms out to reveal that it's on a bug zapper, hanging above a old porch with broken windows and insects flying around it, with one being shocked. We then cut to a close up shot of a bron bug with a cigar in it's mouth, goggles over it's eyes and the left wing shell has "DEATH BEFORE DISHONOR" and the other one have a skull and crossbones and saying below it "LIVE FREE OR DIE", both being in a grungy white font. We zoom out from him to reveal a swarm of wasps, dragonflies, and other insects flying through a forest. They swerve off screen and then we cut back to the porch, but in a wider shot, where a bug gets shocked and then the swarm goes into it. They then all get shocked, with proves too much for the zapper and explodes, sending the brown bug off the screen, the windows burned out, and the porch with burn marks as the remains of the zapper swing back and forth, sending a few jolts before falling off and hitting the ground. We then cut to the bug zapper remains and zoom in onto the THQ Rail logo, where remain there for the rest of the logo as a lone firefly lights up the logo before flying away and fading to black.
Community content is available under
CC-BY-SA
unless otherwise noted.