"Supremacy"/"Homecoming" is a two-part crossover event for the two American crime dramas, Law & Order: New Orleans and Law & Order: Dallas. They were both the twelfth episodes in New Orleans 12th season and Dallas 4th season.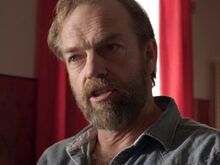 In the event, the detectives from both New Orleans' MCCIS unit and Dallas' homicide unit join forces to hunt and stop a supremacist group led by a vindictive, aggressive Neo-Nazist, who will stop at nothing but to spread harm against both police departments. The detectives from both cities along with their respective District Attorney offices have to pull all the stops to end the group before it is too late.
Supremacy (Part 1) in L&O: New Orleans
In the first part of a L&O co-series crossover, NOPD officers Tito Caballero (Michael Peña) and Justin Rome (Ernest Waddell), after trying to stop the brutal lynching of an Asian man, are brutally gunned down in a shootout that also claims the life of one of the assailants, a teenage boy. When the MCCIS investigates, they discover that the teenage boy is part of the Swaztik-Skins Brigade, a violent white supremacist group branched out of the Aryan Brotherhood, know for committing some of the most violent and graphic hate crimes ever seen (arson, gang rape, lynchings, burnings, mass murders, etc.) through out the Southern United States.
Upon learning of the majority of the crimes taking place in his hometown of Dallas, Texas, Captain Renko, phones his old police academy friend, Captain Eric Dalton of Dallas P.D.'s Homicide Unit. After a brief catch up, Renko inquires about the Swaztik-Skins. Dalton replies that they had captured their leader, Clancy Reddington last year, but at his indictment for the triple homicide of three black men two months earlier, he pulled off an escape, killing a court officer, two Dallas P.D. officers, and a Texas Ranger in the process, before fleeing the state.
Learning this, Renko asks Dalton to send everything he knows about Reddington. Dalton decides to do one better and sends not just everything about Reddington, his group, and his crimes, but also, Detectives Bianca Diaz and Trey Mathis from his unit to assist in the case. Together, the MCCIS with the Dallas Homicide detectives work to shake down as many members or members' relatives to claw their way to Reddington.
Eventually, they make a raid on him just as he's about to conduct an arms deal for stolen military weapons. After an intense shootout and chase down, Parker, Queen, Diaz, and Mathis finally capture and arrest Reddington, though Queen is injured in the process. Afterwards, the NOPD and D.A.'s office decide to send him back to Texas, where he will be put to death in surely quicker time than in Louisiana.
Homecoming (Part 2) in L&O: Dallas
In the conclusion of the L&O co-series crossover, the Dallas police try to bring Clancy Reddington, the leader of the Swaztik-Skins Brigade back to the city, yet hidden Reddington followers mastermind a surprise attack which leads two officers dead and a third critically injured. Detectives Diaz and Mathis return only to investigate the ambush and learn of Reddington's escape. Soon with Waters' help they discover another murder of a Black retired judge is related that to Reddington and his gang.
As the detectives handle the difficult case while dealing with City Hall and the commissioner, Captain Dalton finds out the third officer who is fighting for his life is MCCIS Captain Renko's second oldest son, Ritchie Renko; Dalton calls in his friend to help assist the hunt for Reddington and his police killer posse. Renko leaves New Orleans and returns to his hometown of Dallas along with Sgt. Dallas Parker and Det. Lisa Zhao.
ADA Gutierrez and ADA Roman offer their assist to help pressure imprisoned supremacists to give up Reddington's hideouts. Det. Diaz, Mathis, Parker, and Zhao are given the hideouts and begin arresting the police killers who was on the run; but Reddington is still on the loose. Detectives eventually uncover the revelation that Reddington had a stepson named Matthew Vrong. Vrong was a former member yet willingly to let Reddington hide in his ranch outside Austin. Mathis and Parker use both their strength to tackle and pursue Reddington, while Diaz and Zhao arrest Vrong and his wife for accomplice charges. Mathis and Parker eventually corner Reddington, Reddington tries to kill Parker, but Mathis shoots and kills Reddington before he can.
ADA Gutierrez has order forty warrants and bail hearing for mostly the surviving members. DA Carson has a talk with DA Fowler and offers a chance to golf sometime soon; he persists to have her try gumbo. Meanwhile, Renko sees his injured son and has a conversation; he is thankful his son didn't die, but understands he has a long recovery ahead of him and vows to be there for him as much as he can. Renko and Dalton has a quick talk about their wild two weeks.
Cast
Law
Order
Guest Stars
Crew
Quotes

Parker: "Laissez les bons temps rouler."
Mathis: "Let me guess, have fun and drink until drop crazy."
Parker: "At least you have the fun part down."

Dalton: "I thought evil was only outside our country."
(Renko listening)
Dalton" "Actually evil is everywhere."
Renko: "You got that right."
Trivia
This is the first crossover between New Orleans and Dallas.
Community content is available under
CC-BY-SA
unless otherwise noted.