Template:Dead end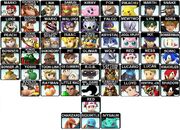 Super Smash Bros. Ultimate Smash is a game contanting Squilliam Fancyson and Kelpy G.
Characters
The list is almost complete, so make sure that 112.201.39.15 or Beauties edit it.
Mario Universe [1]sonic 1
mirio
sunic
kiuby
wswadws
wawigi
Luigi
Peach
Daisy
Geno
Mallow
Captain Toad
Bowser
King Boo
Baby Mario
Pocahontas universe [2]Edit
Pocahontas
Meeko
Flit
Percy
John Smith
Tangled universe [3]Edit
Princess Rapunzel
Pascal
Maximus
Mother Gothel
Flynn Rider
Captain N The Game Master Universe [4]Edit
Kevin Keene & Duke
Princess Lana
Toon Simon Belmont
Toon Mega Man
Toon Pit
Gameboy
Stafy Universe [5]Edit
Klonoa univerese [6]Edit
Klonoa
Lolo
Hewpuo
Ploka
Joka
Gruntz
King of Srowow
Balu
Giana Sisters Universe [7]Edit
Normal Giana/Punk Giana
Dragon
Skunk Fu univerese [8]Edit
Skunk
Fox
Rabbit
Panda
Ox
Cobra
Duck
Baboon
Ninja Monkey
Frog/Toad
Paper Mario Universe [9]Edit
Paper Mario
Paper Luigi
Paper Bowser
Paper Peach
Mr. L
Vivian
Count Bleck
Mulan
Mushu
Cri-kee
Hayabusa
Li Shang
Shang Yu
Donkey Kong Universe [11]Edit
Donkey Kong
Diddy Kong
Dixie Kong
Funky Kong
Kiddy Kong
King K. Rool
Tiny Kong
Chunky Kong
Lanky Kong
Klump
Krusha
Kritter
Candy Kong
DK.jr
Baby DK
Diddy Kong Racing Universe [12]Edit
Pipsy the Mouse
Timber the Tiger
Tiptup the Turtle
Bumper the Mole
Krunch
Drumstick
T.T.
Taj the Genie
Tricky
Bluey
Blubber
Smokey
Wizpig
Anastasia Universe [13]Edit
Anastasia
Bartok
Dimitri
Rasputin
Don Bluth's Rock-A-Doodle Universe [14]Edit
Chanticleer
Edmond
Patou
Snipes
Peepers
Goldie
Hunch
The Grand Duke of Owls
The Pebble and the Penguin Universe [15]Edit
Hubie
Rocko
Marina
Drake
Leopard Seal
Dragon's Lair & Space Ace Universe [16]Edit
Dirk The Darling
Princess Daphne
Mordroc
Dexter/Ace
Kimberly
Borf
All Dogs Go to Heaven Universe [17]Edit
Charlie
Itchy
Annabelle
Sasha
Bess
Flo
Killer
Carface
Belladonna
Red
Titan A.E. Universe [18]Edit
Cale Tucker
Akima Kunimoto
Stith
Gune
Preed
Queen Drej
A Troll in Central Park Universe [19]Edit
Stanley
Queen Gnorga & King Llort
Thumbelina Universe [20]Edit
Thumbelina
Jacquimo
Li'l Bee, Gnatty, and Baby Bug
Prince Cornelius
Ms. Fieldmouse
Mr Mole
Berkeley Beetle
Grundel Toad
Mozo Toad
Gringo Toad
Mama Toad
The Secret of NIMH Universe [21]Edit
Mrs. Brisby
Timmy Brisby
Cynthia Brisby
Martin Brisby
Teresa Brisby
Jeremy
Johnathan Brisby
Auntie Shrew
Justin
Nicodemus
Great Owl
Dragon
Jenner
Conker
Berri
Gregg the Grim Reaper
Don Weaso
Professor Von Kripelspac
Panther King
Cinderella Univerese [23]Edit
Cinderella
Jaq Jaq
Gus Gus
Bruno
Major
Prince Charming
Anastasia & Drizella
Lady Termaine
Lucifer
Fairy Godmother
The Legend of Zelda Universe [24]Edit
Link
Zelda/Sheik
Ganondorf
Toon Link
Skull Kid
Young Link
Toon Zelda/Tetra
Toon Ganondorf
Vaati
Rescue Rangers Universe [25]Edit
Chip
Dale
Gadget
Monterey Jack
Zipper
Foxglove
Fat Cat
Goof Troop Universe [26]Edit
Goofy
Max
Pete
Peg
PJ
Pistol
Waffles
Chainsaw
Quck Pack Universe [27]Edit
Donald Duck
Huey, Dewey, and Louie
The Sword In The Stone Universe [28]Edit
Arthur
Archimedes
Meriln
Madam Mim
CD-i Mario
CD-i Luigi
CD-i Bowser
CD-i Peach
CD-i Link
CD-i Zelda
Winnie the pooh Univeres [30]Edit
Pooh
Piglet
Rabbit
Eyor
Kanga
Roo
Goofer
Owl
Tigger
Christopher Robbon
The Emperor's New Groove Universe [31]Edit
Kuzko
Llama Kuzko
Pacha
Yzma
Kitten Yzma
Kronk
MICKEY MOUSE universe [32]Edit
Mickey mouse
Pluto
Chip
Dale
Minnie mouse
Donald duck
Daisy duck
Goofy
Clarabella cow
Horace Horsecollar
Yen Sid
Pete
Phantom Blot
Metroid Universe [33]Edit
Samus/Zero Suit Samus
Dark Samus
Adam Malkovich
Anthony Higgs
Horrid Henry Universe [34]Edit
Horrid Henry
Rude Ralph
Miss Battle Axe
Moody Maragret
Stuck-up Steve
Perfect Peter
Dennis the Menace Universe [35]Edit
Dennis & Ruff
George Everett Wilson
Tommy
Joey
Margaret
Gina
Dennis the Menace (Beano) Universe [36]Edit
Dennis (Beano)
Gnasher (Beano)
Pie Face
Curly
Colonel
Sgt. Slipper
Walter
Bubble Bobble & Puzzle Bobble Universe [37]Edit
Rainbow Islands Universe [38]Edit
Land Before Time Universe [39]Edit
Littlefoot
Ducky
Petrie
Chomper
Cera
Spike
Ruby
Sasha World Universe [40]Edit
Sasha 
Kostya
Girl Daisy 
Wtf 
King Beetle 
Borya 
Fedya
Bomb 
Koopa Beetle 
Gumba 
Master Spinot
Blah Sasha
Blah Kostya
Blah Borya
Ultra Stevio
Ultra Shawnigi 
Ultra Zevio 
Ultra Zawnigi
Vanya 
Meria Steve 
Denis
Vovka 
Boris
Egor 
Baby Sasha
Baby Kostya 
Baby Girl Daisy 
Baby Wtf 
Baby King Beetle 
Baby Borya
Baby Fedya
Code Lyoko Universe [41]Edit
Jeremy
Aelita
Odd
Ulrich
Yumi
William
Totally Spies! & The Amazing Spiez! Universe [42]Edit
Sam
Clover
Alex
Britney
Dean
Lee Clark
Marc Clark
Megan Clark
Tony Clark
Tarzan
Terk
Tantor
Jane
Clayton
Martin Mystery Universe [44]Edit
Alvin and the Chipmunks Universe [45]Edit
Alvin
Brittany
Jeanette
Simon
Eleanor
Theodore
An American Tale Universe [46]Edit
Fievel
Tanya
Tony
Cholena
Tiger
Warren T. Rat
Cat R. Waul
Chula
Team Galaxy Universe [47]Edit
Punch Out Universe [49]Edit
Little Mac
Glass Joe
Bald Bull
Mr.Sandman
Yoshi
Toon Yoshi
Kamek
Boshi
Birdo
Croco
Kirby
Prince Fluff
Tiff & Tuff
Meta Knight
Galacta Knight
Sword & Blade
King Dedede
Escargoon
Star Fox Universe [52]Edit
Fox
Falco
Wolf
Krystal
Peppy
Slippy
Pather
Leon
Andrew
Pigma
Pokemon Universe [53]Edit
Pikachu
Pokemon Trainer: Squirtle, Ivysaur & Charizard
Pokemon Trainer (Female): Mudkip, Grovyle & Blaziken
Pokemon Ranger
Lucario
Jigglypuff
Mewtwo
Darkrai
Gardevoir
Deoxys
Pichu
Spiked Ear Pichu
Raichu
Riolu
Zoroark
Meowth
Weavile
Bambi
Faline
Great Prince of the Forest
Thumper
Flower
Dumbo
Mrs.Jumbo
Timothy Q Mouse
huge pink elephant
Ringmaster
Pokemon (Anime) Universe [56]Edit
Ash Ketchum
Gary
Misty
Brock
Dawn
May & Max
Jessie & James
Yogi Bear Universe [57]Edit
Yogi Bear
Ranger Smith
Bobo Bear
The Addams Family Universe [58]Edit
Gomez Addams
Morticia Addams
Wednesday & Pugsley
Uncle Fester
Star Wars Universe [59]Edit
Anakin Skywalker/Darth Vader
Luke Skywalker
Yoda
Han Solo
Obi-Wan Kenobi
Mace Windu
Ahsoka Tano
Barriss Offee 
Leia Organa 
Rey
Jyn Erso
Hera Syndulla
Ezra Bridger
Sabine Wren
Snow White Universe [60]Edit
Snow White
Evil Queen
7 Dwarves
Prince
Enchanted Universe [61]Edit
Giselle
Pip
Prince Edward
Queen Narissa
Beauty & The Beast Universe [62]Edit
Belle
The Beast
Chip
Lumière
Cogsworth
Mrs. Potts
Gaston
Sleeping Beautey Universe [63]Edit
Aurora
Flora Fauna & Merryweather
Prince Philip
Maleficent
Lion King universe [64]Edit
Simba
Nala
Timon
Pumbaa
Scar
Kovu
Kiara
Tuff Puppy univeres [65]Edit
Dudley Puppy
Kitty Katswell
Cheif
Keswick
Verminous SnapTrap
Ollie
Larry
Franciso
Harry Potter Universe [66]Edit
Harry Potter
Ron Weasley
Hermione Granger
Ouran High School Host Club Universe [67]Edit
Haruhi Fujioka
Tamaki Suoh
Kyoya Ootori
Hikaru Hitachiin & Kaoru Hitachiin
Mitsukuni Haninozuka
Takashi Morinozuka
Romeo x Juliet Universe [68]Edit
Go! Go! Itsutsugo Land Universe [69]Edit
Arashi Morino
Kabuto Morino
Hinoki Morino
Kodama Morino
Kinoko Morino
Eek! The Cat & The Terrible Thunderlizards Universe [70]Edit
Eek! the Cat
Sharky the Sharkdog
Doc Tari Squat & Kutter
Scooter & Bill
Geronimo Universe [71]Edit
Geronimo
Thea
Trap
Benjamin
Punk Rat
Oliver
Sweetie
Geronimee
Captain Falcon
Blood Falcon
Black Shadow
Samurai Goroh
Earthbound/Mother Universe [73]Edit
Lucas
Ness
Poo
Paula
Jeff
Ice Climber Universe [74]Edit
Fire Emblem Universe [75]Edit
Golden Sun Universe [76]Edit
Game & Watch Universe [77]Edit
WarioWare & Wario Land Universe [78]Edit
Wario
mini warios
Shake King
Mona
Ashley & Red
Dribbles & Sptiz
Kat & Ana
9 volt
18 volt
Baby Wario
Kid Icarus Universe [79]Edit
Metal Gear Universe [82]Edit
Gorodok Universe [83]Edit
Ilya Oleynikov 
Yuri Stoyanov 
Sonic the Hedgehog Universe [84]Edit
Sonic the Hedgehog
Tails
Chip
Knuckles
Princess Elise
Amy Rose
Cream the Rabbit
Shadow the Hedgehog
Rouge the Bat
Blaze the Cat
Silver the Hedgehog
Jet
Wave
Storm
Dr. Eggman
Were Sonic
Mecha Sonic
Metal Sonic
Rocket Sonic
Tails Doll
Metal Knuckles
Bark the Polar Bear
Bean the Woodpecker
Big the Cat
Espio the Chameleon
Vector the Crocodile
Charmy the Bee
Mighty the Armadirllo
Ray The Squirrel
Fang Nile the Weasle Sniper
E-102 Gamma
E-123 Omega
Sticks the Badger
Zeena
Perci
Crazy Frog Universe [85]Edit
The Annoying Thing
The Holliday Thing
Boss Drone
Flash
Jack
Bobo
Drone
Grim
Sub Drone
Michel
The Annoying Drone
Crazy Cow
Crash Bandicoot Universe [86]Edit
Crash Bandicoot
Coco Bandicoot
Crunch Bandicoot
Dr. Neo Cortex
Nina Cortex
Tiny Tiger
Dingodille
N.trophy
N-gin
Ripper roo
Koloa kong
Spyro
Cinder
Sgt. James Byrd
Hunter the Cheetah
Blink
Despicable Me Universe [88]Edit
Home on the Range Universe [89]Edit
Maggie
Grace
Ms Colloway
Buck
Lucky Jack
Junior the Buffalo
Alameda Slim
Rico
The Willie Brothers
Inspector Gadget & Gadget and the Gadgetinis Universe [90]Edit
Inspector Gadget
Penny & Brain
Penny (Gadget and the Gadgetinis Version)
Fidget & Digit
Adventures of Sonic the Hedgehog Universe [91]Edit
Scratch and Grounder
Coconuts
Doctor Ivo Robotnik
Toon Sonic
Toon Tails
Robotnik Jr.
Breezie
SatAM and sonic the comicx Universe [92]Edit
Bunnie Rabbot
Antoine Depardieu
Rotor
Sally Acorn
Robotnik Prime
Snively Robotnik
Scourge the Hedgehog
Fiona the Fox
Nickcol
Iron queen
Julie-Su the Echidna
Lien-Da the Echidna
Sonic Underground Universe [93]Edit
Manic The Hedgehog
Sonia The Hedgehog
Dingo
Sleet
Queen Allena
Toon Knuckles
Sonic X Universe [94]Edit
Chris Thorndyke
Cosmo
Decoe and Bocoe
Bokuun
Biker Mice from Mars Universe [95]Edit
Throttle
Vinnie
Modo
Charlie
Lawrence Limburger
Dr. Karbunkle
Grease Pit
Earthworm Jim Universe [96]Edit
Earthworm Jim
Peter Puppy
Psy-Crow
Power Stone Universe [97]Edit
Edward Falcon
Ayame
Ryoma
Rouge
Wang-Tang
Gunrock
Galuda
Jack
Pete
Gourmand
Julia
Accel
Mel
Pride Falcon
Kraken
Valgas
101 Dalmatians Universe [98]Edit
Pongo
Perdita
Jasper
Horace
Cruella de Vil
Lucky
Rolly
Cadpig
Patch
Spot
Penny
Simon Belmont III
Twinbee
Power Pro-kun
Hudson Soft Universe [100]Edit
White Bomberman
Master Higgins
Yugo Ōgami
Momotarō
Sengoku Manjimaru
Binbōgami
Hercules
Pegasus
Pain & Panic
Meg
Phil
Hades
Microman
Robotman
Licca-chan
Aska
Tyson Granger
Kai Hiwatari
Max Tate
Ray Kon
Kenny
Daichi Sumeragi
Tala Valkov
Mariah Wong
Mathilda Alster
Brooklyn Masefield
Zeo Zagart
Beyblade Metal Fusion Universe [104]Edit
Gingka Hagane
Kyoya Tategami
Kenta Yumiya
Benkei Hanawa
Madoka Amano
Yu Tendo
Kyōya Tategami
Super Monkey Ball Universe [105]Edit
AIAI
MEEMEE
BABY
GONGON
YANYAN
DOCKER
Scooby-Doo Universe [106]Edit
Scooby-Doo
Shaggy
Fred
Daphne
Velma
Scrappy Doo
The Powerpuff Girls Universe [107]Edit
Blossom
Bubbles
Buttercup
Brick
Boomer
Butch
Mojo Jojo
Him
Fuzzy Lumkins
The Powerpuff Girls Z Universe [108]Edit
Hyper-Blossom
Rolling Bubbles
Powered Buttercup
Hi Hi Puffy Ami Yumi Universe [109]Edit
Dragon Ball Z Universe [110]Edit
Goku
Kid Goku
Gohan
Kid Gohan
Goten
Kid Goten
Puar
Chiaotzu
Oolong
Turtle
Krillin
Kid Krillin
Piccolo
Kid Piccolo
Android 16
Android 17
Android 18
Pan
Future Trunks
Frieza
Majin Buu
Cell
Vegeta
Dr. Slump Universe [111]Edit
Bobobo-Bo bo-bobo Universe [112]Edit
Bo-bobo
Don Patch
Hatenko
Dengaku Man
Beauty
Gasser
Softon
Jelly Jiggler
Torpedo Girl
Naruto
Sakura
Hinata
Rock Lee
Gaara
Might Guy
Kakashi Hatake
Shaman King Universe [114]Edit
Yoh
Anna
Horohoho
Tao Ren
Ichigo
Rukia
Renji
Hitsugaya
One Piece Universe [116]Edit
Luffy
Tony Tony Chopper
Nami
Nico Robin
Sanji
Hunter X Hunter Universe [117]Edit
Inuyasha
Kagome
Shippo & Kirara
Sango
Miroku
Soul Eater Universe [119]Edit
Maka Albarn
Black☆Star
Death the Kid
Ox Ford (use Allen Ford or Pearl Krabs)
Kilik Lunge
Yugi/Yami Yugi
Kaiba
Joey
Tristan
Téa
Maximillion J. Pegasus
Marik
Yu-Gi-Oh! GX Universe [121]Edit
Jaden Yuki
Syrus Truesdale
Chumley Huffington
Alexis Rhodes
Jim Crocodile Cook
Tyranno Hassleberry
Yu-Gi-Oh! 5D's Universe [122]Edit
Yusei Fudo
Jack Atlas
Akiza Izinski
Leo
Luna
Crow Hogan
Duel Masters Universe [123]Edit
Shobu Kirifuda
Kyoshiro Kokujo
Battle B-Daman Universe [124]Edit
Yamato Delgado
Grey Michael Vincent
Liena Grace Vincent
Bull Borgnine
Terry McScotty
Cain McDonnell
Enjyu
Wen Yong Fa
Li Yong Fa
Sailor Moon Universe [125]Edit
Sailor Moon
Luna
Artemis
Diana
Tuxedo Mask
Chibiusa
Sailor Mercury
Sailor Mars
Sailor Jupiter
Sailor Venus
Sailor Pluto
Sailor Neptune
Sailor Uranus
Sailor Saturn
Tokyo Mew Mew Universe [126]Edit
Ichigo Momomiya
Mint Aizawa
Lettuce Midorikawa
Pudding Fong
Zakuro Fujiwara
Berry Shirayuki
Tart Ikisatashi
Kish Ikisatashi
The Simpsons Universe [127]Edit
Homer Simpson
Ned Flanders
Krusty the Clown
Bart Simpson
Marge Simpson
Lisa Simpson
Apu
Moe
Comic Book Guy
Cheif Wiggum
Groundskeeper Willie
Mr. Burns
Family Guy & The Cleveland Show Universe [128]Edit
Peter Griffin
Stewie Griffin
Lois Griffin
Chris Griffin
Meg Griffin
Brian
Ernie The Giant Chicken
Cleveland Brown
Glenn Quagmire
Joe Swanson
Tim The Bear
Terry Kimple
Holt
Cleveland Jr.
Roberta
Rallo
South Park Universe [129]Edit
Cartman
Kyle
Stan
Kenny
Butters
Wendy
Spider-Man Universe [130]Edit
Spider-Man
Venom
Doctor Octopus
Carnage
Green Goblin
The Incredible Hulk Universe [132]Edit
Rayman
Rabbid
Globox
Admiral Razorbeard
Teensies
Asterix
Obelix & Dogmatix
Mad Jack the Pirate Universe [139]Edit
Mon Colle Knights Universe [140]Edit
Ikki & Metabee
Erika & Brass
Koji & Sumilidon
Karin & Neutranurse
Tai & Agumon
Matt & Gabumon
Sora & Biyomon
Izzy & Tentomon
Mimi & Palmon
Joe & Gomamon
T. K. & Patamon
Davis & Veemon
Yolei & Hawkmon
Cody & Armadillomon
Kari & Gatomon
Ken & Wormmon
Flint the Time Detective Universe [143]Edit
Flint Hammerhead
Sarah & Tony
Crayon Shin-chan Universe [144]Edit
Shin-Chan
Mitzi & Hima
Hiro
Whitey
Penny Milfer
Maso Sato
Boo
Georgie
Megaman
Roll
Protoman
Bass
Dr. Wily
Tron Bonne
Servbot
Megaman X
Zero
Vile
Copy X
Leviathan
Megaman Volnutt
Roll Caskett
Megaman EXE
Roll EXE
Bakugan Battle Brawlers Universe [146]Edit
Dan
Runo
Marucho
Julie
Shun
Joe Brown
Alice/Masquerade
Baron Letloy
Ace Grit
Mira Clay
Keith Clay/Spectra Phantom
Gus Grav
Jake Rockwell
Fabia
Ren
Dinosaur King Uninverse [147]Edit
Max & Chomp
Rex & Ace
Zoe & Paris
Dr. Z
Ursula & Tank
Zander & Terry
Ed & Saichania
Rod & Ampelosaurus
Laura & Stegosaurus
Marvel vs. Capcom Universe [148]Edit
Amingo
Ruby Heart
Norimaro
Street Fighter Universe [149]Edit
Ryu
Ken
Chun-Li
Dan
Sakura
Alex
E.Honda
Akuma
M.Bison
Charlie
Zangief
Dhalsim
Guile
Cammy
Guy
Karin
Rose
Ibuki
Makoto
Felix The Cat Universe [151]Edit
SpongeBob Squarepants Universe [152]Edit
SpongeBob
Patrick
Sandy
Plankton
Squidward
Mr. Krabs
Bubble Bath
Flying Dutchman
Mermaid Man & Barnicle Boy
Man Ray
The Dirty Bubble
Pearl Krabs
Kelpy G
DoodleBob
Karen Plankton
Squilliam
Banjo-Kazooie Universe [153]Edit
Banjo & Kazooie
Gruntilda
L.O.G.
Mumbo Jumbo
Humba Wumba
Klungo
Jamjars
Bottles
Tooty
Gruntilda's sisters
Manny
Sid
Diego
Scrat
Ellie
Crash and Eddie
Buck
Scrat'e
Peaches
Tron & Tron Legacy Universe [155]Edit
Tron
Sam Flynn
Kevin Flynn
Quorra
CLU 2
Pirates Of The Caribbean Universe [156]Edit
Jack Sparrow
Will Turner
Elizabeth Swann
Hector Barbossa
Davy Jones
Blackbeard
Tia Dalma
Angelica Teach
Oliver & Company Univeres [158]Edit
Oliver
Tito
Georgette
Dogder
Rita
Einstein
Francis
Roscoe and DeSoto
Fagin
Jenny Foxworth
Danny Phantom Universe [159]Edit
Danny Phantom
Sam Manson
Tucker Pholey
Cidney boxdexer
Technis
Penelpe Spectra
Vlad Plasmius
Skullker
Walker
Wolf
Johny 13
Box Ghost
Lunch Lady
Dark Danny
Freakshow
Kiity
Ember
Fright Knight
Piriah Dark
Young Blood
Lydia
Danielle Phantom
Fairly Odd Parents Universe [160]Edit
Timmy Turner, Cosmo Wanda & Baby Poof
Vicky
Jorgen Von Strangle
Dr. Bender
Mr. Crocker
A.J.
Chester
Elmer
Shrek
Donkey
Fiona
Puss in Boots
Pinocchio
Gingerbread Man
king arthur
Prince Charming
Rumpelstiltskin
Kung Fu Panda Universe [162]Edit
Po
Mr. Ping
Master Shifu
Master Tigress
Tai Lung
Master Mantis
Master Viper
Master Crane
Master Monkey
Lord Shen
Kai
Monsters vs. Aliens Universe [163]Edit
B.O.B.
Insectosaurus
Dr. Cockroach
The Missing Link
Ginormica
Gallaxhar
How to Train Your Dragon Universe [164]Edit
Hiccup
Fishlegs
Astrid
night furry
Madagascar & Penguins from Madagascar Universe [165]Edit
Alex The Lion
Melman The Giraffe
Marty The Zebra
Gloria The Hippo
Mort Mouse-Lemur
King Julien XIII
Maurice
Dr. Blowhole
Skipper Kowalski Private & Rico
Marlene
Bada & Bing
The Flintstones Universe [166]Edit
Fred Flintstone
Wilma
Barney Rubble
Betty
Bam Bam
Dino
Megamind
Metro Man
Minion
Titan
Roxanne Richi
Pinocchio Universe [169]Edit
Pinocchio
Jimminy Cricket
Figaro & Cleo
Honest John
Giddeon
Geppetto
blue fairy
Lampwick
Jimmy Neutron Universe [170]Edit
My life as a Teenage Robot Universe [171]Edit
Kingdom Hearts Universe [172]Edit
Sora
Donald Duck
Goofy
King Mickey Mouse
Queen Minnie Mouse
Pete
Riku
Kairi
Axel
Roxas
Xion
Ventus
Terra
Aqua
Ansem
Disney's Peter Pan Universe [173]Edit
Peter Pan
Wendy
Jane
Captain Hook
Mr. Smee
Tick-Tock the Crocodile
Tick-Tock the Octopuss
Disney's Bolt Universe [174]Edit
Bolt
Mittens
Rhino
Dr. Calico
Penny
Epic Mickey Universe [175]Edit
Mickey Mouse
Gremlin Gus
Oswald The Lucky Rabbit
The Mad Doctor
small pete
big bad pete
pete pan
Aladdin
Jasmine
Genie
Abu
Iago
Jafar
Abis Mal
The Hunchback of Notre Dame Universe [177]Edit
Quasimodo
Djali
Hugo Victor and Laverne
Esmeralda
Clopin
Judge Claude Frollo
Captain Phoebus
Ratatouille Universe [178]Edit
Remy
Emile
Skinner
Anton Ego
Colette
Linguni
The Nightmare Before Christmas Universe [179]Edit
Jack Skellington
Oogie Boogie
Lock, Shock, and Barrel
Sally
Santa Clause
Dr. Finkelstein
Alice in Wonderland Universe [180]Edit
Alice
The White Rabbit
The Dormouse
The Mad Hatter
The March Hare
Absolem
The Cheshire Cat
The Red Queen
The Knave Of Hearts
The White Queen
Alice (1951 Version)
The White Rabbit (1951 Version)
The Dormouse (1951 Version)
The Mad Hatter (1951 Version)
The March Hare (1951 Version)
The Caterpillar (1951 Version)
The Cheshire Cat (1951 Version)
The Queen of Hearts (1951 Version)
The King of Hearts (1951 verson)
The Walrus and the Carpenter (1951 Version)
dodo
dodo (1951 verson)
Yin Yang Yo! Universe [181]Edit
Ying
Yang
Master Yo
Carl
Brother Herman
Ultimoose
Yuck
The Night Master
Jungle Book Universe [182]Edit
Mowgli
Baloo
Bagheera
Kaa
Shere Khan
King Louie
Shanti
The Princess and the Frog Universe [183]Edit
Tiara
Prince Naveen
Dr. Facilier
loius
mother oldie
ray
Jimmy Two-Shoes Universe [184]Edit
Jimmy
Beezy
Heloise
Lucius Heinous the Seventh
Samba De Amigo Universe [185]Edit
Quiz Nanairo Dreams Universe [187]Edit
Viewtiful Joe Universe [188]Edit
Alex kidd universe [189]Edit
Science Ninja Gatchaman Universe [190]Edit
Ken The Eagle
Jun The Swan
Joe The Conder
Neo-Human Casshan Universe [191]Edit
Hurricane Polimar Universe [192]Edit
Tekkaman The Space Knight Universe [193]Edit
Darkstalkers Universe [194]Edit
Morrigan Aensland
Lilith
Demitri Maximoff
Felicia
Hsien-Ko
Lord Raptor
B.B.Hood
Anakaris
Captain Commando Universe [195]Edit
Captain Commando
Baby Head
Ginzu
Rival Schools Universe [196]Edit
Dead Rising Universe [197]Edit
Ghosts 'n Goblins Universe [198]Edit
Arthur
Guinevere
Red Arremer
moster inc. univeres [199]Edit
Resident Evil Universe [200]Edit
Carl Fregrenson
drung
kvien
Yatterman Universe [203]Edit
Yatterman-1
Yatterman-2
Doronjo
Gyakuten Ipptsuman Universe [205]Edit
Tekkaman Blade Universe [206]Edit
The Genie Family Universe [207]Edit
Devil May Cry Universe [209]Edit
BEN TENNYSON
Diamondhead
Fourarms
Ghostfreak
Grey Matter
Heatblast
Ripjaws
Stinkfly
Upgrade
Wildmutt
XLR8
Cannonbolt
Wildvine
Upchuck
Benmummy
Benwolf
Benvicktor
Ditto
Way Big
Eye Guy
Gwen Tennyson
BEN 10 Alien Force Universe [211]Edit
TEEN BEN TENNYSON
Swampfire
Echo Echo
Humungousaur
Jetray
Big Chill
Chromastone
Brainstorm
Spidermonkey
Goop
Upchuck
Cannonbolt
Way Big
Alien X (Final Smash)
JULIE
TEEN GWEN TENNYSON
TEEN KEVIN 11
Ben 10 Ultimate Alien Universe [212]Edit
ULTIMATE BEN TENNYSON
Terraspin
Water Hazard
Ampfibian
Nanomech
Ultimate Swampfire
Ultimate Humongousaur
Ultimate Big Chill
Ultimate Spidermonkey
Ultimate Cannonbolt
Ultimate Echo Echo
Rath
Fourarms
Armodrillo
NRG
ULTIMATE GWEN TENNYSON
ULTIMATE KEVIN 11
Teen Titans Universe [213]Edit
Robin
Cyborg
Beast Boy
Starfire
Raven
Terra
Blackfire
Slade
Gizmo
Mammoth
Jinx
Brother Blood
Trigon
Bumblebee
Speedy
Aqualad
Más y Menos
Stitch
Reuben
Angel
Pleakley
Jumba
Gantu
Experiment 627
Leroy
Dr. Hämsterviel
Making Fiends Universe [215]Edit
Charlotte
Vendetta
Grudge
Invader Zim Universe [216]Edit
Fanboy & Chum Chum Universe [217]Edit
The Angry Beavers Universe [218]Edit
El Tigre: The Adventures of Manny Rivera Universe [219]Edit
El Tigre
Frida
White Pantera
Puma Loco
Black Cuervo
Rocko's Modern Life Universe [220]Edit
Rocko
Spunky
Heffer
Filburt
Ed Bighead
Bev Bighead
Catdog
Rancid Rabbit
The Greaser Dogs
Xiaolin Showdown Universe [222]Edit
Omi
Kimiko
Raimundo
Clay
Jack Spicer
Chase Young
Johnny Test Universe [223]Edit
Johnny &Dukey
Susan & Mary
Bling-Bling Boy
Blast Ketchup
Gill
Monster Allergy Universe [224]Edit
The Grim Adventures Of Billy And Mandy Universe [225]Edit
Billy
Mandy
Grim
Milkshakes
Saliva
Jeff Spider
Mogar
Nergal
Fred FredBurger
Nergal Junior
Irwin
Hoss
Jack
Lord Pain
Eris
Dracula
wolf man
Boogey
Evil Con Carne Universe [226]Edit
Hector Con Carne
General Skarr
Squirrel Boy Universe [227]Edit
Tiny Toon Adventures Universe [228]Edit
Buster Bunny
Babs Bunny
Plucky Duck
Elmyra
Shirley The Loon
Fifi
Hamton
Furrball
Calamity Coyote
Dizzy Devil
Montana Max
Animaniacs Universe [229]Edit
Yakko
Wakko
Dot
Buttons
Slappy & Skippy
Rita and Runt
Pinky And The Brain
Freakazoid Universe [230]Edit
Freakazoid
Candlejack
The Lobe
Tom and Jerry Universe [231]Edit
Tom
Jerry
Spike
Butch
Tyke
Nibbles
Robin
Aunt Figg
Eagle
Droopy & Dripple
Screwball Squirrel
Mc Wolf
Pink Panther Universe [233]Edit
Other nintendo Universe [235]Edit
Laughing Dog
bubble the fish
Ed Edd n Eddy Universe [236]Edit
Ed
Edd
Eddy
Jonny & Plank
Kevin
Nazz
Rolf
Sarah
Jimmy
May
Marie
Lee
Eddy's Brother
Woody WoodPecker Universe [237]Edit
Woody Woodpecker
Winnie Woodpecker
Chilly Willy
Wally Walrus
Buzz Buzzard
Dexter's Laboratory Universe [238]Edit
Chowder
Mung daal
Shnitzel
Panini
Samurai Jack Universe [240]Edit
The Marvelous Misadventures of Flapjack Universe [241]Edit
Flapjack
Captain K'nuckles
Ren & Stimpy Universe [242]Edit
Ren
Stimpy
Mr. Horse
Sven Hoek
Aang
Katara
Sokka
Haru
Zuko
Ty Lee
Mai
Azula
Iroh
Toph
Jet
Phineas and Ferb Universe [244]Edit
Phineas Flynn
Ferb Fletcher
Perry The Platypus
Dr. Heinz Doofenshmirtz
Candace Flynn
Jeremy Johnson
Isabella
Buford
Baljeet
Stacy
The Replacements Universe [245]Edit
Darkwing Duck Universe [246]Edit
Darkwing Duck
Negaduck
Megavolt
Dr. Reginald Bushroot
The Liquidator
Quackerjack
DuckTales Universe [247]Edit
Scrooge McDuck
Huey, Dewey, and Louie
Magica De Spell
Who Framed Roger Rabbit Universe [249]Edit
Roger Rabbit
Jessica Rabbit
The Toon Patrol
Toy Story Universe [250]Edit
Woody
Buzz Lightyear
Jessie
Bull's Eye
Rex
Mr Potato Head
Slinky Dog
Hamm
Wheezy
Mr Pricklepants
Buttercup
Trixie
Dolly
Evil Emperor Zurg
Stinky Pete
Lotso
The Secret Saturdays Universe [251]Edit
Zak Saturday
Doc Saturday
Drew Saturday
Doyle Blackwell
Looney Tunes Universe [253]Edit
Bugs Bunny
Lola bunny
Tweety
Pepe Le Pew
Daffy Duck/Duck Dodgers
Porky Pig/Cadet
Elmer Fudd
Road Runner
Sylvester
Marvin The Martian
Yosemite Sam
Speedy Gonzalzs
Taz
Wile E. Coyote/Alien Hunter
Foghorn Leghorn
Mortal Kombat Universe [254]Edit
Scorpion
Sub Zero
Liu Kang
Raiden
Shang Tsung
Reptile
Goro
Kintaro
Motaro
Shao Kahn
Kitana
Jax
Johnny Cage
Sonya Blade
Cyrax
Sektor
Smoke/Human Smoke
Kung Lao
Ashrah
Jade
Baraka
Mileena
Bo' Rai Cho
Onaga
Moloch
Nightwolf
Stryker
Sindel
Taven
Sheeva
Quan Chi
Noob Saibot
Chameleon
More SEGA Universe [255]Edit
Billy Hatcher
beat
gum
ulala
pulding
Killer Instinct Universe [256]Edit
Fulgore
Cinder
Glacius
Jago
Riptor
Sabrewolf
Spinal
TJ Combo
Chief Thunder
B.Orchid
Eyedoll
Maya
Tusk
Kim Wu
Gargos
Mata Nui
Ackar
Kiina
Vestus
Gelu
Stronius
Gresh
Tarix
Strakk
Vorox
Malum
Skrall
Reidak
Hakann
Vezok
Zaktan
Avak
Thok
Tahu
Takanuva
Toa Vakama
Toa Jailer
Toa Hahli
Toa Hewki
Toa Kongu
Toa Motaro
Toa Nuparu
HERO FACTORY UNIVERSE [258]Edit
Furno
Surge
Breez
Stormer
Bulk
Stringer
Furno 2.0
Surge 2.0
Breez 2.0
Stormer 2.0
Evo 2.0
Nex 2.0
Meltdown (Hero Factory)
Xplode (Hero Factory)
Thunder (Hero Factory)
Corroder (Hero Factory)
Rotor (Hero Factory)
Drilldozer
Jetbug
Nitroblast
Rocko 3.0
Nex 3.0
Stormer 3.0
Bulk 3.0
Stringer 3.0
Furno 3.0
Waspix
Raw Jaw
Fangz
Scorpio
Final Fantasy Universe [259]Edit
Cloud Strife
ninja
black mage
withe mage
Aerith Gainsborough
Tifa Lockhart
Yuffie Kisaragi
Lightning
Yuna
Rikku
Paine
Squall Leonhart
Zack Fair
Tidus
Mr. No Hands ,Lin Chung ,Jumpy Ghostface ,Mystique Sonia , and Mighty Ray
'Kao Chao'
'High Roller'
liger king
DC Comics Universe [261]Edit
Superman
Batman
The Joker
The Flash
Robin
Wonder Woman
Happy Tree Friends Universe [262]Edit
Flippy/ Evil Flippy
Cuddles
Handy
Petunia
Russell
Lumpy
Giggles
Nutty
The little mermaid universe [263]Edit
Ariel
Flounder
Tip
Dash
Melody
Sebastian
king Triton
Morgana
Ursula
Super Duper Sumos Universe [264]Edit
War of the Monsters Universe [265]Edit
Congar
Togera
Robo-47
Preytor
Kineticlops
Agamo
Magmo
Ultra-V
Raptors
Zorgolon
Total Drama Island/Action Universe [267]Edit
Owen
Gwen
Heather
Duncan
LeShawna
Geoff
Izzy
DJ
Lindsay
Bridgette
Trent
Eva
Harold
Courtney
Sadie
Beth
Cody
Tyler
Katie
Justin
Noah
Ezekiel
Chris Mclean
Chef Hatchet
Total Drama World Tour Universe [268]Edit
Alejandro
Sierra
Blaineley
Burning Rangers Universe [269]Edit
Shou Amabane
Tillis
Chris Parton
Big Landman
Reed Phoenix
The League of Super Evil Universe [270]Edit
Voltar
Red Menace
Doktor Frog
Doomageddon
Dynasty Warriors Universe [271]Edit
Liu Bei
Guan Yu
Zhang Fei
Zhao Yun
Zhuge Liang
Jiang Wei
Guan Ping
Wei Yan
Ma Chao
Pang Tong
Yue Ying
Xing Cai
Cao Cao
Xiahou Dun
Xiahou Yuan
Dian Wei
Sima Yi
Xu Zhu
Xu Huang
Zhang He
Zhen Ji
Cao Ren
Pang De
Zhang Liao
Sun Jian
Lu Xun
Sun Ce
Huang Gai
Sun Quan
Sun Shangxiang
Taishi Ci
Zhou Yu
Lu Meng
Ling Tong
Gar Ning
Da Qiao
Xiao Qiao
Zhang Jiao
Dong Zoug
Lu Bu
Dio Chan
Yuan Sho
Meng Huo
Zhu Rong
Zuo Ci
Fu Xi
Nu Wa
Meet the ribboson universe [272]Edit
willbud
grow uped goob aka evil goob aka browed hat man
mr riddoson
Lars Alexandersson
Alisa Bosconovich
Jin Kazama
Devil Jin
Kazuya Mishima
Hehachi Mishima
Raven
Zafina
Leo
Bob
Miguel Caballero
Paul Pheonix
Marshall Law
Lei Wulong
King
Armor King
Craig Marduk
Yoshimitsu
Nina Williams
Anna Williams
Ling Xiaoyu
Kuma
Panda
Wang Jinrei
Jack-6
Hwoarang
Baek Doo San
Bruce Irvin
Asuka Kazama
Roger / Roger Jr.
Alex
Juila Chang
Ganryu
Lee Chaolan
Christie Monterio
Eddy Gordo
Byran Fury
Steve Fox
Feng Wei
Lili
Sergei
Michelle Chang
Kunimitsu
Forest Law
Ogre
True Ogre
Mokujin
Testujin
Combot
Unknown
Worms / Team 17 Universe [274]Edit
Boggy B
Professor Worminkle
Worm
Photo Dojo univeres [275]Edit
yourself
your friends(90000000000000000000000000000000000 gillion of them)
Male Mii (90000000000000000000000000000000000 gillion of them)
Female Mii (90000000000000000000000000000000000 gillion of them)
Scott Pilgrim Universe [277]Edit
Scott Pilgrim
Ramona Flowers
Kim Pine
Stephen Stills
Gideon
Knives Chau
The swan princess universe [279]Edit
Derek
odette
Rothbart
Speed the tutle
Jean-Bob the frog
Puffin the Puffin
Astro Boy Universe [280]Edit
Astro Boy
Astro Boy (2003)
Atlas (2003)
Pluto (2003)
Blue Knight (2003)
Espilon (2003)
Ancheron (2003)
Astro Boy (1980)
Astro Boy (1951)
Sascha Mozer 
Katy Lavrova
Sergey Mozer 
Dima
Uncle Jenya 
Ira Lavrova 
Katy Girl 
Nastya Girl 
Lelya Kolya
Andryusha
Uncle Yura 
Elle
Roma
Maxim 
Tanya Girl 
Marina Girl 
Uncle 1
Uncle 2
Uncle Sereja 
Uncle 3
Uncle 4
Uncle 5
Jenya Boy 
Uncle Vova 
Uncle Vasya
Grandson Vova
Grandson Vasya
Yaric 
Denis Anatovich 
Over the Hedge Universe [282]Edit
Verne
RJ
Hammy
Stella
Ozzie
Heather
Penny
Lou
Bucky
Quilow
Spike
Vincent
Dwane
Gladys
Disney's ROBIN HOOD Universe [283]Edit
ROBION HOOD
LITTLE JOhN
PRINCE JOhN
SIR HISS
Lego Ninjago Universe [284]Edit
Kai the Red Ninja
Jay the Blue Ninja
Zane the White Ninja
Cole the Black Ninja
Lord Gamadon
High School Musical Universe
Troy Bolton
Gabriella Montez
Sharpay Evans
Ryan Evans
Chad Danforth
Taylor McKessie
Kelsi Nielsen
Zeke Baylor
Martha Cox
Jason Cross
Tiara Gold
Donnie Dion
Jimmie Zara
The Sharpettes
Mr. Fulton
Derby Evans
Vance Evans
Mrs. Darbus
Alan
Susan
Cyndra
Mrs. Montez
Principal Matsui
East High Cheerleaders
Wipeout Canada Universe
Kelsi Evans
Sharpay Kelsi
Mortadelo y Filemon Universe
Mortadelo
Filemón
Superintendente Vicente
Profesor Bacterio
Ofelia
Billy el horrendo
Mac el antropoide
Profesor Von Iatum
Antofagasto Panocho
Chapeau el Esmirriau
Magin el mago
El bacilon
Rompetechos
Bruteztrauzen
Gedeon el chicharron
The Brothers Gario  Universe 
Gario
Vuigi 
Bario
Faluigi
Jario-yellow-wear
Zario-blue-wear
Garia
Moomba
Raluigi
Lowser
Nario 14 year old gradnson gario 
Tuigi 14 year old gradnson vuigi
Vario 
Guigi 
Balanio
Zario
Kario 14 year old uncle gario
Bluigi 35 year old uncle vuigi 
Evil Gario
Evil Vuigi
Biker Bario 
Biker Zario 
Mr.G
Mr.V
Mr.J
Mr.Z
Trivia
A contestant from Episode 7 did not appear with Squilliam.