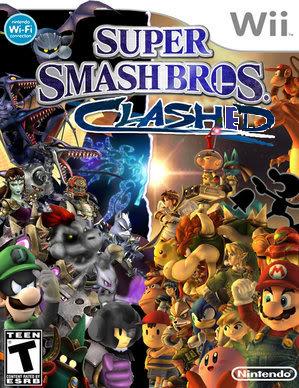 Super Smash Bros. Clashed
is the 4th game in the Super Smash Bros. Series its gameplay is just like any other Super Smash Bros. game but it also has some new elements like being able to Download some characters like Pac-Man if you have enough Smash Coins. Like any other Super Smash Bros. game it has a Single Player Mode which has the Story Mode, Classic Mode, All-Star Mode, Home-Run Contest, Target Smash & Alloy Frame Fight a new Mode where you have to fight the Wire Frames From Super Smash Bros. Melee & the Alloy Team from Super Smash Bros. Brawl after you have defeated a sertain number of Alloys & Wire Frames Master Hand appears and you then have to fight him, if you defeat him you will either be awarded some Smash Coins if you took long to defeat Master Hand or a Trophy of a Boss Character.
coming soon on easter 2011
Playable Characters
Mario
Luigi / Mr. L
Princess Peach
Bowser / Dry Bowser/drak bowser/shadow luigi
Dr. Mario
Bowser Jr. / dry bowser jr./drak bowser jr./shadow mario
Princess Daisy
Rosalina
Geno
Woody
Buzz Lightyear
Lighthing McQueen
Jessie
Felix The Cat
Phineas Flynn
Ferb Flechter
Candace
Isabella
Bajeet
Buford
Jermy
Stacy
Perry The Platapus
Dr Doofenzimerz
Frank West
Ben Tennyson
Gwen Tennyson
Kevin Levin
SpongeBob Squarepants
Patrick Star
Sheldon J. Plankton
Garry The Snail
Squidward Tentacles
Eugene H. Krabs
Mermaid Man
Barnacle Boy
Vilgax
Kelpy G
Boshi
Toad
Wart
Link
Princess Zelda / Sheik
Ganondorf
Toon Link
Toon Zelda / toon sheik
Toon Ganondorf
zora Link
Dark Link
Wolf Link
Tingle
Zant
Darbus
Pikachu
Jigglypuff
Lucario
mew
Pichu
Mewtwo
Eevee
Meowth
Raichu
Empoleon
Darkrai
Riolu
Shaymin Land Forme / Shaymin Sky Forme
Alex kidd
Fox
flaco
peppy
wolf
pather
samus
fusion suit samus
drak samus
Sonic
Tails
Kncukles
Amy hedgehog/amy skunk
mighty
Shadow
Silvler
eggman the hedgehog
metal sonic/sivler sonic
megaman
zero
bass
klonoa
bubbles(clu clu land's fish)
popey
sora
riku
Bunnie rabbot(sonic the hedgehog/bunnie rabbot/bunnie rabbot z)
oogtar(super mario world/ oogtar 1,2,3,4,5,6,7,8,9,10,11,12,13,14,15,16,17,18,19,20,21,22,23,24,25,26,27,28,29,30,31,32)
bonk
crash bandicoot
coco bandicoot
crunch bandicoot
spyro the dragon
cinder the dragon
Kirby
Meta Knight
King Dedede
Knuckle Joe
Gooey
Galacta Knight
Sword Knight
Chilly
Bonkers
Golem/rocky
Waddle Dee
Waddle Doo
Yoshi
Birdo
Baby Mario
Baby Luigi
Baby Peach
Baby Daisy
Baby Bowser
Baby Wario
Kamek
Morton Koopa Sr.
Raphael The Raven
Poochy
Optimus Prime
Megatron
Section heading
Write the second section of your article here.
Community content is available under
CC-BY-SA
unless otherwise noted.