Line 37:
Line 37:
 
 
 

Oliver The Robot is gonna have a cowboy hat since the start of the film that looks like Woody's hat, but blue to match his color and it's confirmed that his dad, David The Robot gave it to him in June 21st, 2019 at 9:25 am.

 

Oliver The Robot is gonna have a cowboy hat since the start of the film that looks like Woody's hat, but blue to match his color and it's confirmed that his dad, David The Robot gave it to him in June 21st, 2019 at 9:25 am.

 
+
 
+

The Plane that Oliver's minions will have will also have a little red bucket similar to (Madagascar 2's red bucket from the monkey chain) on the right side with a 2 ton chain hoist that carries the bucket that Oliver, David, Chicken Little, Bowser Junior, Joseph, Cody, Black Yoshi and Toad get rescued and fly away.

 
 
 

Pisty was built in April 22nd, 2014. (Inspired by Forky)

 

Pisty was built in April 22nd, 2014. (Inspired by Forky)
---
Revision as of 09:49, 8 October 2019
SuperMarioLogan Parody: Loud House is An American/Adventure/Comedy Film, It is Made From Disney, Pixar, and Nintendo and Nickelodeon Movies.
Cast 
Zach Braff as Oliver The Robot and Chicken Little
Logan Thirtyacre as Mario, Bowser Junior and some others
Tex Hammond as Lincoln Loud
Micheal J Fox as Pisty, a talking piston who walks
Fred Willard as Josh Booster-Mcflyer
Paul Panting as Larry
Anthony Miller as Lemmy
SuperMarioRichie as all of the other koopalings
Plot
2 years ago, on June 22, 2019, the gang was in the house, raining on the street, Dinoco Lightning Mcqueen was stuck in a flooded road in front of their house, Oliver & Toad tried to save him, then Dinoco Mcqueen's pitties came to help, then Dinoco Mcqueen was saved, then he came into Dinoco Mack's hauler then rested, now foward to the present, June 20, 2021, Oliver whistles for Wall-E and Chicken Little, he falls out of the window and lands on Wall-E's shoulders then they went together. The gang are hanging out in the city of Minnesota, then they meet the Loud kids, the gang was confused, Oliver first introduced himself to Lincoln Loud, then the sisters fell in love with Oliver, Chicken Little & Wall-E, then Oliver went on Donkey's back then they Oliver was riding on Donkey, Chicken Little was also riding & Wall-E and the rest of the gang were catching up, then Oliver's family, Amy, his mom, David, his dad, Stacy, his sister & Tim & Larry, his twin brothers, Oliver and the whole gang, even the Louds went to Walmart, then they met the Koopalings from North Korea like Ludwig, Lemmy, Roy, Larry, Wendy, Iggy, Morton and the others, then they plan to go check out the Loud house, 1 day later, they were ready, before they left, Oliver's minions introduced him to "Josh Booster-Mcflyer", a car who will have jetpacks soon so he can fly, but the minions will restore him and Josh will belong to Oliver when they get back. Then Oliver's brothers, Tim & Larry show him "Pisty", built in April 13th, 2014 and was revealed that Oliver remembered him from said date before he moved with Mario and the gang in 2015, they were on board Thomas, Annie, Clarabel & 7 silver coaches, they took a day to get to the Loud House, the exterminator was planning to control Oliver with his evil controller, as the gang was about to go home, the exterminator used his controller to lift Oliver up, then fire came out of him to the Louds and the Koopalings, the exterminator's plan was working, then Oliver was done, the exterminator electrocuted him, Oliver was broken, Bowser bounced the Luxo ball on Oliver's head, then he fell down then died, Joy was shocked and crying to see her boyfriend die, then Black Yoshi, Junior, Toad, Joseph, Cody, Dinoco Mcqueen & Dinoco Mack came to a repair shed then repaired him, meanwhile, the minions were getting ready to take off to take Oliver and David home as David called them when Oliver was having a hard time and everything, Josh was fully restored and can fly now, so the search party begun, meanwhile, Black Yoshi repaired Oliver, but Oliver lost his memory (Wall-E reference) and left to put a fence pole up, Black Yoshi was crying and calling out Oliver's name then Oliver remember all his memories and everything, he was happy that he was back to life, but he was sad then he died, as the gang with the Louds and Koopalings arrived, they're happy to see Oliver alive, but they all sadly cried together, as then the plane with Pisty and the minions on board with Josh flying arrived, then Oliver, his dad, Wall-E, Junior, Joseph, Cody & Chicken Little came aboard, then while a race at NASCAR was finished, the news with the racers that Dinoco Mcqueen is coming back from vacation, then when Thomas with the train and the Louds & Koopalings, they threw the exterminator in the middle of the forest to get eaten by a grizzly bear, then Oliver came down off the plane with the chain with the bucket where he got rescued in, he went in front of Thomas, then he and Joy hugged, the Louds went "Awwww.....", then they went on their way home, the people back at Minnesota were happy to see Oliver and his friends again and the Louds left home then Oliver had fun with his new car, Josh Booster-Mcflyer along with Pisty.
Trivia 
Oliver's minions will have their plane for the first time. https://www.deviantart.com/pixaryesdorano2018/art/Oliver-the-Robot-s-Minion-Superplane-758334707
A new character, "Josh Booster-Mcflyer" (Reference to Marty Mcfly) is gonna be Oliver The Robot's personal car to drive and fly.
On October 12, 2018, Tom Kenny was gonna voice Oliver The Robot since his original actor "Mr Kelly Halls" (NOTE: He's a fake person that Eli came up with in this world and named after his last name) died from a car crash at Florida, But on June 6th, 2019, It's announced that Zach Braff will voice him instead since Tom's voice for him sounded way too young and the audiences and even kids praised Zach's voice since it really fitted Oliver's character for the current days.
Oliver The Robot is gonna have a cowboy hat since the start of the film that looks like Woody's hat, but blue to match his color and it's confirmed that his dad, David The Robot gave it to him in June 21st, 2019 at 9:25 am.
The Plane that Oliver's minions will have will also have a little red bucket similar to (Madagascar 2's red bucket from the monkey chain) on the right side with a 2 ton chain hoist that carries the bucket that Oliver, David, Chicken Little, Bowser Junior, Joseph, Cody, Black Yoshi and Toad get rescued and fly away.
Pisty was built in April 22nd, 2014. (Inspired by Forky)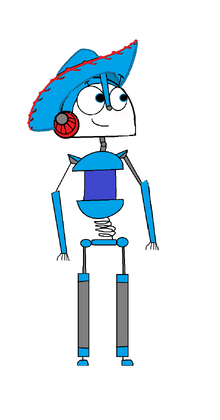 Community content is available under
CC-BY-SA
unless otherwise noted.