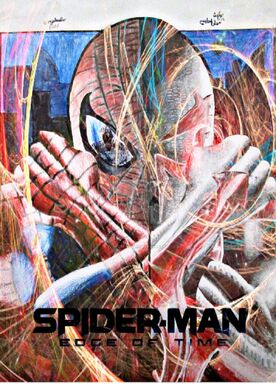 Spider-Man: Edge Of Time
is a 2032 live action superhero comedy, drama, tragedy and adventure flick based on a video game of the same name and is yet another sequel to the long list of Spider-Man crossover films included into the Marvel-Carrie crossover series. Halfway through the development time of
Avengers: Galaxy at War ~ Part 2
, SONY, who STILL held the rights to the Spider-Man character at the time, approached Marvel Studios and began talks for ONE MORE Spider-Man film included in his crossover. Once Marvel found out that their idea involved transforming Spider-Man: Edge Of Time into a game-to-film adaptation, the studio went dead silent for months. It wasn't until AFTER principal photography for the Avengers movie ended that Marvel came back at SONY with a response. Marvel Studios AGREED to help SONY take on the project, with the president of Marvel Studios Kevin Feige throwing in a curveball saying that if Edge Of Time suffered the same fate as it's video game counterpart, they would FULLY get the rights back to Spider-Man 100%. SONY was hesitant but alas, they agreed on the decision and principal photography began shortly before Avengers: Galaxy At War ~ Part 3.
The film is produced by Marvel Studios and distributed by Walt Disney Pictures and Columbia Pictures. It will also be produced by Kevin Feige and two of the original Spider-Man directors, Jon Watts and Sam Raimi. Finally, the film will be directed by the man behind the Kingsman films, Matthew Vaughn.
Synopsis
Coming soon......
Cast
Tom Holland as Peter Parker (Spider-Man)
Mark Wahlberg as Miguel O'Hara (Spider-Man 2099)
Val Kilmer as ???
???
Jake Gyllenhaal as ???
Marisa Tomei as Aunt May
???
???
???
???
???
???

More coming soon.....
Plot
Coming soon.....
Survivors
Coming soon....
Deaths
Coming soon......
Main Cast Gallery
Coming soon.....
Reception
Coming soon......
Community content is available under
CC-BY-SA
unless otherwise noted.