Create the page "Films featuring Kue Lawrence" on this wiki! See also the search results found.
About 1,100 results for "Films_featuring_Kue_Lawrence"
The Treehouse We Left In The Ghoulburn is a 1995 American Boyhood Coming of age film written by Ivan Raimi& Sam Raimi and directed by Sam Raimi based off the classic 1990 Novel of the

Get Animated is an American live action/animated musical fantasy comedy film directed by Michael Gracey while being produced and written by Drew Gars. The film stars Adam Scott, Kristen Wigg, Jessica Chastain, Eddie Redmayne

Ryan and Dory's Family is a 2018 American-Australian 3D comedy drama adventure fantasy film. Produced by Village Roadshow Pictures and distributed by Warner Bros Pictures. Directed by Andrew Adamson with co-directed by

THIS IS A WIP (I stopped writing after the last time this was revisited) The film begins with scenes of Georgetta Mcsamuel (dud13 and icansing's Mom) on an adventure, which turns out to be

Sorcerers of the Magic Kingdom Mobile is an episodic collectible card video game based on the Magic Kingdom attraction Sorcerers of the Magic Kingdom. The game introduces some new villains who weren't included in

is the third installment of the live action Digimon film series. The film stars an ensemble cast

featuring

Ansel Elgort, Josh Hutcherson, Bella Thorne, Liana Liberato, Asa Butterfield, Robert Sheehan, Ty Simpkins, Joey King, Guy

The Amazing World of Gumball: Movie is a 2019 British-American-Irish animated fantasy comedy-adventure film based on the Cartoon Network animated television series of the same name. From Cartoon Network, the film is

Uncharted is a 2017 American action-adventure film based on the uber-popular video game series of the same name. The film is the first entry of the Uncharted film series. Directed by Jonathan Levine

The Simpsons Guy Movie is a 2015 American animated comedy film based on the animated television series The Simpsons Guy. The film was directed by David Silverman, and stars the regular television cast of Dan

Geo's World is the 2016 American 3D computer-animated comedy film based on ABC's hit TV show and the comic strip Geo's World. It was distributed by Walt Disney Pictures and released

Scream 5, stylised as 5cream is a 2016 American Meta Slasher Horror film written by Kevin Williamson, produced by Jason Blum (under his distribution company Blumhouse Productions) and directed by Jonathan Craven.

Directed by Mark McCorkle and Bob Schooley from a screenplay by Ethan Reiff and Cyrus Voris and

featuring

music by Hans Zimmer (making it his eight and final collaboration with Walt Disney Wonder Studios before

starring Julianne Moore, Emma Stone, Joaquin Phoenix, Casey Affleck, Chloe Grace Moretz, Tea Leoni and Blythe Danner

featuring

Johnny Depp, Michelle Pfeiffer, Colin Farrell, Martin

Lawrence

, Julia Roberts, Kerry Washington, Hilary Swank, Justin Long& Katie

Justin and Mikey is a 2016 American-Australian animated comedy adventure film directed by Andrew Adamson, John Stevenson and Mark Osborne and produced by John H. Williams. It was written by John Fusco. It was

The Hangover III or Hangover Part III is a 2013 American Comedy film produced by Legendary Pictures and distributed by Warner Bros. Pictures. It is the third instalment in the widely popular Hangover film series

The Wrecked Earth series is a series of

films

produced by Warner Brothers and FOX. It is rated PG-13 and is about 4 people finding themselves trapped on a wrecked Earth, and are being

Sweet Dreams Of You is a 2000 American Fantasy Drama film written and directed by Quentin Tarantino starring Julia Roberts, Chad Michael Murray, Ian McShane, Mike Myers, Jennifer Connolly, Dustin Hoffman, Gary Oldman, Naomi Harris

Girl on the Roof is a 2017 American coming of age teenage comedy drama film written by Robert Harling and directed by Scott Hicks starring Matthew MacFadyen, Amy Adams, Elizabeth Banks, Meryl Streep, Josh Radnor

This article is a candidate for deletion because: no reason for deletion. If you would like to discuss it, do so on this page's talk page, or contact Chris6d.
Related Community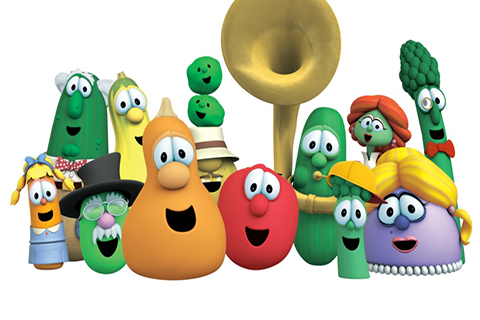 tv
1K
Pages

2K
Images

10
Videos
This Wikia is about the animated children's program VeggieTales. VeggieTales is a series of computer animated children's films featuring anthropomorphic vegetables. Developed by Big Idea, the films convey moral themes based on Christianity spliced with satirical references to pop culture…
View More Wikis