Create the page "Films featuring Alicia Silverstone" on this wiki! See also the search results found.
About 1,100 results for "Films_featuring_Alicia_Silverstone"
Campfire Stories is a 1998 American teen slasher anthology film directed by Quentin Tarantino and written by Tarantino and Kevin Williamson. The film is produced by Robert Rodriguez and Elizabeth Avellan.

by Kirk Jones starring Anne Hathaway, Christian Bale, Hilary Swank, Christopher Lloyd, James Van Der Beek and

Alicia

Silverstone

. The film centers on a group of youths throwing a celebratory college admission party at an

Exit Strategy is a 1999 American Thriller written and directed by Tim Burton starring Johnny Depp, Joan Cusack, Reese Witherspoon, Colin Farrell, Bobcat Goldtwait, Kelly Preston, Emilio Estevez, Scott Adkins,

Alicia

Silverstone

, Emily Browning and

Californicationis a 2000 Operatic Thriller Dark Comedy Drama Romance Action film written and directed by Joel and Ethan Cohen.

stars Joshua Rush, Max Charles, and Logan Williams. Meet the McCallister's. He Lives on Christmas with other next door's the Pruitt and Baxter's

Featuring

the Plenty's has new next door's.

films

in the 2000's and 2010's during their lifetime. When The Howling was being filmed

Alicia

SIlverstone

reports she saw Oskar carry pipe bombs around him 24/7 which he was arrested for

Vanilla Sky is a American Adventure Drama Television Series, loosely based off of the 2001 film of the same name, premiering on January 22, 2015, on the CW Television Network.

Featuring

Bryan Cranston, Sofia Carson

Study Group is an American adult animated urban fantasy action comedy-drama streaming television series created by Drew Gars. In the mid-1990s in the fictional city of Calebridge, California, a group of high school

were Cree Summer, Dustin Hoffman, Claudia Christian, Mark Hamill, Hugh Jackman, Ryan Kwanten, Hugo Weaving, Elijah Wood,

Alicia

Moore, Dennis Haysbert, Ben Kingsley, James Garner (his final film role), Jacqueline Obradors, Michael Shannon, Eli Marienthal

Jeepers Creepers 3: Cathedral (Jeepers Creepers 3 or Jeepers Creepers 3D as stylized in some countries) is a 2017 American Horror film written and directed by Victor Salva, produced by American Zoetrope and the third

s animated features canon and the 46th overall. Written by Tab Murphy, Brian Pimental, Jeanne Rosenberg, and

Alicia

Kirk, directed by Gary Trousdale, Kirk Wise, Ron Clements, and John Musker, and produced by Don Hahn

Turning Boulevard is a 2004 American Drama Action Thriller film written and directed by Quentin Tarantino starring Julianne Moore, Emma Stone, Joaquin Phoenix, Casey Affleck, Chloe Grace Moretz, Tea Leoni and Blythe Danner

featuring

Johnny

Neill, Saoirse Ronan, Alfred Molina, Mark Strong, David Walliams, Julie Walters, Catherine Tate, Rupert Everett, AnnaSophia Robb,

Alicia

Moore, Hank Azaria, Sofia Vergara, Riley Keough, Ian McShane, Kira Buckland, Jim Cummings, Dan Fogler. Other voices

This article is a candidate for deletion because: no reason for deletion. If you would like to discuss it, do so on this page's talk page, or contact Chris6d.

as executive producers. It is co-produced by 20th Century Animation, Punkrobot, Wood Producciones, Cine BancoEstado, Huemul

Films

and 1492 Pictures and released by 20th Century Studios, being released on November 24, 2022. The film

The Adventures of Violet Salmon is an American superhero film based on the comic book character Violet Salmon. Produced by Universal Pictures, it is the first film in the planned Jamesburg Cinematic Universe. The film

Justice League is American Action Adventure Drama Fantasy Sci-Fi Based on the 2001 Series with The Same Name premiering on the CW Television Network on October 7, 2016 The series stars Daniel Gillies, Tyler

My Dad is Crazy is a 2015 slapstick comedy film based on Youtuber McJuggerNuggets' Psycho videos. It will be distributed by Columbia Pictures and Paramount Pictures. It is rated PG-13 for non stop sequences

Species: Resurrection is a 2021 science fiction horror thriller film. It is the fifth installment of the Species series. A scientist create three perfect alien for his special project but things backfires when his aliens
Related Wiki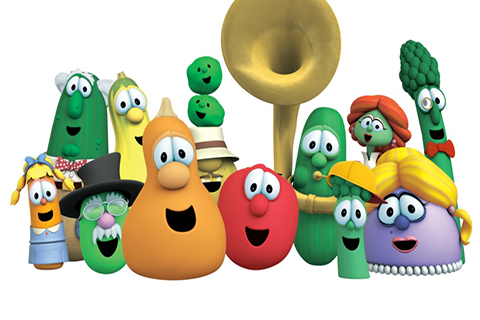 tv
1K
pages

2K
images

10
videos
This Wikia is about the animated children's program VeggieTales. VeggieTales is a series of computer animated children's films featuring anthropomorphic vegetables. Developed by Big Idea, the films convey moral themes based on Christianity spliced with satirical references to pop culture…
View More Wikis
Community content is available under
CC-BY-SA
unless otherwise noted.