Soulsucker is American metal band Death Flower's second studio album, released on March 28 2002 following their 2000 debut Eviscerating Sons of Chaos. It is followed by 2004's Broken Wings
Background
Chris Davenport has said that "recroding Soulsucker was one of the hardest things for the band to do, with Caleb's drug problems and getting us all to concentrate and write some good songs". Caleb Edwards, drummer, was in fact the only member of the band who took drugs, mainly ecstasy and cocaine, possibly from age 17. According to an interview in 2006, he said that his arrest in 2001 for drug abuse was a wake-up call for him. When he left rehab in early 2002, the band finished "Soulsucker" that March. This sky-rocketed Death Flower to mainstream success, and the album sold 150,000 copies. The song "Drug of Life" was written by Caleb Edwards after his rehab with drug use. It was released as a single, and positively recieved. It was the first single of the album, released on January 20th 2002 and debuting at #24 of Metal Countdown. The second single, "Vanity Unfair" was released on February 13 2002 and also well recieved. On March 25, three days before "Soulsucker"'s release, the third single "Impaled" was released. Following the album's release, two more singles followed: "Unleash The Beast" and "Whore of Satan". Death Flower got in legal trouble with "Whore of Satan" as it was deemed too vulgar, and when the video for the song is played it reads "Woman of Satan" instead.
Track listing
All songs were written by Chris Davenport, except "Drug of Life", written by Caleb Edwards .
"Vanity Unfair" - 4:55
"Soulsucker" - 4:00
"Sometimes Wishes Don't Come True" - 6:00
"Drug of Life" - 5:00
"Remembrance" - 3:55
"Impaled" - 5:00
"Unleash The Beast" - 6:00
"Walk Through The Night" - 4:00
"Whore of Satan" - 4:00
"Killing Jessica" - 5:00
Personnel
Chris Davenport - lead vocals, screaming vocals, lead guitar, rhythm guitar
Luke Jonhston - lead guitar, rhythm guitar screaming vocals
Jeremy Johnston - bass guitar, backing vocals
Caleb Edwards - drums, percusion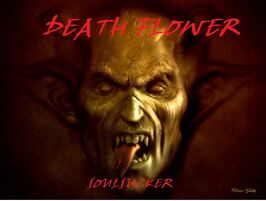 Community content is available under
CC-BY-SA
unless otherwise noted.