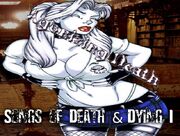 Songs of Death & Dying is English Thrash Metal band Agonizing Death second studio album, released in 2007 under Valentine's own label Sun Down Records. The character in the cover is Lady Death. The album included a cover of Megadeth's song "Die, Dead Enough".
Track Listing
Prayer (2:54)
Thorn (3:26)
Wake Up, Before You Die! (4:52)
World Wide War III (4:57)
Die, Dead Enough (Megadeth Cover) (4:26)
You Can Kill Me, But You Can Vanish Me (7:21)
Ask Again, I'll Show You (3:56)
Blame Him, Blame Her, Kill Them! (4:20)
Burning It Down (4:20)
Grovey! (3:21)
Personnel
Michael Valentine - Lead Vocals & Lyrics (Except in Track 5)
Katherine Parker - Lead Guitar
Thomas Gray - Bass Guitar
Bradon White - Drumms
Community content is available under
CC-BY-SA
unless otherwise noted.