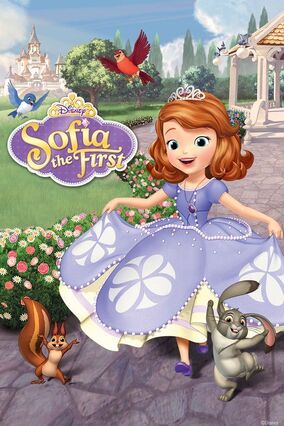 Sofia the First is a 2016 live-action fantasy comedy film.
Plot
Disney has featured many princesses in its TV shows and movies through the years -- but never a little girl princess. Until now. This animated series features Sofia, an ordinary girl who becomes a princess overnight when her mom marries the king. The adventurous young girl, first introduced in the 2012 TV movie "Sofia the First: Once Upon a Princess," must learn how to adjust to royal life. Offering Sofia words of wisdom are classic princesses -- including Ariel, Belle and Jasmine -- who make special appearances as they help advise the youngster during her transition to royalty. Throughout her journey, Sofia learns that it isn't having a title that imparts royal demeanor; it's that having the characteristics of honesty, loyalty, compassion and grace make one worthy of the role.
Cast
Tara strong as Sofia The First
Snoop Doog as the voice of Clover
Scarlett Johnson as Princess Amber
Justin Bieber as Prince James
Alessa Cara as Queen Miranda
Chris brown as King Roland II
Denis Leary as Cedric the Sorcerer
laura Bailey as Mia
Meghan Trainor as Robin
Alec Baldwin as Wormwood
Justin Timberlake as the voice of Minimus
Tom Hanks as the voice of Milo
Anna Kendrick as Princess Hildegard
Auli'i Cravalho as Princess Clio
Zoe Saldana as Princess Maya
Zoey Deschanel as Princess Zooey
Jonquil Goode as Princess Lani
Steve Carrel as Prince Zandar
Tim Allen as Prince Hugo
Alex Thorne as Prince Desmond
Jada Pinket Smith as Queen Cecily
Susan Egan as Princess Vivian
Jennifer Lopez as the voice of Crackle
Soundtrack
1. Sofia The First Theme Song (Opening)
2. Princess Things
3. Why Am I Such A Misfit? (Clover)
4. Why Am I Such A Misfit? (Sofia)
5. Sunshine Lollipops and Rainbows
6. Anything
7. We're A Couple Misfits (original & current broadcasts)
8. Fame and Fortune (alternate & defunct broadcasts)
9. Keep Your Chin Up
10. Put One Foot In Front Of The Other
11. Sunny Thoughts
12. A Princess True
13. Rise and Shine
14. A Little Bit Of Food
15. We're A Couple Of Misfits Reprise (original & current broadcasts)
16. Fame and Fortune Reprise (alternate & defunct broadcasts)
17. Blue Ribbon Bunny
18. Royal Prep
19. My World Is Beginning Today (original & current broadcasts)
20. There's Always Tomorrow (alternate & defunct broadcasts)
21. True Sisters
22. Sofia The First Theme Song (Ending)
Community content is available under
CC-BY-SA
unless otherwise noted.