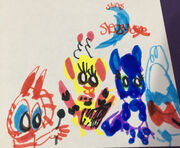 Sleepybye is A 2015 Shires Junior Show. It is about Four Live Action Costume Animal Hybrids learning how to make dreams and also play in a band. It premiered in September 7, 2015.
Summary
Each season brings Something different for the four main characters that run a band.
Season 1 only takes place around The Sky High Town of Sleepybye. Season 2 takes place all around the world, with numerous guest stars that are voiced by Celebreties. Season 3 and Season 4 take place in the newly opened Show Stage where everyone Around the world comes to visit.
Season 2 also gives guest stars a chance for characters other than Zonkey and his band to sing. One example would be The Huahuaotes from Mexico that we're Ladybear's childhood friends.
But between the Real Story going on, there would always be animated stories, each animated in different styles.
In all seasons, the episode would wrap up with a song called "Sleepybye and Sweet Dreams", which during an instrumental verse The Characters would talk about their favorite part of the show.
Characters
Main and Recurring Costumes and Puppets
Zonkey (costume performed by

Matt Vogel

, voiced by Lara Jill Miller (speaking) and Tara Strong (singing)
Ladybear (costume performed by

Peter Linz

, voiced by Veronica Taylor (speaking) and Renee Elise Goldsberry (singing)
Sheepdog (costume performed by

Dave Goelz

, voiced by Nika Futterman (speaking and singing)
Hycheetah (costume performed by

David Rudman

, no voice because character was mute)
Skunkalo (costume Performed by

Eric Jacobson

, voiced by

Will Ferrell

)
Peacockpine (performed and voiced by Eric Jacobson)
Giralien (Costume Performed by David Rudman, voiced by

Bill West

)
Deaver (Puppet Performed by

Sarah Shires

, voiced by

Ben Diskin

)
Baby Buppy (Puppet Performed by

Tyler Bunch

, voiced by Tara Strong)
People
Mrs. Magica (portrayed by Megan Hilty)
Dr. Boneman (portrayed by Will Sasso)
Episodes
Season 1
First Day at Dream School
Joyride on the Class Bus
The Dreamstealer
A Tale of Two Different Creatures
Zonkey Gets Sick
Dance of Peacockpine
Sleeping Sheepdog
Where Hybrids Come From
The Sleepybye News
Ladybear's Pet
Why Hycheetah Doesn't Talk
Sheepdog's Sadness
Everyone is Special
Different is Good
Band Feud
Hycheetah's New Friend
The Haunted Ghostetan
Thankful to Be Together
The Christmas Performance
New Years Musical
Season 2
Flight Delay
Old Town Hybrids
Skunkalo Goes to Sweden
Memories of Mexixo
Opposites Attract
Thief of The Italian Food
The Squabbling Country
A Canadian Hero
Down The River
Romantic Atmosphere
Trivia
The reason why this show was rated TV Y-7 is because Hycheetah got constantly injured during the show.
Every night on the Shires Junior Channel Ever Since the day of the show's debut, the Sleepybye and Sweet Dreams Song would be played and show characters from the other shows Sleeping.
Characters Sleeping to The Ending Song from The Show
2015
2016
2017
2018
2019