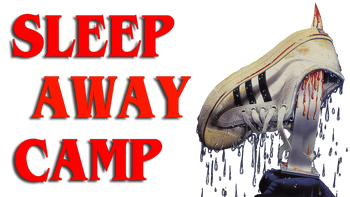 Sleepaway Camp
is a remake of the 1983 horror-slasher film starring Miranda Cosgrove, Avan Jogia, Chace Crawford, Meghan Martin, Mila Kunis, James Donnelly,
Danielle Harris
, Ryan Reynolds, Ryan Merriman and Jesse Moss.
Plot
Three siblings, Peter, Angela and Ricky, are attending Camp Arawak. One day, while Peter and his best friend Jon are swimming, drunk counselors Ronnie and Susie run them over with their speedboat, accidentally killing two of them. Angela reacts seriously. She goes on a rampage and kills people who try to give her a hard time.
Cast
Miranda Cosgrove as Angela Baker, the killer
Avan Jogia as Ricky Baker
Daniel Radcliffe as Ronnie
Ryan Reynolds as Mel Costic
Jakob Davies as camper #2
Deaths
1 and 2. Jon and Peter- run over with speedboat by Ronnie and Susie (accident)
3.Artie- picked up by Angela / dropped into a bucket of frying grease / skin burned off
4.Kenny- drowned in lake by Angela
5.Billy- beehive dropped on head by Angela and stung by bees
6.Meg- speared in back 3 times through shower stall by Angela
7.Ricky- hit on the head with mallet by Mel.
8.Mel- speared through the mouth by Angela
9.Judy- shot in the head with handgun by Angela
10, 11 and 12. 3 campers- hacked to pieces with axe by Angela
13.Paul- beheaded with hunting knife by Angela
Survivors
Angela, Eddie, Ronnie and Susie
Community content is available under
CC-BY-SA
unless otherwise noted.