Slash Part 2: Slasher Show starring Hayden Pantteria, Lucy Hale, Emma Robberts, Trioa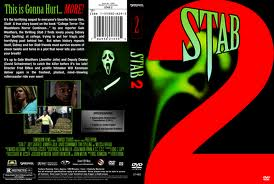 n Bellesaro, Ashley Benson, Jason Biggs, Katie Locke O' Brian, Max Burkholder, Portia Doubleday, Lou Taylor Pucci, Alex Pettyfer, Emma Stone, Sean William Scott, Chole Csergly, Alexandria Chando, Travis Van Winkle, Brittany Okas, Alyson Hannigan, Christian Hall and EXO's Chen and Xiumin
Summary
Plot
Gay couple Colin and Yaser both get a call from Stitch who stabs Colin in the face with a knife when he goes into the kitchen. He chases Yaser around the house and kills him outside. Stitch takes his mask off and it's Danny Hurcules and he then gets a call from another Stitch who comes up behind him and slits his throat killing him. Carla meets news reporter Nicole Figuerola and her camerman Ken Ty. Nicole recently wrote a book named Slash which is based off the first flim Slash.
Carla recurties Nicole to host on the reality show that she and Danny were going to host. The show has to do with the themes from Slash. Sasha who is looking for Jane gives up on her beacuse Jane left a note for her that she was going into hidding in case this happend again. Carla calls Sasha to her apartment where Jane is and they join as hosts on the show. That night Sasha gets a call from Stitch who attacks her but Carla and Nicole scare the person away. That night Jane gets attacked by Sitch too but is scared off by them.
The next day the contestants of the show arrive at the mansion that they will be staying in for the next month. Mandy whose been tracking the murders ever since her mom died comes to the mansion and sneaks inside. She is pulled into the basement where Stitch scares her. Mandy crawls out the window and gets stabbed to death in the woods by another Sitch. Carla, Nicole, Sasha and Jane explain the rules and the show. Amber goes into the basement where she finds Stitch and he stabs her in the heart killing her.
After Mary and Peter have sex in there room they get a call from Stitch who stabs them to death. The first challenge is to stay out in the woods at night. Sasha, Jane, Carla and Nicole stay in the house while teh other contestants stay outside.
Cast
Sasha-Hayden Pantteria
Carla-Lucy Hale
Jane-Emma Robberts
Mandy-Trioan Bellesaro
Nicole-Ashley Benson
Brett-Jason Biggs(Ryan Carpenter)
Barbie-Katie Locke O Brian(Lacey)
Leon-Max Burkholder(Sasha's boyfriend black)
Trixie-Portia Doubleday(Hayden)
Dan-Lou Taylor Pucci(Cameraman)
Leo-Alex Pettyfer(Hayden's boyfriend)
Amber-Emma Stone(1st to die on the show)
Joel-Sean William Scott(twin brother)
Liza-Chole Csergely(nerd)
Josie-Alexandria Chando(rival of Trixie)
Pete-Travis Van Winkle(Pothead)
Mary-Brittany Okas(pothead)
Donna-Alyson Hanngian
Danny-Christian Hall
Colin - Kim Minseok/Xiumin of EXO
Yaser - Kim Jongdae/Chen of EXO
Community content is available under
CC-BY-SA
unless otherwise noted.