(7 intermediate revisions by one other user not shown)
Line 1:
Line 1:
 
+

[[File:Shires_Plus_2018-present_Logo.jpg|thumb]]

 

Shires+ (pronounced "Shires plus") is an upcoming American over-the-top subscription video on-demand service owned and operated by the [[Michael Shires Direct-to-Consumer & International]] division of [[The Michael Shires Company]]. It is set to launch in the United States on September 11, 2018.

 

Shires+ (pronounced "Shires plus") is an upcoming American over-the-top subscription video on-demand service owned and operated by the [[Michael Shires Direct-to-Consumer & International]] division of [[The Michael Shires Company]]. It is set to launch in the United States on September 11, 2018.

 
+
 
+

==Content==

 
+

*[[List of original programs distributed by Shires+]]

 
+

*[[List of original films distributed by Shires+]]

 

[[Category:Shires]]

 

[[Category:Shires]]

 

[[Category:Production companies]]

 

[[Category:Production companies]]

Line 9:
Line 14:
 

[[Category:Shires Television Animation]]

 

[[Category:Shires Television Animation]]

 

[[Category:Michael Shires Pictures]]

 

[[Category:Michael Shires Pictures]]

 
+

[[Category:Shires+]]

 
+

[[Category:Shires Junior]]

 
+

[[Category:Shires Channel]]

 
+

[[Category:Illumination Entertainment]]

 
+

[[Category:Queensland Animation Studios]]

 
+

[[Category:Melvin Studios]]

 
+

[[Category:Cosgrove Hall Fitzpatrick]]

 
+

[[Category:Cosgrove Hall Films]]

 
+

[[Category:Cosgrove Hall Productions]]

 
+

[[Category:Charles Hill Films]]
---
Latest revision as of 03:39, 20 June 2020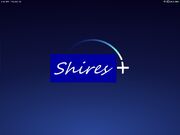 Shires+ (pronounced "Shires plus") is an upcoming American over-the-top subscription video on-demand service owned and operated by the Michael Shires Direct-to-Consumer & International division of The Michael Shires Company. It is set to launch in the United States on September 11, 2018.
Content
Community content is available under
CC-BY-SA
unless otherwise noted.