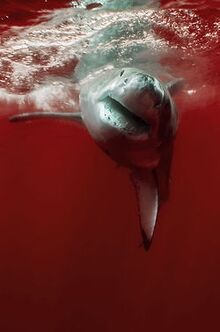 Shark Night 2: Ocean of Blood is a horror-slasher-shark movie and the second part of Shark Night. Starring: Sara Paxton, Alexis Bledel, Heather Morris, Tyler Hoechlin, Chloe Moretz, Borizlab Ilev, Jamie Chung, Danielle Harris, Sean Flynn, Ryan Kelley, Britanny Anne Pirtle, Jennette McCurty, James Maslow, Victoria Justice, Miles Fisher, Natha Keyes and Alex Heartman.
Summary
Cast
Sara Paxton As Sara Palski
Alexis Bladel As Sofia Palski
Heather Morris As Alexandra (Alex) Woods
Tyler Hoelinch As Tyler Prescott
Chloe Moretz As Erin Woods
Borizlab Ilev As Backy
Jamie Chung As Caly Yoo
Danielle Harris As Sally Moon
Sean Flynn As Ash Recce
Ryan Kelley As James Rivers
Britanny Anne Pirtle As  Haley Fields
Jennette McCurty As Charlie Benneth
James Maslow As Kyle Aundrew
Victoria Justice As Natalie Ramos
Miles Fisher As Leon Connely
Natha Keyes As John Simone
Alex Heartman As Stuart (Stu) White
Deaths
Stu-The white shark jumps the dock and pulls it to eat mast wing depth
John-The bull shark pulls the leg to eat of the.
Leon-The White shark eat the leg when he is surfing and then I end up eating
Natalie-The white shark eats it when he was bathing naked eat it
Kyle.The great white shark pulls the wings ocean shore depth of the ocean to eat
Charlie-a baby shark pulls the boat to eat it
Haley Fields-haley runs when the wooden bridge jumping the bull shark 
James Rivers-shark rips head jumps to James
Ash Recce-Ash manages to kill the bull shark with the ax but a saltwater crocodile attacks him and kills him
Sally Moon-Shark bites her thighs and pulls her underwater,where she drowns
Caly-is killed with a knife so that it is not the sharks eat
Backy-sara stabs the screwdriver in the eye and then throws the shark's Gunpowder strip and bursting with.
Survivors
Sara Palski, Sofia Palski, Alex Woods, Tyler Prescott And Erin Woods
Community content is available under
CC-BY-SA
unless otherwise noted.