Seekers
General information
Founder(s)
Leader(s)
Notable members
Headquarters

Korriban
Kalee

Locations

Many locations

Historical information
Formed from

Unknown

Founding

Unknown

Fragmentation

Unknown

Reorganization

Unknown

Dissolution

Unknown

Restoration

Unknown

Era(s)
Affiliation
The Seekers (once called Decepticon Jets or Decepticon planes) are an elite army of evil, power hungry, violent, brutal, hate filled, abusive and destructive Air Warriors that share a same body type. The evil Seekers are lead by the evil Starscream whose goal is to build a huge Seeker jet empire to take over the galaxy. Starscream reactivated the Seekers in order for Starscream to have an army to take over the universe. Megatron was once the leader but after his defeat starscream takes control of both the Decepticons and the seekers.
So far they only serve Darth Grievous's Sith Legion as their elite guard and their arch enemies were the Autobot Jets. The Seekers also cloned themselves to appear in large numbers. One clone was named the Autobot Starscream Clone who infiltrated the ranks of the Seekers while there is millions of other Seekers that have many different colors. Acid Storm and Sunstorm were born from the dead remains of Ransack and Crumplezone. There is also a lot of unnamed Seekers. The cloning technology allows the Seeker army to get more numbers in the group and all the Seekers have an F-15 Eagle jet mode. Starscream, Thundercracker and Skywarp were the only ones upgraded into transforming into F-22s after loosing various battles. Dreadwing was captured by the Autobot jets after he was shot down by the autobot planes over the skies of hoth.
The Seekers went into hiding after the fall of Darth Grievous's Sith Legion and the death of the coneheads. Under the leadership of Starscream the Seekers were hidden from their enemies and started to rebuild their once proud Seeker army to latter try to take over the universe.
In Darth Grievous's evil vision of the future the Seekers all of them were turned to stone forever by Darth Grievous when the last Autobot was dead.
Shattered Glass
In Transformers Shattered Glass the Seekers are a bunch of heroic Decepticon Jet troopers that fought for peace, justice and humanity against the evil Autobot cars. Dirge is killed by Rodimus while Ramjet was killed by the Autobots because Starscream refused to provide intel to the Autobot and Ramjet died because of that. Currently the only seekers left were Thrust, Skywarp, Thundercracker and Starscream.
Notable Seekers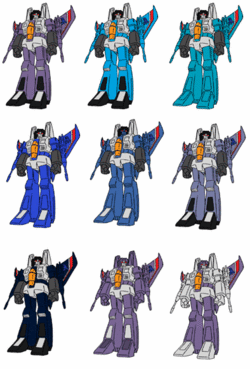 Community content is available under
CC-BY-SA
unless otherwise noted.