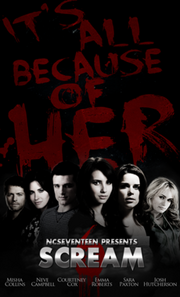 Scream 6 is the sixth installment of Scream 5.
Summary
Taking places after Scream 5, TBA
Plot
Cast
Neve Campbell as Sidney Prescott
Courteney Cox as Gale Weathers-Riley
Emma Roberts as Jill Roberts
Sara Paxton as Bella, a girl who knows about Ghostface
Misha Collins as Greg, a detective
Josh Hutcherson as Ethan Stevens, a boy who loves horror movies
Chloe Noelle as Emily Stevens, Ethan's younger sister
Kate Winslet as Jennifer Poehler, Ethan's aunt
Idina Menzel as Amanda, Bella's mother
Justin Long as Garrett Roberts, Sidney's cousin, Jill's older brother and Alice's boyfriend. He is very skeptical to his girlfriend and everyone.
Michelle Trachtenberg as Alice Mone, Ethan's adoptive sister and Garrett's girlfriend.
Trivia
Community content is available under
CC-BY-SA
unless otherwise noted.