Scream 5, stylised as 5cream is a 2016 American Meta Slasher Horror film written by Kevin Williamson,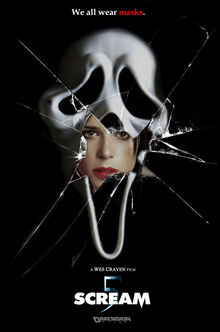 produced by Jason Blum (under his distribution company Blumhouse Productions) and directed by Jonathan Craven.
It is the fifth instalment in the initial Scream film series prior to it's 2026 Horrorverse reboot Scream. Director Jonathan is the eldest child of all previous entries' director Wes Craven (regarded in pop culture as a Master of Horror, due to his direction of horror film classics: The Last House on the Left, A Nightmare On Elm Street, The Hills Have Eyes and Scream), who passed away on August 30th, 2015 of brain cancer. The film is dedicated in memoriam of the late writer/director.
Neve Campbell, David Arquette, Courteney Cox, Duane Martin and Marley Shelton reprise their respective roles of Sidney Prescott, Dwight 'Dewey' Riley, Gale Weathers-Riley and Judy Hicks.
The new ensemble cast features Lake Bell, Ato Essandoh, Maia Mitchell, Chelsea Tavares, Tyler Posey, K.J. Apa, Lakeith Stanfield and Madlyin Sweeten.
Shooting and Principal Photography was done in Carson City, Nevada and at Miramax LLC studios in Los Angeles, California.
Released theatrically and in select IMAX theatres on October 21st, 2016 with mixed to positive reception and commercial success at the box office.
Plot
Former singer Janice Kelley arrives for the final day of shooting for the new Netflix Original 'Stab' film, directed by gorehound Gene Chapman. At Sunshine Studios on the Windsor College Omega Beta Zeta set, director Chapman is stabbed in the face multiple times by a Ghostface killer. Janice discovers Chapman's corpse and is herself stabbed to death by the killer, revealed as prop hand Paul, a secret sadist obsessed with Janice.
Janice's recorded murder is uploaded to YouTube and various other internet video streaming services, which the police struggle to shut down following Paul's suicide before arrest by slit throat.
In Bridgeport, California 17 year old student Cassie Humes settles into her and divorced mother Mel's new finalised house after their former Bridgeport home burned down months prior. Bridgeport High school is a buzz with the online video of actress Janice Kelley's murder, in being the local high school and various local town areas were shooting locations for the Stab Netflix Original film.
Cassie is estranged from her ex-boyfriend Scott, after a drunken party incident where he accepted LSD from friend Nate, who kissed him. Judy Hicks, a survivor of Jill Roberts' and Charlie Walker's Woodsboro 2011 Ghostface killing spree now operates as Bridgeport's Sheriff, who along with Woodsboro's new acting Sheriff Tyler pull up a trace of the IP address that originally uploaded the Janice Kelley murder video. The trace leads to local student Seb Tenning's laptop.
Sidney Prescott then arrives in Bridgeport along with a now divorced Dewey and Gale, after being contacted by Hicks and Gale's former Windsor College camera-man Joel, who now works with a Top Story new reporter: Felicity Moore, who has a rivalry with the newly established Gale.
Bridgeport students Gavin, Zara and Jade are killed by Ghostface at the local drive-in cinema, after a threatening phone call. Gavin is killed in nearby toilets via stabbing and having his head cracked against a toilet seat. The killer then runs an on call Jade over, killing her and crippling Zara, who attempts to crawl for safety, beyond a projection screen where she is stabbed in the back numerous times until dead.
That night at the crime scene Sidney receives a call and Dewey and Gale are nearly killed in a car explosion. Cassie that night returning home finds bloody evidence, Out of Shadows by Sidney shredded bookpaper and Ghostface masks in her room with her laptop damaged. Cassie, Melissa and Cassie's friends at school are put under police supervision following Sidney sneaking an interview with Cassie at the precinct,
A bait event is set-up with the Stab netflix film premiere at the local Rialto cinema. As the theatre is being set up by Nate, and he prepares a confessional (I Love You) text for Scott he is killed by Ghostface, who smashes him into the popcorn machine. As the premiere begins Scott is lynched from the projector room. Brooke and Ava en route by car are driven off-road (around the corner), Ava seems unconscious and Brooke is pursued onto a nearby playground and after stabbing is pushed off a slide, breaking her back and twisting her head.
Avery arrives at the playground after a message from Brooke and is stabbed through the neck with a broken post. Joel is stabbed at the news van out front of the cinema and Felicity's throat is slit, killing her.
A fight occurs with three revealed killers Judy, brother Brennan and Ava, and Cassie, Melissa, Dewey, Gale, Seb and Sidney. Seb is shot in the head and dies in Cassie's and Sidney's arms. Gale and Dewey overcome Judy, Gale finishing Judy with a knife in the chest. Ava seizes Cassie with a gun to her head, and is shot by an injured Joel entering the scene, flames then engulf her. The reasoning behind each of the killer's motivations being announced as being owed to the Hicks' infatuation and jealousy with Sidney Prescott and their inspiration from Jill & Charlie's online killings, as well as the recent Janice Kelley public murder. Ava is revealed as being responsible for the Humes former house arson and doing this out of jealousy.
A gun shot injured Brennan is killed by an acid trap set off by Sidney and Cassie, falling from an above fixture (disintegrating him).
The others rush outside for the arriving Sheriff Tyler and other authorities, Sidney degrees that she needs to leave some things behind, seemingly killing herself as she ignites the evacuating cinema that is covered in gasoline.
Believed and declared dead, Sidney under the new identity 'Hallie Tate' is a travelling writer, met in her new appearance by Dewey at the Woodsboro town centre fountain, they share a brief kiss before she announces she is headed for Italy, where she'll be opening as Cassandra in a production of The Orestia.
Cast
Neve Campbell as Sidney Prescott
David Arquette as Detective Dewey Riley
Courteney Cox as Gale Weathers
Duane Martin as Joel James
Marley Shelton as Sheriff Judy Hicks
Lake Bell as Melissa Humes
Maia Mitchell as Cassandra Humes
Ato Essandoh as Sheriff Calvin Tyler
Hannah Simone as Felicity Moore
K.J. Apa as Scott Laimon
Tyler Posey as Nate Watson
Calum Worthy as Seb Tenning
Chelsea Tavares as Ava Lawrence
Tom Ellis as Brennan Hicks
Lakeith Stanfield as Avery Reynolds
Madlyin Sweeten as Brooke Lancelin
Daniella Pineda as Zara Larson
Ryan Guzman as Gavin Csupo
Hayley Kiyoko as Jade Emmerich
James A. Janisse as Paul Edgecombe
Iggy Azalea as Janice Kelley
Eli Roth as Gene Chapman
Roger L. Jackson as Phone Voice
Dane Farwell as Ghostface
David Dobrik as Lionel Westall
Jack Griffo as Miles Freeman
Allisyn Ashley Arm as Tara Bannon
Grace Van Patten as Naomi Little
Luciana Fulhaber as Deirdre
Karan Soni as Liddel
Emilia Clarke as 'Stab' Wendy Waterson
Lily James as 'Stab' Connie Davenport
Juno Temple as Cosplay Victim Aria Morgan
Tessa Thompson as 'Stab' Ira Heiden
Kelli Berglund as Windsor College Victim Sara Martin
Jacob Latimore as Windsor College Victim Tyler Redding
George Takei as Walt Emmerich
Ariel Winter as Gabrielle Larson
Michael Biehn as Deputy Roger Csupo
Kathy Ireland as Janet Lancelin
Howie Mandel as Peter Lancelin
Grace Hightower as Moira Lawrence
Dabney Coleman as Principal Powell
David Morse as Mr. Lightall
Tia Carrere as Ms. Litch
Soundtrack
Hide Away- Daya
All My Friends- Snakehips ft. Tinashe & Chance The Rapper
Your Best American Girl- Mitski
Red Right Hand- Arctic Monkeys
Wish You Were Mine- Philip George
Pick Up The Phone (Explicit)- Young Thug, Travis Scott
This Girl- Kungs vs Cookin' On 3 Burners
One Dance- Drake
Starboy- The Weeknd feat. Daft Punk
Habits (Stay High)- Tove Lo
Cinema- Benny Benassi ft. Gary Go
What You Know- Two Door Cinema Club
Safe and Sound - Capital Cities (End Credits Song 1)
Houdini- Foster The People (End Credits Song 2)
Why You'd Only Call Me When You're High?- Arctic Monkeys (End Credits Song 3)
1901- Phoenix (End Credits Song 4)
Killing Me Softly With Me His Song- Roberta Flack (End Credits Song 5)
Trivia
Introduces an all-new variation to the Ghostface killer costume, with the mask variation 'Devil Face', that is utilised by one of Bridgeport's three killers, based on the original concept for the Netflix Original Stab

feature. The costume is used in the killing of Scott and Brooke, as well as the injuring of Joel.
Director Jonathan Craven is the son of horror Master Wes Craven, who had directed all four previous films, and been the director/writer for A Nightmare On Elm Street and it's subsequent meta seventh instalment. Jonathan had collaborated with his father in the screenplay for the remake and sequel of his 1977 classic 'The Hills Have Eyes' and served as an executive producer alongside him for the 2009 re-iteration of his first horror classic 'The Last House On The Left.'
An initial draft featured an ending bait party at the Laimon house, Sidney's death being faked in the house arson, Nate's initial death being a result of electrocution in the house school and Scott being lynched from the house.
Continues the tradition of featuring a celebrity opening victim that begun with the initial 1996 film Scream and concluded with the 1997 sequel.
Iggy Azalea's opening victim character Janice Kelley is modelled in part after the actual singer. Janice's Stab film character Marnie Randall is named after the two opening victims of the previous film, Scream 4's Jenny Randall and Marnie Cooper. Janice's character Marnie is also a Windsor College Omega Beta Zeta sorority sister victim.
Bridgeport, California is revealed as the setting of the second Scream film, as the Rialto cinema featured in the final act is the theatre Scream 2 opening victims Phil Stevens and Maureen Evans were murdered by Ghostface at during the opening night Stab: the first film based on the Woodsboro Murders. Windsor College is revealed as being a location within the fictional California town.
The studio behind the all-new Netflix original 'Stab' film soft reboot are Sunshine Studious: the studio prominently from Scream 3, who had been the distributors of the first three Stab films: the third's being the main catalyst of victims and killer in Scream 3.
The character of Felicity Moore was conceived by Williamson & Cox with Jennifer Aniston in mind. However Aniston unavailable to due to scheduling conflicts opened the role up to open auditions. Ultimately Cox decided to offer the role to the first six actresses she had in mind: Simone being the first due to her character of Cece Parekh on the Fox sitcom series New Girl (2011-2018).
Ryan Guzman, being a professional dancer, as well as actor, was able to perform a lot of his own stunt work for his death scene.
An original draft of the script saw a majority of victims and plot revolving around the stunt and crew members of an all new Stab feature.
Lake Bell had initially been cast in Scream 4 as Kate Roberts, a role that was later replaced by Mary McDonnell.
Blumhouse and Jason Blum's first major slasher horror icon series entry, preceding Halloween (2018).
Lakeith Stanfield filmed his part in contrast with his role in Jordan Peele and Blumhouse's later Oscar winning horror feature Get Out (2017).
Tyler Posey would later go on to star in the 2018 Blumhouse Teen Slasher film Truth or Dare alongside Scream 4 actress Lucy Hale. He would also portray a Ghostface victim character Shane in the 2019 third season of Scream: The Series.
Marks the return of Scream 2 major character Joel James: Gale Weathers' former Windsor College murders camera-man. Actor Duane Martin reprises the role.
Jill Roberts and Charlie Walker's recorded Woodsboro 2011 murders are a prompt for the killings in Bridgeport, California in this film, as despite the authorities best efforts to close all videos and uploaded content related to the two's Ghostface killings, Dark Web traces remain accessible to unstable individuals.
The Gavin Csupo drive-in theatre restroom murder by Ghostface, pays reference to Sidney Prescott's initial Ghostface attack in the Woodsboro High School restroom in the original Scream. The scene would also bear similarities to Blumhouse's later 2018 Halloween sequel, with Rhian Rees' podcast Michael Myers victim Dana.
Body-Count: 17 (Gene Chapman, Janice Kelley, Paul, Tyler, Sara, Gavin, Jade, Zara, Nate, Scott, Felicity, Brooke, Avery, Seb, Ava, Judy and Brennan)
The film contains the largest number of Ghostface killers in a Scream movie: 4, featuring two more killer than all previous films, and one more than the second season of Scream: The Series. This excludes the Stab film within a film killers, as Scream 4 possessed two unnamed Ghostface killers and Kristen Bell's character who murders her friend as a Stab opening.
Sidney's end new cover identity: Hallie Tate is named for her two deceased best friends from the first and second Scream films: Tatum Riley (Dewey's younger sister and Ghostface killer Stu Macher's girlfriend) and Hallie McDaniel (Ghostface killer Mickey Altieri's partner).
Like it's meta predecessors: Scream 2, 3 & 4 the film features film/media within media victims, opening with a Stab Netflix film actress' death, though following the opening murder of the Iggy Azalea portrayed Janice Kelley, Cassie Humes looks over the uploaded videos pertaining to universal copycat killings: Windsor College victims Sara & Tyler and Comic Con victim Aria.
Kelli Berglund had originally auditioned for Brooke.
The film shares a town name with the 2008 Screen Gems loose teen slasher horror remake: Prom Night. Both featuring respective fictional main towns titled Bridgeport.
Homages to the 2015 MTV series Scream are featured here with Cassie and Melissa originally being from a smaller town they name as Lakewood, and a Brandon James facemask appearing in the store Scott and Nate purchase Ghostface masks from.
The concept of Judy Hicks being revealed as a Ghostface killer was an unused idea for the previous Scream 4.
Initially for the fifth Scream film Hayden Panettiere's character Kirby Reed from Scream 4 was slated to return, however it was decided following Wes Craven's death by Kevin Williamson to simply have her be a victim of her stabbing by surprise Ghostface Charlie Walker and feature as a memorial Sidney visits.
In the conclusion, Dewey meets with Sidney who under new identity is set for Italy to perform the starring role of Cassandra the Seer in the Orestia, a role she will be reprising as in Scream 2 Sidney at Windsor College was rehearsing this role given to her in her theatre class. She had abandoned the role at Windsor due to the film's Ghostface killing spree and her hallucinatory freak-out in a dress rehearsal. She had also in that film told Dewey about securing the role in the college production of Cassandra.
Original draft endings included a Sunshine Studios Netflix Stab set showdown and the Bridgeport drive-in theatre ending before being finalised as Scott Laimon's Sidney, Dewey, Gale and Joel orchestrated ending.
Community content is available under
CC-BY-SA
unless otherwise noted.